At Sea with Courrèges
The French couture house collaborates with Dubourdieu on a luxurious boat.
---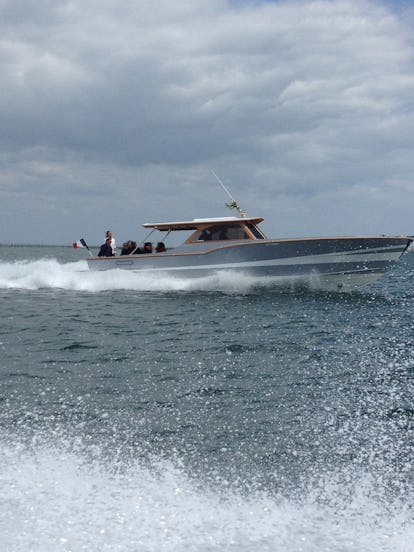 For the past 200 years, Dubourdieu has been one of the most luxurious boat makers in France. Today, the company produces no more than five boats a year, mostly made-to-measure yachts and elegant day cruisers. As such, Dubourdieu's president Emmanuel Martin felt that the experience that he brings to jet set boats was a perfect match for the historic French couture house Courrèges, which was created by André Courrèges and his wife Coqueline and has been synonymous with sinuous, modern design since its start in 1961.
"I remember asking Jacques when I got the call: 'Can we do this?' recalls Frédéric Torloting, who purchased Courrèges in 2011 with Jacques Bungert, and recently recruited the Coperni design duo Sebastien Meyer and Arnaud Vaillant to be the brand's creative directors. Boats and shift dresses seem worlds apart, but Courrèges's art director Julien Gaubert, who spent 15 years with Coqueline Courrèges studying technical design from award-winning electric-powered cars to a secret recipe for light weight cement, rose to the challenge with the boat-loving Torloting.
The result? A hand-built, high-speed, mahogany-hulled, 12-meter pleasure vessel called White Ocean. "The essence of Courrèges is light, both reflecting light and lightness," he says. "The first thing we did for White Ocean is reduce the design to its simplest expression like leaving the teak deck untreated so it will age over time, and then found the precise color gray which stands out against white without casting a shadow." It's capable of cutting through water at 40 knots with a sleekly elegantly retro futurist look that seems to whisper: Brigitte Bardot was here.
Photos: At Sea with Courrèges
Photo courtesy of the author.
Photo courtesy of the author.
Courrèges' Jacques Bungert and Frédéric Torloting with White Ocean. Photo courtesy of the author.
Photo courtesy of the author.
Photo courtesy of the author.