Courtney Love and Party Monster Directors Team Up for Menéndez Brothers Movie
Courtney Love will play the mother of two real-life murderers for Lifetime's latest stab at true crime.
---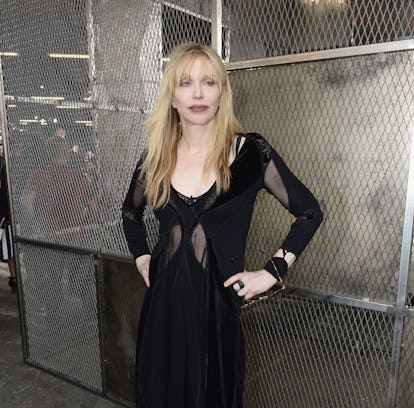 Photo by Getty Images.
Party Monster, the 2003 cult classic film about a murder in New York City's club kid land, was really ahead of its time in the way that it dramatized a headline-grabbing true crime tale from the '90s. At the present moment, Hollywood has a particularly morbid obsession with anything and everything '90s true crime (see: upcoming TV shows and movies based on the murder of Gianni Versace, the Tonya Harding saga, Jon Bonet, etc.). So it only makes sense for Party Monster's director, Fenton Bailey and Randy Barbato, to return to a genre they accidentally pioneered, and this time they're bringing Courtney Love along with them.
They'll take a spin on the sensational murder trial of the Menéndez brothers, but it won't be bringing it to cinemas. This project is a made-for-tv movie for Lifetime. Which means, yes, Courtney Love, who will probably be the subject of a Lifetime movie herself someday, is actually starring in one.
If you need a refresher of the particularly gruesome source material, brothers Erik and Lyle Menéndez were convicted in 1994 of the brutal murder of their parents Jose and Kitty in the wealthy family's Calabasas, California mansion. Originally, the brothers tried to make it seem like someone else had broken in and committed the crime, but they were soon singled out as the main suspects. During their trial, they claimed that their father had sexually abused them from a young age while their mother did nothing to stop it.
The trial became a staple of cable news and source of national obsession. At the time, the brothers were painted as spoiled rich kids. Indeed, between the time of the murder and their eventual arrest, the pair went on a combined $1 million spending spree that included items like international trips, fancy cars, and a Rolex.
They were eventually sentenced to life in prison without parole where they remain to this day (incidentally, both have been married behind bars twice).
The pair's story was made into another TV movies in 1994, a few documentaries, and served as inspiration for Jim Carey's dark comedy The Cable Guy. Of course, given Hollywood's recent crime fetish, it's not surprising the story is being revisited once again.
Bailey and Barbato, former New York City club kids in their own right, have not directed a fictional feature movie since Party Monster. Since then they've concentrated on documentaries (Robert Mapplethorpe, Britney Spears, Carrie Fisher and Vogue magazine have all been subjects) and television programs (the pair are the co-creators of RuPaul's Drag Race).
Courtney Love is in the midst of a return to feature film as well. Though she's popped up in shorts and TV roles since then, she hasn't had a movie role since 2002's Trapped. She also has roles in three other upcoming flix, both for cinemas and television, as well.
The project will begin filming later this month according to Variety. No other characters have officially been cast. Maybe they'll take a page from Party Monster's playbook and cast a pair of former child actors.
Watch W magazine's most popular videos: