Here's Your First Peek at Crazy Rich Asians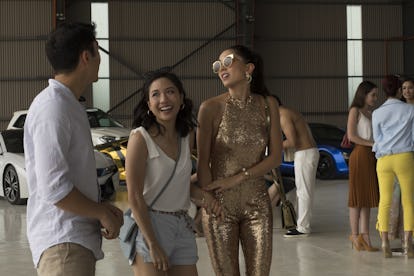 Sanja Bucko/Warner Bros.
It seems like the world has been waiting forever for the first Crazy Rich Asians trailer, and …well, the world has to wait just a little bit longer, but this afternoon a little teaser of the anticipated film was released.
The short clip, which was also tweeted by star Constance Wu and director Jon M. Chu, begins with Constance's character, Rachel Chu, rolling up to a huge mansion in Singapore. "Damn Rachel, he's like the Asian Bachelor," says Rachel's friend Goh Peik Lin (Awkwafina) as her boyfriend Nick Young (Henry Golding) walks out in a snazzy white tux. We then get a series of super-quick shots of the family's "crazy rich" life, complete with massive fireworks, sleek sports cars, and lavish parties. "You really should've told me that you're like the Prince William of Asia," Rachel says to Nick, who replies, "That's completely ridiculous. I'm much more of a Harry." The clip ends there, but the full trailer is expected on Monday.
Crazy Rich Asians is an adaptation of Kevin Kwan's book of the same name. It follows New Yorker Rachel, who joins her boyfriend Nick at his family home in Singapore for the summer to attend his best friend's wedding. Once she's there, however, she realizes that his family is extremely wealthy, and her humble roots from a single-parent household might not meet the approval of her partner's family who is obsessed with prestige. The film version stars Constance Wu, Henry Golding, Harry Shum, Gemma Chan, Michelle Yeoh, and Ken Jeong, and comes out August 17.
Related: The Year of Awkwafina: The Actor and Rapper on Ocean's 8 and Her Very Big 2018