Creating Lisbeth: Five Minutes with Costume Designer Trish Summerville
Trish Summerville has lent her stylist's touch to everything from music videos to feature films and is now adding her creative stamp as the costume designer behind The Girl With The Dragon Tattoo. When we...
---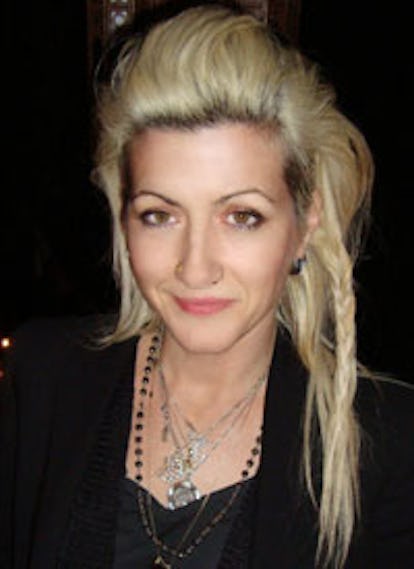 How did you craft Lisbeth's look? I think Salander has that slightly Aspberger's tendency of: she has her routine and regimen. Even the production designer Don Burt—who is also a genius—the way he did her apartment, [it looks like] she never gets rid of anything, she's this pack rat, but in some way you know that she knows where everything is even though no one else could tell. I tried to make my character fit in his living environment.
I started prepping in July and we started shooting in late August or September. I had inspiration boards of all just haircuts, boards of makeup, a vibe board, which could just be anything: what an apartment would feel for Lisbeth, or what books she would be reading or a board of just her whole type of wardrobe. It was everything from old punk photographs to modern stuff to get a really big gauge of who we think she can be. The whole color palette for the film is very dark and muted. We don't really have any bright tones, the look is very much that of a black and white film.
What brought about the large "Salander" tattoo visible across her collarbones? The Salander tattoo was not in the book. We were sitting in her trailer the night before the W shoot and we were trying to figure out what tattoos we wanted to have for W besides what she has [in the movie]. I just wanted to have a bold statement piece. This was out first chance to show the world our Salander. So with the blood dripping and the jacket being pulled open, it's just kind of that really big statement of, "Here I am."
Where did you find the pieces for her wardrobe? It's kind of from all over. But one of the things I discovered is the insane resale shops in Sweden, which is what I tried to base most of her clothes on. You can buy great clothing at really inexpensive prices in perfect condition. [Summerville counts ML Resale and Mix Mix Mix among her favorites.]
Also, because [Mara] is quite tiny and petite, we drew out jackets and had them made. She has two main short jackets in the film, one of them is from a company called Cerre, and the other jacket was made by a woman named Agatha Blois. She's done rock 'n ' roll clothing for probably 20 or 25 years.
The backstory in my head is that she's had these two leather jackets for years, they're just comfortable for her. Since she's so isolated and doesn't have much interaction with the world, these are her shields. And she feels comfortable in them. It's like her home once she steps outside of her home.
Her haircut was a big, big deal for us. We didn't want her to be loud. We wanted her to have her own personality and definitely her own look. When we cut her hair, we cut off 12 inches. Her face is so amazing, she has such incredible cheekbones, that I think she looks more stunning with short hair. I mean, who can wear those tiny micro bangs we put on her? On her, it looks incredible. She just has these very intense, beautiful eyes and such great bone structure. Danilo Dixon, who I've known for years, is who I chose to do the haircut. I knew he'd get it. He's an old school punker himself—he knows it.
How did Rooney react? I have to say, we have the right girl. She is so amazing and she really is driven and she really is focused on her character. So with the piercings, she was really driven to do it. It was the whole day of transition—it was the haircut, the hair dye, eyebrows, the piercings, working on the tattoos. I don't think she was hesitant.
There is so much beauty in her. There is this level of innocence that is so much like Salander and I'm sure that is what David saw, but then there is this crazy determined drive that she has too, and this kind of fearlessness. I think it was both bittersweet and exciting, and she was ready. I think at one point she even said, "I can't wait to get rid of this hair." So that was another step of her transformation.
Mara has a bit of the girl next-door appeal, were you surprised by how drastic her physical transformation was? No. [Mara] always looked totally comfortable in the clothes. They just looked like they fit her—like they were used and they were hers. I think for her, when they announced that she was doing Dragon Tattoo, all of the images that they showed of her were these red carpet images of her with this long, beautiful hair and these dresses, so people really doubted that could she be the Salander that they all had in their heads. So when we got the opportunity to do W and went for it to that extent, I think it really showed people and kind of made them gasp and draw back and be like, "Holy shit. Is that the same person?"
Photographs by Jean-Baptiste Mondino