Dinner in Central Park
Calvin Klein Collection celebrates Creative Time's Drifting in Daylight.
---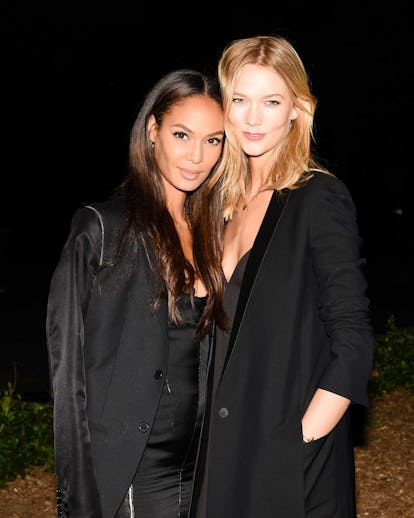 Between the auctions and the Frieze fair, New York is in the midst of "art week," as just about anyone even remotely related to the actual industry will tell you. Thursday evening, Calvin Klein Collection drew an intimate group away from Randalls Island (site of Frieze) and the floor of Christie's and Sotheby's to a more unexpected locale when it threw a dinner on the edge of the Harlem Meer in the northeastern most corner of Central Park. The occasion was a collaboration between the Central Park Conservancy, celebrating its 35th anniversary, and Creative Time, a public arts organization. The latter enlisted eight artists, whose mediums range from dance and theater to in one case, ice cream (more on that later), for the exhibition "Drifting in Daylight," running every weekend in the park May 15th through June 20th. Creative Time specifically focused on the North Woods portion of the park, as that is the part that is both the least trafficked and also closest to Frederick Law Olmstead's vision of an Adirondacks oasis in the middle of the city.
"Not a month goes by where artists haven't said to me over the past twenty years it is my dream to work in Central Park. And I'm always like, 'Hahaha, that's not going to happen!'" said Creative Time president Anne Paternak, who indeed made it happen. "This exhibition is about happy memories, about artists creating intimate moments that are just a bit unusual to jog your memory of oh, when did I last have soft serve ice cream? Or looking at birds and seeing a funny conversation between two strangers?"
"Here's the trick with Central Park: it's a gift, but it's already a finished artwork. So in your head you're like, all you can do is ruin it. People are coming up to me saying, 'What an amazing show!' and I'm like, 'You haven't even seen any artwork yet,'" said Nato Thompson, who co-curated "Drifting" with Cara Starke. "We really thought about trying to find works that were softer. People come to the park to try and get away from the city, get in their own thoughts or to jog, just to do private things but in public. It's just a private public place. So we looked for artists that were in that sentiment."
Works by three of them were taken in by the likes of Karlie Kloss (fresh off a flight from Cannes), Hope Atherton, Kehinde Wiley and Aaron Young. Ragnar Kjartansson's "S.S. Hangover," a boat outfitted with a brass sextet, made loops around Duck Pond during cocktails; there was a special dance performance by Lauri Stallings and the glo artists, and Spencer Finch's "Sunset (Central Park)" a rainbow-hued ice cream truck dispensing soft serve in colors inspired by the sunset, idled near the park's entrance. Marisa Tomei and Calvin Klein's women's creative director Francisco Costa took full advantage of it even before reaching the awaiting glasses of champagne and Moscow mules.
"I think it's very enticing just to be here. It just gives so much to your soul," remarked Costa before he prepared to take his seat to dinner in a long glass enclosed space, glimmering on the Meer's shore.
Photos: Dinner in Central Park
Karlie Kloss and Joan Smalls. Photo by BFAnyc.com.
CALVIN KLEIN Collection Celebrates the Unveiling of Creative Time's Drifting in Daylight: Art in Central Park. . Photo by BFAnyc.com.
Francisco Costa, Anne Pasternak, Italo Zucchelli. Photo by BFAnyc.com.
Marisa Tomei. Photo by BFAnyc.com.
Laure Heriard Dubreuil, Aaron Young, Vanessa Traina Snow, Max Snow, and Victoria Traina. Photo by BFAnyc.com.
Laura Love. Photo by BFAnyc.com.
Daisy Lowe. Photo by BFAnyc.com.