Cressida Bonas' Promising Future
The actress and former Prince Harry flame sets her sights beyond Buckingham Palace.
---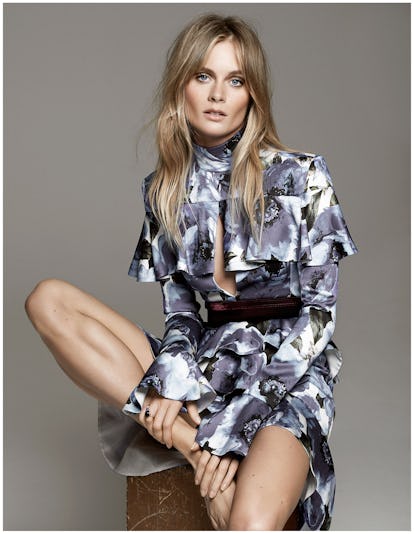 "I'm much more confident performing than I am in social situations," says Cressida Bonas, whose haute-bohemian wardrobe, artistic aspirations, and distaste for the feverish British tabloid machine positioned her as the anti–Kate Middleton during the two years she dated Prince Harry. The 26-year-old actress is the star of a short film for Mulberry's spring 2015 campaign and has a part in the upcoming period drama Tulip Fever, starring Cara Delevingne and Alicia Vikander.
As a child, Bonas, the daughter of 1960s It girl Lady Mary-Gaye Curzon, often made up stories to perform with her nine siblings. She went on to study contemporary dance at London's Trinity Laban Conservatoire of Music and Dance and has appeared onstage in London productions like There's a Monster in the Lake and The Importance of Being Earnest. But when she was introduced to Prince Harry by Princess Eugenie, in 2012, she took on her most trying role to date—that of a potential princess-to-be. There were multiple media reports of imminent marriage proposals that never materialized, but when the couple broke up last year, observers suggested that it was difficult, if not impossible, for a royal spouse to have an acting career. So it might not just be coincidence that, with the relationship behind her, Bonas has a promising future. And yet, she still worries that producers might want to exploit her celebrity status. "I do have to be careful," she admits. "But I have good intuition and great friends. They wouldn't let me make such mistakes."
Cressida Bonas: Pre and Post Prince Harry
Cressida Bonas has long been a style star. In this pre-Harry look at the 2011 Ralph Lauren Wimbledon Party, the It girl stands out in a watercolor printed jumpsuit.
Bonas was reportedly introduced to Prince Harry in May of 2012, but by the looks of this edgy all-black ensemble later that year, the potential princess wasn't changing for anyone.
Of course, the then-royal girlfriend could clean up, too. Bonas showed off her polished side (alongside friend Princess Eugenie of York) in 2013 in a floral maxi dress and seafoam green blazer at Rupert Finch and Lady Natasha Rufus Isaacs's wedding.
The actress and model offered a refreshing break from typical festival wear in blue and green sunglasses, roomy overalls, a pale blue scrunchie, and Nike Air Force Ones at the 2013 Glastonbury Festival.
Post-Harry, Bonas debuted a newfound love of blown-out hair—worn here with a black camisole, silk pants, and pointed pumps at a London charity event in June 2014.
Bonas showed her love of scrunchies again with a black version, Hooters t-shirt, cut-offs, and Hunter boots at Glastonbury in 2014. So much for a refreshing take on festival dressing.
As Bonas's acting career has picked up, her off-duty style has become more pared down. Leaving the theater after a 2014 performance in "There's a Monster in the Lake," the beauty looked fresh-faced and clean in simple white overalls and Converse sneakers.
The It Brit invaded Hollywood at the 2015 BAFTA Los Angeles Tea Party in a white Mulberry dress and black leather sandals.
She shined at Dior's Cruise 2016 show on the Riviera, wearing a sequin turtleneck dress and black pumps by the French house.
Most recently, celebrating her much-lauded performance in "An Evening with Lucian Freud," Bonas let her talent do the talking in a plain white t-shirt, black pants, and blazer.