Jean Machines
With Current/Elliott's newest denim line, Deadstock goes live.
---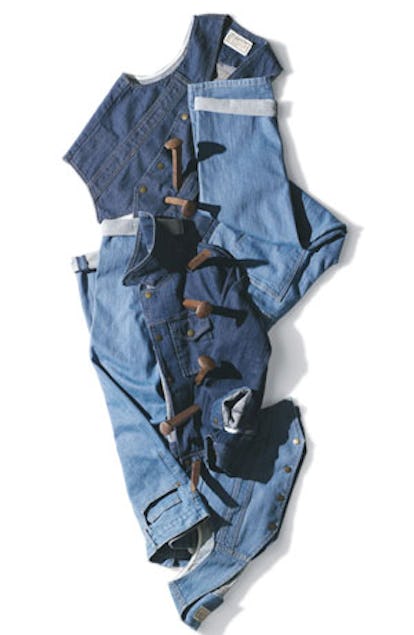 Statistics show that the average American owns seven pairs of jeans. Emily Current and Meritt Elliott, the stylists–turned–design duo behind hot denim label Current/Elliott, estimate their individual collections each include between 50 and 75 pairs. And, says Current, "those are just jeans that, you know, we wear." The rest of their vast arsenals are made up of inspiration pieces and straight-up collectibles, all of which converge in Deadstock, a new addition to the year-old Current/Elliott range.
"Meritt and I are obsessed with flea markets," says Current, explaining the creative origins of their denim addendum. "Year after year we were staring at people from all over the world hovering over these rigid vintage jeans from the Fifties, Sixties and Seventies that were unworn, with the tags still on." In the retail industry, such excess inventory is known as deadstock, which, like any good curio, becomes particularly collectible when the original packaging is intact. Thus, in their "homage to the whole collector's thing," Current and Elliott cut Deadstock's 10 styles after classics, including the boot-cut, bell-bottoms and the shrunken jean jacket. All are available in three basic washes—One Wash (dark), Indigo (medium) and the slightly faded True Blue—and are outfitted with retro hang tags and oversize pocket flashers (those tags attached to the right back pocket that instantly telegraph the brand and style). The idea is to evoke an authentic vintage look without the starchy vintage feel. "[Real] deadstock is a little stiff and sometimes not as flattering on the body. We cheated a bit," says Elliott, referring to the signature supersoft Japanese denim they use.
Reworking old-school styles has proved savvy for the Los Angeles company. Current/Elliott shot to the top of the premium-denim food chain, a category as saturated as Deadstock's dark blues, after igniting last year's distressed boyfriend-jeans trend—still going strong, by the way. "That was just one pair of jeans that we had been wearing for years," says Elliott, who initially bonded with Current over a pair of vintage Levi's bell-bottoms while they were undergrads at UCLA. "We sort of chuckle now that everyone's so excited about it." Still, the California natives have clearly had their finger on the fashion pulse for a while: Before they started designing, they teamed up as a celebrity and editorial styling duo, catering to such clients as Mischa Barton, Emma Roberts and Mandy Moore.
Another star galaxy, this one including Katie Holmes, Drew Barrymore, Rihanna and Gwen Stefani, has championed Current/Elliott from the beginning. And given the pair's track record, the new offerings are sure to be a hit. While the core collection is prized for its well-worn, faded aesthetic, Deadstock, with its preserved look, is the polar opposite. The designers chalk this up to instinct and a desire to please themselves rather than an attempt to cover the denim waterfront. "Meritt and I were wearing boyfriend jeans every single day, and we kept saying, 'I want to be a rockabilly. I want to wear dark jeans with saddle shoes,'" says Current. "We don't have that, and we need that."
As for the prices, most Deadstock pieces clock in below those of Current/Elliott ($130 to $200, versus $100 to $500)—a happy coincidence, according to the designers. Or, considering the economic crunch, an indicator that their instinct for Deadstock is dead-on.