Cyndi Lauper on '80s Nostalgia and the Joy of Swiffering
The '80s icon shares her own nostalgia-tinged playlist and talks about the one cleaning product that has changed her life in quarantine.
---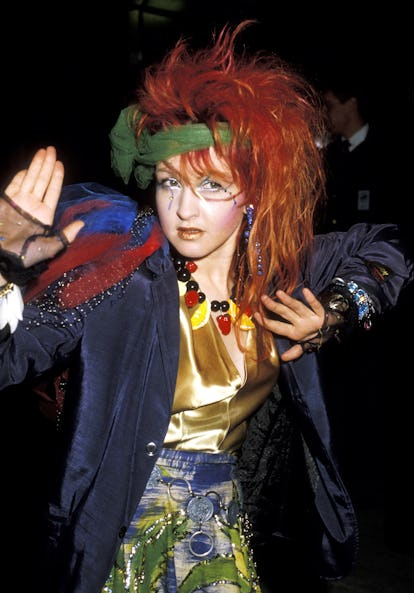 Photo courtesy of Getty Images.
For W's new series, "One Fun Thing," we're inviting creative people around the world to share the activities that have brightened up their days spent at home, from Manolo Blahnik's daily sketches to Jewel's guided meditations to Marcel Dzama's homemade coloring books. Consider it a grab bag of ideas for how to shake up your own quarantine routine.
When you think about the 1980s, a few obvious cultural touchstones come to mind—big hair, bright colors, bold music. And it would be sacrilege to discuss nostalgia for that decade without mention of the '80s musical icon Cyndi Lauper. Even music streaming platforms, like Spotify, noticed that there was a major uptick in listeners creating their own nostalgic, 80s-themed playlists this month. At the top of their lists? The feisty anthem, "Girls Just Want to Have Fun," of course. Here, Lauper shares her own nostalgia-tinged playlist and her thoughts on the one cleaning product that has changed her life in quarantine.
Where are you quarantined at the moment?
In my apartment in New York City.
What's one thing that has been keeping you sane during this quarantine?
The Swiffer! I never knew there was a Swiffer. All of a sudden, I have a new best friend! That and I taught my husband, David, how to play Casino. My grandparents used to play. I let him win sometimes.
What songs evoke memories of the past that you feel comfortable sharing?
I am a very nostalgic person. There are so many. Broadway cast recordings of The King & I and Funny Girl bring me back to when I was five and just discovering my voice and love for music. Music marks time for me. So when I hear a song, it brings me back to that exact moment in time. It also helps that I have a really good memory, but music has always been such an important part of my life. Like most people I have a soundtrack. Even when I listen to She's So Unusual, when preparing for tours, I remember exactly how the light was coming through the windows in the studio kitchen when I would go out to have a break. I remember how cold my nose was recording because the studio was so cold. But I remember, too, knowing the record was a life-changing thing for me. I remember that vividly.
So, here are five songs that evoke memories: "Sweet Dreams" because I always loved Annie Lenox, Queen's "Bohemian Rhapsody" because the first time I heard it I freaked out, Ellen Foley on the Meatloaf record Bat Out of Hell, Joan Armatrading's "Me Myself I" because I remember doing the pogo alone in my studio apartment to that song, Satch Plays Fats because I remember listening as a kid while doing laundry and dancing around with my mom, and the first Gypsy Kings album. I was in Miami and then I met David. I remember them dancing on the table, and I danced with David.
Which songs are making you dance now?
Old disco records like "Don't Leave Me This Way" by Thelma Houston. Donna Summers. Gloria Gaynor's "I Will Survive."
Are you dressing up during the day?
I'm not wearing any ball gowns although that could be fun. I'm doing comfy, but putting on some lipstick and earrings. I dyed my roots purple with Manic Panic. It's violet but looks more like a two toned tulip. On my Ray Milland "Lost Weekend" days I'll stay in my PJ's—like on a Sunday, if it's raining—and read a book by the fireplace that doesn't work because it's an apartment so it's make believe.
What do you think makes your music resonate with fans today?
It's funny, or actually not funny, but a very famous music person once said to me that 80's was just music for the moment, that it was disposable. And that kind of was the general consensus for a while. So it was great when millennials discovered the 80's and how it's influenced a lot of artists recently. We never thought we were making disposable music. And I say we because there was a real sense of community amongst artists. "Authentic" and "original" was celebrated. We celebrated each other. I know for me, my intention was to make music that people would want to listen to for years and years, for decades and decades, long after I was gone. What we all had in common was that music of the '80s was melodic. That was the common thread and why music from the '80s is so good. Melody rules!
What do you think about the '80s sound used in a lot of today's contemporary music? Are there any up-and-coming artists you're a fan of?
I am huge King Princess fan. Also, I think Lauren Daigle is incredible. And I am a big fan of Bow Anderson, what a voice.
You were recently part of the Stonewall Inn Gives Back initiative digital concert. Why did you feel it was important to participate?
For many in the LGBTQ community, the only safe place they can go to be themselves—whether it was decades ago or in 2020—is an LGBTQ club or bar. There are so many people in need as a result of COVID-19, including those who work at places like The Stonewall Inn in New York, which helps create a community for LGBTQ people across the country and around the globe. I am proud to donate a song to help make sure those safe places, and those who make them thrive, are able to get through this.
What are you listening to for stress relief and to stay positive?
It's not easy. I am going to admit that. I am writing songs for Working Girl, my new Broadway project. I have a recording studio that I always go to write, and now I'm writing from home, in my dining room, and learning new ways of working and it's a challenge, but I know I am lucky that I can still do my job from home. Not everyone is so fortunate. I like my husband, so that is good! Though, sometimes we do practice social distancing in the apartment. We learned and are playing a lot of Casino, like my grandparents played. Is a very Italian thing to do so I'm channeling them. I am eating too much and not exercising enough, but I am sticking to my vocal lessons and personal training, just not as much as before the quarantine. I am reaching out to friends to check on them and taking the advice of Governor Cuomo. We are playing by the rules so we can do our part to flatten the curve.
What's your daily routine like now, and how has it changed since you've started to quarantine?
I clean every effing day because, like everyone else, to keep my home safe. And I am allergic to dust on top of that. Now that I discovered the Swiffer it's almost fun. Not quite fun but definitely easier. In general, I still workout with my trainer, then do my vocal lesson—both virtual—then writing sessions for Working Girl four times per week. I go for walks with David. It's nerve wracking though, worrying about being too close to people, wanting to keep yourself and others safe.
Are you working on any new music while at home?
Yep. Working on the songs for the Working Girl musical that's coming to Broadway. Also, trying to get better at the ukulele and playing the piano. And learning GarageBand.
Related: Jewel Shares Her Mindfulness Toolkit With the World