It's the End of the World as We Know It
And the artist Cyprien Gaillard feels just fine.
---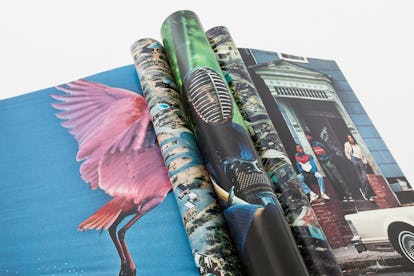 Cyprien Gaillard's vision of wasted beauty and seductive ruin made him the toast of New York earlier this year. "The Crystal World," his solo show at MoMA PS1 featured videos in which buildings were razed, dust clouds filled the air, U.S. troops patrolled Babylon and jocks downed obscene quantities of booze on Spring Break in the shadow of ancient Mexican temples and 1970s megaresorts. For "From Wings to Fins," currently on view at Sprueth Magers in London, he's put aside his camera to explore the slow downward slide of globalization with traditional bronze, delicate paper and yet more holiday hooch.
Gaillard's first-ever bronze is a half-moon of vicious spikes, cast from security fencing rescued from the British architect Owen Luder's demolished Gateshead parking garage, immortalized by the gangster classic, "Get Carter." Bolted to the side of the building, the spikes were meant to prohibit thrill-seekers illicitly ascending the car park as if it were a cliff face to be conquered. "I wanted to make a monument to a dead building, to Luder," Gaillard explains. "I feel that all cities will eventually look the same as they all jump into a crusade for urban renewal. Re-erecting the fence is symbolic: they demolish it, I rebuild it."
As a counterpoint to such brawny bronze, are Gaillard's sculptural paper collages preserved in vitrines and fashioned from one of publishing's endangered species, "National Geographic." There is no glue involved. Instead images of places and people cohere precariously: New York's skyline connects with an office block via African tribeswomen; an aerial shot of jungle with a snowy sidewalk via tropical plants.
Also included in the exhibition is a selection of paintings by the American abstract artist Morris Louis. The creative certainty that marked the post-war era in which Louis worked could scarcely be further from our own. Yet studying his dark washes of paint soaked canvas, the murky collapse between pigment and ground starts to seem less like artistic evolution than the foreshadowing of a fall. "I think he was a kind of prophet painter," Gaillard insists.
The brooding sense of a world lost, is handled with a lighter touch, in the upstairs gallery, where a Victorian telescope points at a stray object in the middle of the roof of a non-descript office building: a bottle of Captain Cook rum. Picked up by Gaillard in Sri Lanka, a place Cook never visited, this is cheap liquor aimed at student backpackers, swallowing the dregs of colonialism.
Photos: It's the End of the World as We Know It
A piece from Cyprien Gaillard's "From Wings to Fins" print
Cyprien Gaillard's endangered species collages at Sprueth Magers.
Cyprien Gaillard's paintings at Sprueth Magers.