Spike Lee's New Joint Da 5 Bloods Is a Vietnam War Tale for the Ages
Starring Chadwick Boseman, Jonathan Majors, and more, Da 5 Bloods, is Spike Lee's first film since BlacKKKlansman premiered at Cannes in 2018.
---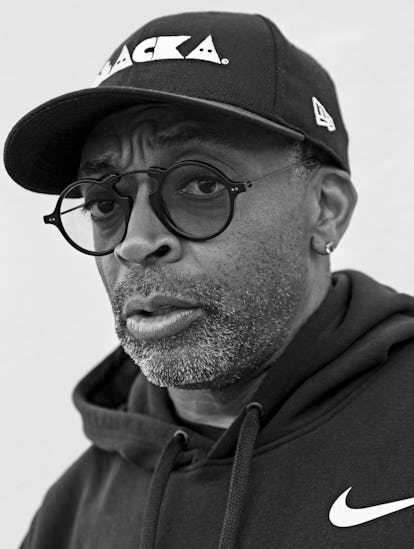 The Vietnam war film canon is rich with choice cinema: Apocalypse Now, Full Metal Jacket, Platoon, The Deer Hunter. Now, Spike Lee is bringing his own interpretation of the 1960s conflict directly into viewers' homes, with the release of his latest film, Da 5 Bloods. It's coming to Netflix on June 12—a release pivot, as most movies have been forced to do in the face of the coronavirus: it was widely rumored to premiere at this year's Cannes Film Festival. Cannes, notably, was where Lee won the Grand Prix Award (and received a standing ovation at the premiere) for his last film, BlacKKKlansman, in 2018.
Da 5 Bloods, starring Chadwick Boseman, Jonathan Majors, Delroy Lindo, Clarke Peters, Norm Lewis, and Isiah Whitlock, Jr., is Lee's first film since BlacKKKlansman, which earned the New York-based director his first Academy Award ever. The tailer for Da 5 Bloods, the story of four black veterans who return to Vietnam years after the war, dropped today.
According to the trailer, the vets go back to Hanoi to find the remains of the fallen leader of their squad, played by Boseman. But they've also made the pilgrimage to uncover a trunk filled with gold that they buried during the war.
The film mixes a present-day timeline with reimagined flashbacks and archival footage from the period. Like any good Spike Lee joint, Da 5 Bloods also examines larger questions pertaining to the race politics of that time, when black draftees started to doubt their involvement in a war for a country that continuously oppressed them. Like BlacKKKlansman, Da 5 Bloods will surely make an impact on audiences—and officially makes its entrance into the classic Vietnam war filmic catalogue.
Related: Spike Lee on What's Funny and What's Definitely Not About BlacKkKlansman, His Cannes Grand Prize Winning Film