Daft Punk to Take Merch to the Next Level with Maxfield's Pop-Up
Daft Punks teams up with streetwear favorites, a few toy companies, and even a French furniture maker.
---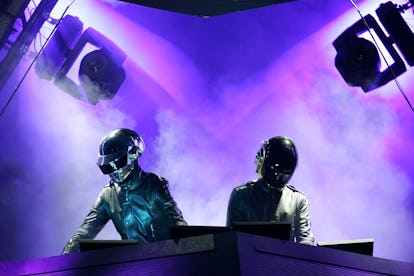 Karl Walter
We may have declared merch dead back in August, but the usual concept of death doesn't apply to robots. So, Daft Punk gets an exception.
The helmeted duo is opening their first pop-up shop in West Hollywood at cult store Maxfield's starting this Saturday, and, yes, they'll be plenty of limited edition merch on hand. They may be a bit late to the merch pop-up party, but they're making up for it by taking both the concept of a pop-up shop and merch to new levels.
According to the band, the pop-up shop will double as mini-museum with "a retrospective of archival set pieces, props, wardrobe, artwork, photography, and robot helmets on display for the first time." Yes, even robot helmets.
The stuff you can actually buy won't disappoint either: they've teamed up with the likes of post-Soviet fashion wunderkind Gosha Rubchinskiy and streetwear brand Off-White (whose creative director Virgil Abloh may or may not be headed to Givenchy).
Along with Off-White and Gosha, other Daft Punk collaborators include a veritable murderer's row of cult labels like Enfants Riches Deprimes and Darkdron, though it won't just be must-cop limited edition tees on sale. Brands of all sorts will also be producing products. Windbreaker makers K-Way, bro-friendly jewelry brand Han Cholo, buzzy French furniture makers Hervet Manufacturier, toy manufacturers Medicom, Russell Yo-Yo and Wham-O and writing instrument company Fisher Space Pens will also offer some goods. Ballcap standard bearer New Era has also been commissioned.
The pop-up will open its doors on February 11 and run through the 19th at Maxfield's, which has previously collaborated on pop-up shops with Yeezy, Kith and more. The temporary location, located at 8818 Melrose Ave., will be just across the street from Maxfield's permanent location. The store will be open from 11 a.m. to 7 p.m. on most days. It will be open from noon to 5 p.m. on Sundays.
Unfortunately for the East Coast fashion crew, all but two days of the pop-up coincide with New York Fashion Week. However, the event is meant to celebrate the band's performance alongside The Weeknd at the Grammys on February 12th.
Watch W's Most Popular Videos: