Post Star Wars, Daisy Ridley Lines Up a Role as a Heiress-Turned-Spy
Paramount Pictures just acquired the rights to the book A Woman Of No Importance with Daisy Ridley attached to star.
---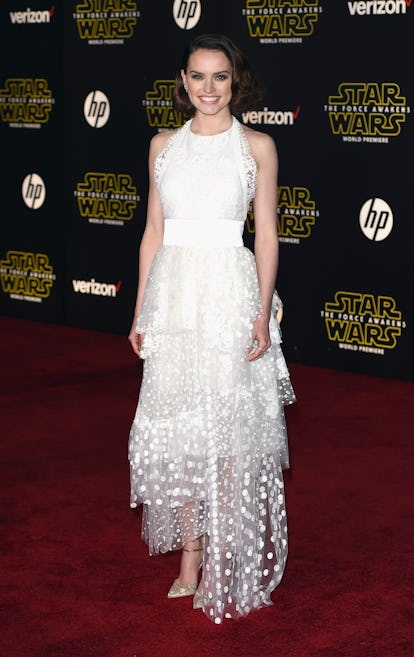 There's always a risk when an actor has their breakthrough role in a high-profile franchise blockbuster that the public can't accept you in any other role. It looks like that won't be the case for Daisy Ridley, though, as the Star Wars actress is set to star in an adaptation of A Woman Of No Importance, according to Deadline.
The Paramount Pictures film is based on a book of the same name by Sonia Purnell. The book is a biography of the American heiress Virginia Hall, a proper old-moneyed scion who studied at Radcliffe and Barnard before continuing her education in Europe. She dreamed of joining the Foreign Service as a diplomat, but then accidentally shot her own leg off during a turkey hunt and had to wear a wooden appendage for the rest of her life (which she apparently nicknamed Cuthbert).
When World War II came around, Hall was in Paris and soon found herself working as a spy for both the American and English governments. She evaded capture while working behind enemy lines, helped to train members of the French resistance, and the German's nicknamed her "the limping lady."
In other words, it's sort of amazing that no one has ever tried to turn the true-life tale into a movie before.
The film is still has a long way to go towards development–producers, writers and a director aren't even attached yet–but it's not Ridley's only project.
She's currently busy filming Kenneth Branagh's remake of Murder on the Orient Express opposite Johnny Depp and Michelle Pfeiffer (Ridley will play the same role Vanessa Redgrave played in Sidney Lumet's 1974 adaptation of the Agatha Christie novel). She's also tapped to star in Ophelia, director Claire McCarthy's reimagining of Hamlet from a female perspective. She'll join Margot Robbie and Rose Byrne in a remake of Peter Rabbit, is attached to Doug Liman's dystopian flick Chaos Walking, will star in the J.J. Abrams-produced and Marielle Heller-directed Kolma, and somehow find time to appear in a film called The Lost Wife. At least, that's what's on her schedule at the moment.
Of course, at the year's end, we'll see Daisy Ridley once again as Rey in Star Wars: The Last Jedi, and presumably, two years later in the third and final installment of the latest trilogy. This is not a bad career trajectory at all for an actress who just a few years ago was lingering in small roles British television. In fact, she didn't even have an IMDB page when her Star Wars casting was announced. Now it seems to be one of the most oft-updated profiles on the entire site.
Watch W's most popular videos: