Dakota Fanning: Working Girl
With two major dramatic roles this fall, wise child Dakota Fanning grows up.
---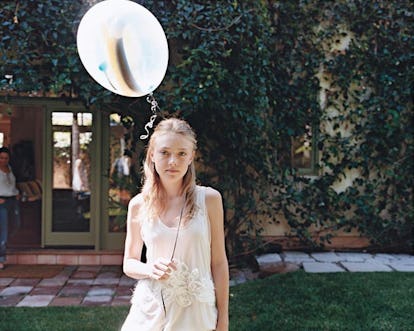 Given that she's 14 now, one might expect Dakota Fanning to exhibit just a tiny smidgen of adolescent angst. But the preternaturally excitable actress, who somehow comes off as both young and old for her age, is so sunny and positive that it's hard to imagine her finding anything unendurable. Life, for Fanning, is apparently nonstop fun.
Take, for instance, cheerleading camp, which she attended in August to prepare for her position on her high school's varsity squad. "For four days, there are 600 cheerleaders on the field all day doing cheers and dances," she says breathlessly. "And then you have a break and you come back for evaluations. And it's so much fun. It's sooo fun."
Fanning in The Secret Life of Bees, out in October Sidney Baldwin/Fox Searchlight pictures.
So, apparently, is high school—though she missed much of her freshman year because she was making the action film Push, due in February, and the literary adaptation The Secret Life of Bees, out in October. "I loved all my classes. I loved all my teachers. I really feel like I learned a lot," she enthuses. "I was surprised by just how fun it was. Just really, truly how fun it was."
And don't get her started on the kooky Marc Jacobs ad campaign she shot with Juergen Teller and her schnoodle, Lewellen, in 2006: "Juergen Teller is so much fun. He was wearing this hot pink scarf. We just had the greatest time. It was such a blast. It was one of the most fun times I've had."
Some of the other people, places and things that Fanning describes as "fun" include her ninth-grade Spanish teacher, Señor Oses; using fruit-scented Hello Kitty tissues; watching Top Chef, Shear Genius and Project Runway; her 10-year-old sister, Elle, also an accomplished actress; recording her voice for a video game version of the upcoming animated movie Coraline; making a short film with Kate Hudson, who is one of her favorite actresses; and, well, the entire two months she spent near Wilmington, North Carolina, filming The Secret Life of Bees.
"It was such an amazing experience," boasts Fanning, her icy blue eyes wide, of making the period drama, based on the best-seller by Sue Monk Kidd. "It was so much fun, I didn't want to leave. Everyone was just so kind and wonderful. I cried at the end. I was like, 'It's never going to be this way again.' I just felt so lucky to be in the movie. I just loved the story so much."
In the film, she plays a depressed Southern girl who accidentally kills her mother. She escapes her abusive father (Paul Bettany) with her nanny (Jennifer Hudson), seeking refuge in the utopian pastures of an apiary run by a maternal beekeeper (Queen Latifah). Needless to say, no one would describe the film as fun. It's tearjerkingly poignant­—heavy but inspiring, and cut from the same cloth as Fanning's other fall release, Hounddog, which caused quite a controversy at Sundance for its depiction of her character's rape. Beyond that affecting but overpublicized scene, the young actress commands a young boy to remove his underwear; takes a swig of beer and puffs an unlit cigarette; and swivels her hips while imitating Elvis over and over again. It's an adult side of Fanning that has not yet been seen. Of Hounddog, Fanning says, "I really did the movie because it was about such an important issue and something that could help so many, and I know it already has. That's why I love to do movies."
According to director Deborah Kampmeier, Hounddog's intense subject matter didn't linger in Fanning's mind. "Dakota doesn't have to hang on to the darkness," she says. "She knows how to goof around with the other kids on the set. That's part of her maturity. But she has a state of presence that usually takes years of meditating to find."
On the afternoon we meet at a café in Brentwood, a bit of a hike from the Los Angeles home she shares with her family, Fanning nibbles a chocolate chip cookie and sips a Coke. Her mother, Joy, who accompanies Fanning to every set—"She's my best friend and my whole life," Fanning says—sits a few tables away, chatting with a member of her daughter's management team. At times, it's hard to remember that the actress is still a minor; her utter professionalism and unflappable demeanor is at once admirable and amusing. Asked about what kind of music she's been listening to lately, instead of throwing out such names as Miley Cyrus or Rihanna, she steers the conversation toward the talent and poise of her Secret Life of Bees costar Alicia Keys: "She's a great actress and so great in the movie and such a beautiful person. I think everybody has a little Alicia in them." When I wonder aloud if she plays Nintendo, she uses it as an opportunity to plug the Coraline game. "Do you know what?" she replies, when asked whether she was recognized while filming Push on the streets of Hong Kong. "I have a lot of fans in Japan. They really love the movie I Am Sam. And they're the sweetest people, and every time I go there, they're just so nice. But Hong Kong, not as much."
Bees director Gina Prince-Bythewood says she cast Fanning because she truly believed the teenager was the only young actress capable of carrying the film. "Her talent is almost surreal," she says. "She's one of those actors who can have fun right before you say 'Action,' and then—boom—she's in it and so in it."
Fanning's hypermaturity is so legendary that it has even inspired a hysterical Saturday Night Live sketch. Amy Poehler portrays the young actress as the host of "The Dakota Fanning Show: The Only Forum for Child Actors to Discuss Cinema, Theater, Politics, Philosophy and the Cultural Zeitgeist at Large," where she condescends to her fellow underage thespians, including Daniel Radcliffe and Abigail Breslin. "I'm not familiar," she tells them, when they mention a subject any kid would know—Harry Potter, say, or the animated show Family Guy. The SNL version of Fanning watches Charlie Rose and reads Thomas Pynchon. Of The Cat in the Hat, Fanning's 2003 blockbuster, Poehler-as-Fanning says, "In my defense, when I read that script, I saw it as a metaphor for ethnic violence in Central Africa, but apparently it was about a cat in a hat."
Fanning admits she's never seen the parody. "I hear it's hilarious," she says, before breaking into giggles. "Saturday Night Live is such a funny show. Those people are so talented, you can't help but laugh. You have to be able to laugh at yourself. I get it. I understand."
And though she doesn't crush on the Jonas Brothers or watch Hannah Montana like most girls her age, she points out that she has read every Harry Potter book: "I preordered the seventh one and everything." She also enjoys reading about the Holocaust, however. "My tutor is a history major and she loves reading books about it, and I think she passed that down to me," Fanning says. "I just find it so interesting."
As aware of her stature in the industry as she is—she has worked with Robert De Niro, Tom Cruise and Denzel Washington, and eagerly awaits her turn with Jodie Foster—Fanning seems to be trying her best to stay a normal kid. There's cheerleading camp, not to mention her choice to stop homeschooling and matriculate at a private school. Still, she insists, she hasn't yet discovered boys. "I don't really push that," she says. "It'll happen when it happens. I don't think that I need to look for a date right now." The peer pressure of drinking at parties has not become an issue, either. "That's not something I think about right now and hopefully will never have to experience," she says with a little trepidation. "I know what's right for me, and I stay on my path."
For the moment, that path remains her acting career. It's been seven years since her breakthrough in I Am Sam, but, she claims, "I still love it just as much, and I feel just so fortunate each day to go and do what I love. It's just a part of who I am." Like many actors, however, she has bigger ambitions. "I would love to direct," Fanning deadpans, without a hint of irony. If she didn't have so much poise, it could be a joke. "I would. I really would. A drama, maybe? It's always been a dream of mine. I've gotten to work with so many different directors, and I think I could communicate with the actors pretty well and have the vision to know what I want in a script. But it's a hard job," she admits solemnly, taking a last bite of her cookie and a sip of her Coke. "I think I'll wait till I'm a little bit older. Maybe college?"
Photo: Sidney Baldwin/Fox Searchlight pictures