Dakota Fanning Faces Off Against a Violent Preacher in Controversial Brimstone Trailer
The actress plays a mute but increasingly woke feminist who faces off against a violent preacher in the wild, wild west.
---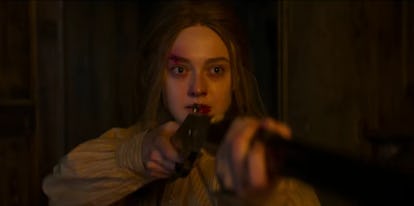 When the Dakota Fanning-starring Brimstone premiered at the Venice Film Festival last year, it was met with controversy. The first English-language effort of Dutch director Martin Koolhoven divided critics: some cheered its audacious take on feminism, others were put off by the movie's extreme violence and unconventional structure.
Though shot in Europe, the film is set in a 19th-century town in the old west (the kind Westworld watchers might have to occasionally remind themselves is not populated by sentient bots). Fanning, 22, plays Liz, a young midwife and mother who was rendered mute after having her tongue cut out for mysterious reasons. The violence inflicted on her and another female character is lasting.
Arranged in four chapters, the first three are told in reverse chronological order. We travel back in time from Liz's current life as a wife and mother back to the time when she was forced to work in a brothel as a teenager. Throughout, she's haunted by a mysterious fire- and, well, brimstone-spouting preacher played by Guy Pearce. He's accused Fanning's character of a crime she didn't commit and has a particularly primeval view when it comes to punishing women. Along the way, Kit Harrington, sporting an old west accent, pops up as a well-meaning atheist.
Even from the trailer and brief synopsis, it's clear that the film's religious violence against women and, ultimately, feminism isn't exactly subtle. It's what divided critics during its run on the festival circuit.
Some find it hammers its points home with a bit too much over-the-top violence. Others find it an audacious if not necessary take.
The film premieres in theaters and on VOD on March 10th.
Watch Dakota Fanning reveal her unlikely crush: