Dakota Johnson Is Bangin'
Mark Townsend, the hairstylist to the Fifty Shades of Grey star, tells all!
---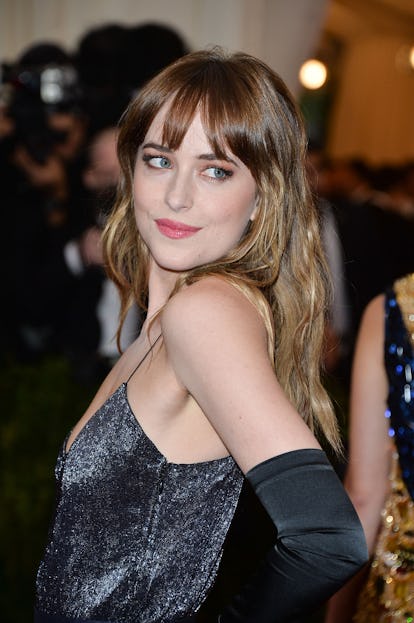 As the countdown begins to the Valentine's Day opening of Fifty Shades of Grey, the film's star Dakota Johnson is in New York City—with her hairstylist, Mark Townsend, in tow, naturally. Townsend, who also tends the tresses of celebs like Mary Kate and Ashley Olsen, and Jennifer Lawrence dishes on Johnson's bangs and beachy, easy style—both on and off the red carpet.
How did you start working with Dakota? I did Dakota's hair for a Gucci event in L.A. last year. She had just found out she was cast in Fifty Shades of Grey a few days before—at this point she had no bangs and her hair was blonde—and I've been doing her hair for all her major events since then.
What do you like about her? She is Hollywood royalty and her grandmother [Tippi Hedren] is one of my main references hair-wise. We're also always on the same page about hairstyles. For the Gucci event this year, she showed up with her own pictures of mohawks that we used as inspiration. It was a crazy look, but also very fitting for her aesthetic. She can be really versatile. But, of course, even with a mohawk, we kept a little bit of her signature fringe, too.
Speaking of which, tell us about the bangs—we love them. I'm so into fringe right now! I didn't cut her bangs for the movie, but those layers open up her face in such a beautiful way. When I'm styling her, I think a lot about Jane Birkin—that effortless, breezy hair—but the other nice thing about fringe is it's a hairstyle all on its own. You can do what you want with the rest of your hair—a messy bun, a ponytail, natural waves—as long as you spend the time on the bangs.
So, for those of us dying to get her cut, what are your guidelines to the fringe? Think about the cut this way: If the ideal face shape is an oval, you use fringe to create the illusion of that shape and bring out your face. It works with long hair—I'm a child of the 90's, I love long hair—but it also looks really nice with the long bob so many women are doing now.
Can you give us a step-by-step of how you style Dakota's hair? Dakota does have a cowlick, so I always start with the bangs while they're wet and blowdry them into the direction I want them to go. I don't use hair product on bangs since women touch them all day and that adds natural oils, but I always finish with dry shampoo, sort of like an alternative to hairspray. It keeps the volume and freshness, and the bangs can still move. I'm obsessed with R + Co's Death Valley Dry Shampoo. It gives hair a sort of beachy, slightly chunky texture.
How about the rest of the hair? Dakota has really straight hair naturally. I use a volumizing spray at her roots like Dove Root Lift Spray and a volumizing mousse or styling lotion through her hair and then rough dry it about 90 percent. Then I use a round brush or Mason Pearson brush to finish blowdrying. At the end, I apply a little a salt spray onto my hands and scrunch it through the hair. Since salt sprays are usually wet, I don't want to re-wet the finished style, so when I spray it onto my hands first then I am only adding the texturizing salt. I like Toni&Guy Casual Sea Salt Texturising Spray, TreSemme Expert Selection perfectly (un)Done Sea Salt Spray, and R + Co Rockaway Salt Spray.
Do you have a funny Dakota story? Well, I was up extra early this morning to do her hair for The Today Show and when she showed up she had cut her own bangs! I don't advise cutting one's own bangs, but they looked great. A little choppier than I usually do them, but it's what she wanted. So, if you watch her segment, bangs cut by Dakota!
Behold: Dakota Johnson's Beauty Evolution, from California Girl-Next-Door to Full-Blown Movie Star
Melanie Griffith and Dakota Johnson during Focus Features, NBC Universal Television Group and Universal Pictures Golden Globes After Party in 2006.

Jeffrey Mayer
Dakota Johnson attends Art of Elysium "Bright Lights" with VERSUS by Donatella Versace and Christopher Kane at Milk Studios on April 30, 2010 in New York City.
Dakota Johnson arrives at 2011 MOCA Gala, An Artist's Life Manifesto, Directed by Marina Abramovic at MOCA Grand Avenue in Los Angeles, California, on November 12, 2011.
LDakota Johnson attends the "Goats" Los Angeles premiere held at Landmark Nuart Theatre on August 8, 2012 in Los Angeles, California.
Dakota Johnson attends the Fox 2012 Programming Presentation Post-Show Party at Wollman Rink Central Park on May 14, 2012 in New York City.
Dakota Johnson arrives at the Los Angeles Premiere '21 Jumpstreet' at Grauman's Chinese Theatre on March 13, 2012 in Hollywood, California.

Barry King
Dakota Johnson attends the LACMA 2013 Art + Film Gala in L.A.
Dakota Johnson arrives at the 26th Annual BAFTA LA Garden Party at the British Consul-General's official residence on June 2, 2013 in Los Angeles, California.
Dakota Johnson attends the 2014 Met Gala at the Metropolitan Museum of Art in New York City.
Dakota Johnson attends the 2014 LACMA Art + Film Gala in Los Angeles.
Dakota Johnson in New York after The Today Show
Dakota Johnson backstage after the Chanel Fall 2014 Haute Couture show in Paris.
Dakota Johnson arrive at the LACMA 2015 Art+Film Gala Honoring James Turrell And Alejandro G Inarritu, Presented By Gucci at LACMA on November 7, 2015 in Los Angeles, California.

Steve Granitz
Dakota Johnson attends the 87th Annual Academy Awards at Hollywood & Highland Center on February 22, 2015 in Hollywood, California.
Dakota Johnson attends the 2015 Golden Globe Awards in Los Angeles.
Dakota Johnson arrives at "China: Through The Looking Glass" Costume Institute Benefit Gala at the Metropolitan Museum of Art on May 4, 2015 in New York City.
Dakota Johnson attends the InStyle Awards at Getty Center on October 26, 2015 in Los Angeles, California.
Dakota Johnson attends the official After Party Dinner for the EE British Academy Film Awards at The Grosvenor House Hotel on February 14, 2016 in London, England.
Dakota Johnson attends at Vogue 100: A Century Of Style atNational Portrait Gallery on February 9, 2016 in London, England.
Dakota Johnson attends the 89th Annual Academy Awards at Hollywood & Highland Center on February 26, 2017 in Hollywood, California.

Steve Granitz/Getty Images
Dakota Johnson attends the "Bad Times At The El Royale" New York screening at Metrograph on September 27, 2018 in New York City.

Jim Spellman
Dakota Johnson attends the premiere of 20th Century FOX's "Bad Times At The El Royale" at TCL Chinese Theatre on September 22, 2018 in Hollywood, California.

Jon Kopaloff
Dakota Johnson attends 'Suspiria' photocall during the 75th Venice Film Festival at Sala Casino on September 1, 2018 in Venice, Italy.

Daniele Venturelli
Dakota Johnson walks the red carpet ahead of the 'Suspiria' screening during the 75th Venice Film Festival at Sala Grande on September 1, 2018 in Venice, Italy.

Andreas Rentz