Dallas
Once known for J.R. Ewing, a football team and an assassination, the Texas city is now—thanks to a civic-minded group of philanthropists—a bona fide arts destination. Meet the lone stars behind the Dallas cultural boom.
---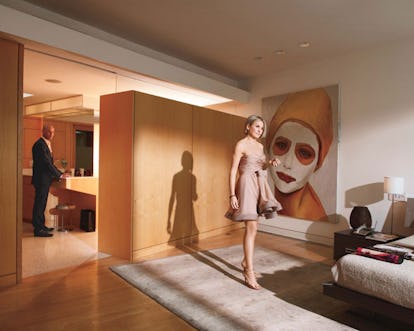 It's a bright spring morning in Dallas, and Deedie Rose, a stylish, sixtysomething philanthropist, has just emerged from her red vintage BMW in front of the AT&T Performing Arts Center. Composed of an opera house and a theater—designed by Lord Norman Foster and Rem Koolhaas, respectively—the center opened last October with a series of splashy galas and an open house that attracted tens of thousands. Today, Rose, who is considered by many to be a fairy godmother of the Dallas arts scene, having chaired the architectural committee that selected Koolhaas and enthusiastically drummed up financial support for the project from fellow members of her posh social circle, is bubbling over with facts and anecdotes as she leads a tour of the aluminum-clad theater. Rose relates how 135 families each gave $1 million or more to the endeavor—and not all of them are the type to quote Shakespeare or swoon over an aria. "Really, most of our money came from people who were not traditional performing arts supporters," says Rose, whose husband, Rusty, once owned the Texas Rangers baseball team with George W. Bush. "There were people who said, 'Don't ever make me go to the opera because I'm never gonna go, but I'll give you the money.'"
That kind of thinking would be unusual in most American cities where, for example, major individual donors to New York City Ballet generally, well, enjoy ballet. But in Dallas these days, it's civic pride as much as personal passion that's driving cultural philanthropy—and judging by the Big D's current arts boom, Dallasites have plenty of pride in their hometown. In less than a decade, the city has created, as if from scratch, one of the country's most dynamic arts scenes. Since the 2003 opening of the Nasher Sculpture Center in an elegant Renzo Piano pavilion, a $1.2 billion contemporary art–filled Cowboys Stadium made its debut; and three local families—the Roses, along with Howard and Cindy Rachofsky and Robert and Marguerite Hoffman—pledged their entire collections, reportedly valued at $215 million, to the Dallas Museum of Art, setting the regional museum on the fast track to national stature. While local philanthropists seem split on whether to invest in content, as at the DMA, or trophy facades, they are united in the belief that the arts are worth paying for. Indeed, one way to look at the boom is through the prism of the so-called Bilbao effect, in which investment in an arts institution catalyzes a citywide revival. Played out on the larger Texas stage, the strategy might instead be called the Dallas ambition—an intent to build a complete cultural identity by funding a whole slate of projects.
Of course, there are limits to the rush to culture. In early 2009 Dallas Opera general director George Steel, freshly arrived from New York, bolted town after only four months for a post at New York City Opera. And no amount of money can compete with weighty reputations accrued over decades—such as at the Kimbell Art Museum in Fort Worth or Houston's Menil Collection. Still, Dallas has many of the fundamentals in place. The three families' 2005 gift to the DMA, selections of which were first exhibited in the aptly named 2007 exhibition "Fast Forward," has both the breadth and depth (five Robert Rymans, for instance) to form the core of an important permanent collection.
Jennifer Eagle, whose husband, John, is president of the museum's board, contrasts the donation with what she has seen in cities such as Miami, where the Rubell, de la Cruz and other families have founded their own mini museums. "Here, everyone is building our one museum," she gushes. "It's a beautiful thing."
When asked to describe the thought process that went into giving it all away, Cindy Rachofsky says the story is so brief that it might be disappointing. It begins in the Napa Valley, where the Hoffmans and the Rachofskys always spend New Year's Eve together. "We were there sitting by the fire, drinking great wine, and Robert looks at us and says, 'Would you ever consider donating your collection to the museum?'" recalls Cindy. "We said, 'Absolutely.' It was as simple as that. There was no background."
Later that evening, Howard, a retired hedge fund manager, announced that he also wanted to throw in their 1996 Richard Meier–designed house on acres of lawn dotted with sculptures. When the two couples told Deedie their plan, she signed on too. Cindy jokingly describes the scene as a "kumbaya" moment, while Howard concedes that the decision appears almost impulsive. But looking back he says he's satisfied that it was "unequivocally the right thing to do."
"It's collaboration," adds Howard, who has a showman's charisma and often includes purple in his elegantly offbeat attire. "It's working together to accomplish something that individually you couldn't do as well."
This collaborative spirit was forged as early as 2002, when the Rachofskys and the Hoffmans made the unconventional move of jointly buying a Gerhard Richter with the museum. "I call it our time-share," says Marguerite, who with her late husband, a Coca-Cola bottling magnate, amassed a collection of luminous paintings (Diebenkorn, Twombly, Doig) and major sculptures (Judd, Whiteread, Gober). "It was expensive, but we really needed it here in Dallas."
The Richter now hangs in Marguerite's bedroom (the museum has first dibs), while a Gabriel Orozco currently installed chez Rachofsky is partially owned by the Roses. "We both have too much stuff," says Deedie, who lives in a monumental modernist bunker by Antoine Predock that is stuffed with richly textural works by Robert Ryman, Piero Manzoni, Sol LeWitt and Gordon Matta-Clark. "Neither one of us can show everything that we've got; therefore we buy together," she continues. "Sometimes we'll get a piece that's more expensive than what I might buy or he might buy alone. We'll say, 'Let's pool our resources.'"
Deedie, who also serves as chairwoman of the DMA, has her hand in arts organizations all over town, but the true spiritual leader of Dallas cultural philanthropy is 98-year-old Margaret McDermott. Together with her late husband, Texas Instruments cofounder Eugene McDermott, she established an art-buying fund in 1960, and over the years Mrs. McDermott, as she is universally known, has dipped into it to pay for major gifts across nearly every
curatorial department of the DMA. To say that she remains active is an understatement. She flies to New York with museum curators to inspect works for purchase, communicates her expectations to board members ("When I took my job, she called me over to her chair, and said, 'I want you to know who the boss is,'" John Eagle recalls with a smile) and insists that at the institution's annual Art Ball fundraiser, the evening's gala chair escort her through the galleries to preview new exhibitions.
"Of course, you're running around like your hair's on fire, but when Mrs. McDermott arrives, you have to stop whatever else you're doing," says former Houstonite Suzanne Droese, who now lives in Dallas with her architect husband, David. Suzanne is a worker bee on the young charity circuit, having chaired both the Art Ball and the equally glitzy Cattle Baron's Ball. (This fall she will cochair the annual Two x Two benefit at the Rachofskys' house, which will feature a well-stocked art auction—last year's boasted a rare Marlene Dumas painting—and in its 11-year history has raised $25 million for amfAR and the DMA.)
The Dallas art scene's junior crowd also includes art dealer John Runyon and his wife, Lisa, who, like Suzanne Droese, is doing what's expected in this social setting—she's chairing next year's Art Ball. Elsewhere around town the most shocking art belongs to Kenny Goss, a Texas native, who, with his partner, George Michael—yes, that George Michael—collects once Young British Artists such as Tracey Emin, Damien Hirst and the Chapman brothers. At the moment the loudest "Have you seen it?" buzz surrounds an art-filled Philip Johnson mansion lavishly restored by Naomi Aberly, the most prominent Obama supporter in a community of rock-ribbed Republicans, and her husband, Larry Lebowitz, a hedge fund manager. And in the same swanky Preston Hollow neighborhood, the Eagles reside in a flat-roofed tropical-style villa designed by noted modernist architect Edward Durell Stone and hung with works by Elizabeth Peyton, Mark Bradford and Sigmar Polke—the last of which they share, yes, with the Rachofskys.
Though not a serious collector, Lucy Billingsley, a tough-minded, second-generation real-estate developer, has made her own substantial investment in the Arts District with One Arts Plaza, the first major new building erected downtown since the real-estate crash of the late Eighties. (It houses 61 condos, along with trendy restaurants and the corporate headquarters of 7-Eleven.) Billingsley, by her reckoning, is a fifth-generation Texan, and she counts her late father, Trammell Crow, as one of the outsize, almost heroic figures who threw their energies into building downtown after WWII, at a time when, she says, Dallas was an insignificant place where "two railroads crossed."
"You talk about bravado? He had a huge spirit," says Billingsley, who is no shrinking violet herself. "That is the essence of a Texan, right?"
Crow erected some of the marquee glass towers that today define the Dallas skyline, and a small museum near the DMA is devoted to his Asian art collection. He also helped fund the city's most idiosyncratic public artwork: a life-size herd of cast bronze longhorn steers that the contemporary crowd seems to find an embarrassing reminder of old Dallas.
Today's town boosters would rather highlight the Koolhaas and Foster buildings, which are named for the Wyly and Winspear families, respectively. Businessman Bill Winspear and his wife, Margot, gave $42 million to the opera house—one of the largest donations ever to an opera company. And mild-mannered entrepreneur Charles Wyly and his wife, Dee, wrote a $20 million check for the theater. In the eyes of one conservative Dallas stalwart, Koolhaas's techno tower appears to be half finished at best. "Some might say that," Deedie Rose fires back. "And what I'd say is that the play is what finishes it. It's a machine for theater."
With the performing arts center well on its way to completion, the focus has shifted to creating Woodall Rodgers park, which will span the freeway separating the Arts District from uptown. On the far side of the green space, the Perot Museum of Nature & Science—paid for in part by a large gift from Ross Perot's family and designed by edgy Pritzker Prize–winner Thom Mayne—is scheduled to open in 2013. (Mayne will be the latest in a string of Pritzker laureates to build in Dallas, after Foster, Koolhaas, Piano, Johnson—whose oversize postmodern whimsies were popular during the punch-drunk days of the early-Eighties energy boom—and I.M. Pei.) And on the west side of town, work has begun on a pair of bridges designed by Santiago Calatrava. Again, the project is supported partly by private fundraising, which also draws heavily on corporations headquartered in the region, including AT&T, American Airlines, ExxonMobil and numerous financial companies that service the state's oil and gas industry.
"It's been a shock to some executives who have moved their companies here," says Charles Wyly. "They have been floored by what they are asked to do. We have pretty high expectations for our leaders."
Even the Dallas Cowboys have caught the culture bug. Out at the new stadium, team owner Jerry Jones and his wife, Gene—he's as tough as Patton; she's a Chanel-clad steel magnolia—made room for a serious public arts program. "We have nothing contemporary in our home, nothing," says Gene, noting that her taste in decor runs toward Mediterranean, while her husband's private, sports-theme art collection includes Norman Rockwell's The Toss. "But anyone will tell you that a great home should have great art, and though this stadium isn't our home—it is. We wanted to make it a great building, and I felt like it needed great art. Not just posters of football and sports."
Gene convened an advisory committee that included Howard Rachofsky and hired San Francisco–based art consultant Mary Zlot. Fourteen site-specific works were commissioned from such artists as Olafur Eliasson and Matthew Ritchie. The large public pieces are prominently installed—a 126-foot painting by Terry Haggerty hangs above a concession stand, and a Franz Ackermann mural explodes with color in a stairwell—while smaller works by Doug Aitken, Eva Rothschild and others hang in the lobby and VIP areas. Jerry points out that Cowboys home games get bigger television ratings than Dancing With the Stars and that the Dallas-hosted 2011 Super Bowl will be seen by more than a billion people, which amounts to massive exposure for highbrow culture. "If between plays, Al Michaels and John Madden are talking about the art and architecture here, well, that's something you don't get from a normal museum," Jerry says.
As innovative as the stadium project is, it also has a clear precedent in Dallas. In the early Sixties, real-estate developer Ray Nasher built one of the country's first enclosed shopping malls, NorthPark Center, in cotton fields north of town, and installed pieces from his private sculpture collection to add a bit of high-toned polish. "At the time people thought he had literally lost his mind," says Jeremy Strick, director of the Nasher Sculpture Center. The success of the Nasher, which is widely recognized as one of the country's premier sculpture gardens, was something of a breakthrough for the city's psyche. For years Dallas engaged in sibling rivalries with Houston, which has strong cultural roots thanks in part to the de Menil family, and with nearby Fort Worth, which is practically run by the deep-pocketed and socially preeminent—some might say snooty—Bass family. "When the Nasher opened, the art world flocked to Dallas to see it," recalls Deedie Rose. "It was such an exquisite building and collection. People came and said, 'This isn't the Dallas of the assassination.'"
Now, with the new performing arts center and Cowboys Stadium, locals speak of Dallas as the "third coast," a top-drawer all-American city fast on the heels of New York and L.A.—and a legitimate equal of international business centers, too. "Our competition is Shanghai and Frankfurt," says Mayor Tom Leppert, standing in front of Pei's brutalist City Hall. "That's the mind-set we need to have. And that's part of what's important about the performing arts center. It puts us on a world stage."
Back in the leafy enclave of Preston Hollow, Howard and Cindy Rachofsky sit down for a glass of wine in their dazzling Richard Meier home, which looks like an all-white spaceship landed among the McMansions. The house had been designed as Howard's bachelor pad—there's only one bedroom but a spacious gym—and was under construction when he met Cindy in 1993. After the couple married a few years later, they moved into a slightly more livable house nearby, which included rooms for Cindy's two children. Nonetheless, the Rachofskys are often at the Meier showplace—its official name in the architect's oeuvre is the Rachofsky House—where they host events such as a recent brunch to celebrate the Cowboys Stadium arts program, a fascinating cultural exchange where the straggly, nicotine-stained artist Lawrence Weiner chatted with Gene Jones in the shadow of her gravity-defying bouffant.
Asked about big hair and the other stereotypes that define Dallas for the rest of the country, the Rachofskys shake their heads. "We always say that if we can just get people down here, we can prove them wrong," says Cindy.
Howard points to an event that bruised the city's ego and pushed it to start literally rebuilding its image. In 2001 Seattle aerospace giant Boeing had announced that it was searching for a new corporate headquarters and winnowed the options down to three: Dallas, Denver and Chicago. Despite offering generous tax deals to lure the company and its thousands of jobs, Dallas lost out to Chicago. In the aftermath one theory that emerged was that Chicago had won on the basis of its better quality of life, which included a much wider array of cultural offerings. "It raised awareness that if we want to be relevant, it's going to take more than just having America's football team or a special tax break for corporate relocations," says Howard. "It's going to take building a city where people want to live."
In other words, all the big gifts—in the form of art, buildings, parks and bridges—are investments in the city's civic pride and, so the argument goes, in its economic future. But will it work? Howard Rachofsky is certain of it. "In the next decade Dallas may be considered the China of the States," he says, "an area whose better days are ahead."
Dallas: Who's Behind the Arts Boom?
John and Lisa Runyon at home in Dallas with Richard Phillips's Mask, 1995.

Photographed: Jason Schmidt
Kenny Goss at home with, from left, Tim Noble and Sue Webster's Excessive Sensual Indulgence, 1996, and Nigel Cooke's Experience, 2009.

Photographed: Jason Schmidt
Deedie Rose in her living room with Ricci Albenda's Garden, 2009.

Photographed: Jason Schmidt
At the Dallas Museum of Art's annual Art Ball, from left, standing: Lisa Runyon, Jodie Oliver, Julie Butler Hawes, Jennifer Eagle, gala chairwoman Melissa Fetter, Sharon Young, and Susan Dell. Seated: Deedie Rose and Sarah Perot.

Photographed: Jason Schmidt
Howard and Cindy Rachofsky in front of Richard Meier's 1996 Rachofsky House.

Photographed: Jason Schmidt
Gene and Jerry Jones with their daughter, Charlotte, at Cowboys Stadium, with a detail of Lawrence Weiner's Brought Up to Speed, 2009, on the JumboTron.

Photographed: Jason Schmidt
Marguerite Hoffman at home with Andy Warhol's Little Electric Chair.

Photographed: Jason Schmidt
Charles and Dee Wyly in front of the Rem Koolhaas–designed Wyly Theatre.

Photographed: Jason Schmidt
Mask: © Richard phillips