THE ART BOYS ARE FIGHTING
The Maurizio Cattelan Banana Drama Continues, Thanks to Damien Hirst
The art boys are fighting, and here to distract you from the pandemic.
---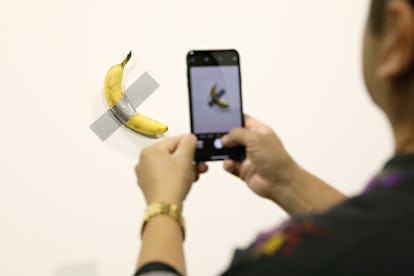 Photo by Cindy Ord/Getty Images.
Damien Hirst simply refuses to let go of his bad boy reputation, even though it's been decades since the 55-year-old was crowned the Young British Artists' most notorious enfant terrible. In fact, he's gone as far in doing so as mounting a literal dick-measuring contest, exhibiting a naked and generously proportioned replica of fellow former bad boy artist Dan Colen. Perhaps it was only a matter of time, then, until he playfully pranked another provocateur: Maurizio Cattelan, the art world's reigning trickster.
In simpler, pre-pandemic times, Cattelan caused a sensation by duct-taping a banana to the wall of a 2019 Art Basel Miami Beach booth, titling it Comedian, and pricing it at $120,000. Pandemonium ensued. And between the never-ending lines for selfies and the banana falling prey to a hungry fairgoer, Perrotin Gallery, citing safety concerns, decided against leaving it up for the fair's final day. After all, they'd already done what they came to do: selling not just two $120,000 bananas, but a $150,000 one, too. (They raised the price of the final and third edition after the first two sold out in a matter of hours.) Meanwhile, the banana continue to inspire memes (and inspire Brooke Shields to tape one to her forehead). The comedic response, of course, was Cattelan's plan all along.
Evidently, not even a pandemic can take the mastery of Comedian off of Hirst's mind. Still "desperate to buy" it seven months later, Hirst enlisted his friend, the curator Francesco Bonami, to approach Cattelan with a deal: In exchange for a banana, Cattelan could have any work in Hirst's entire oeuvre.
If Hirst really meant it, that's quite the offer; Cattelan potentially could have made millions. But Cattelan declined, leaving Hirst devastated. ("😭 wahhhh! 💦💦💦💦💦," he wrote in a recap of the saga on Instagram.) At that point, Hirst claimed, Bonami "felt sorry" for him. So, like a true friend, he made Hirst's fantasy a reality. In other words, he gave Hirst a piece of produce and some duct tape.
"This is it now on my wall and I love it," Hirst wrote with pride alongside several images of the banana mounted on a wall near his patio, safe from the sunlight. "[Bonami] said the banana has to point the opposite way hahahahaha 🥰," Hirst continued, presumably addressing potential accusations of plagiarism—especially because he didn't cover the fruit in his signature epoxy resin. "Real 🍌real🍌 real🍌 !!!," Hirst confirmed in the comments section, where he conducted a Q&A session of sorts. In case you were wondering, he plans to replace the banana each week—"I want it to look fresh," he explained—at which point he'll eat it. As for why he has so much love for Comedian: "Because after everything we've seen in art it's still shocking and upsetting and it makes me laugh."
Cattelan has yet to publicly respond, but perhaps he would approve of Hirst's response to the question of whether the art world had gone bananas. "Not as bananas as the real world," he replied to a comment. "But maybe that's what this artwork is saying?"
Related: The Saga of Maurizio Cattelan's Banana at Art Basel Miami Beach