From "Genius" to "Ugh": The Most Extreme Reviews of Damien Hirst's Massive, Polarizing New Shipwreck of a Show in Venice
The artist's "Treasures from the Wreck of the Unbelievable" is maybe the most expensive show ever put on by a contemporary artist, and it's driving critics to new extremes both high and low.
---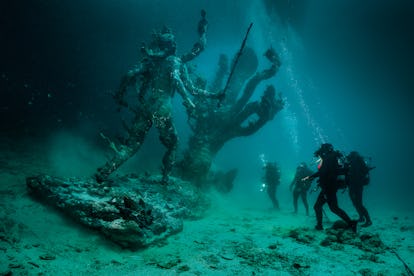 Photographed by Christoph Gerigk © Damien Hirst and Science Ltd.
Damien Hirst's new exhibition "Treasures from the Wreck of the Unbelievable" has only been open to the public since yesterday, but in Venice, at the collector François Pinault's two art spaces, the exhibition has already been making splashy waves. After all, it's Hirst's first major show in 13 years, one that's been a full decade in the making—"like Elvis coming back to play in Las Vegas," as Oliver Barker, chairman of Sotheby's Europe, told the New York Times.
Hiatus or not, it's Hirst's typically love-it-or-hate-it work on display that's mostly to blame for all the fuss. Thanks to 1,000-plus suppliers stretching from Germany to South Africa, the 189 works on display, some of which weigh up to four tons, altogether form what might quite possibly be the single most expensive art show ever put on by a contemporary artist. (It reportedly cost Hirst himself £50 million, anyway.)
Each piece, after all, is part of an elaborate conceit: They're supposedly all remnants of the art collection of a former Turkish slave named Cif Amotan II, which has been lost at sea since the first or second century until his vessel, The Unbelievable, was rediscovered off the coast of east Africa in 2008. In short, it's a tale that, as the Financial Times put it, "you'll find either fascinating and enriching or pointless and annoying"—especially once Hirst's usual tongue-in-cheek details like faces resembling Kate Moss and Pharrell, motifs of Mickey Mouse, and even a bust of the artist himself emerge and start to make it clear the underwater videos of deep-sea divers supposedly uncovering the treasure may not be exactly what they appear.
Depending who you ask, it's either a spectacular failure that could be the shipwreck of Hirst's career, or definitive proof the artist never lost the genius touch of his shark-in-a-glass-tank era. Hear what the critics are saying, from "triumph" to "ugh," here.
"Damien Hirst has created the exhibition the post-truth world deserves… After some 10 years of gestation—not all of it with the Pinault Foundation's involvement—it would be fair to say that this show is a contemporary-art spectacle of unparalleled ambition." — artnet News
"The exhibition is unbelievable in another sense, too—and not in a good way. Let me be frank: 'Treasures from the Wreck of the Unbelievable' is a spectacular, bloated folly, an enormity that may prove the shipwreck of Hirst's career. The duff, hollow note is struck at the outset, on the quayside by Punta della Dogana, where a massive statue depicts a man on horseback assailed by a monstrous sea serpent. Fashioned from Carrara marble (a material famously favoured by Michelangelo), this is, I assume, intended as homage to the tragic ancient sculpture of Laocoön and his sons in the Vatican. Don't be fooled: in fact, it is an overblown, kitsch pastiche, characterised by lifeless surfaces, lurid emotions, and vile, excessive details, such as a couple of toadstools growing on the base. Ugh." — The Telegraph
"For years [Hirst] has appeared a figure of strangely wasted and ruined promise, whose commercialism snuffed out his artistic spark. Yet with his exhibition 'Treasures from the Wreck of the Unbelievable,' which fills not only a Venetian palace but also the capacious halls of the ship-shaped Punta della Dogana at the mouth of the Grand Canal, the arrogant, exciting, hilarious, mind-boggling imagination that made him such a thrilling artist in the 1990s is audaciously and beautifully reborn. The young artist who put a tiger shark in a glass tank never died, after all, and we who lost faith in him look like fools for failing to believe." — The Guardian
"Damien Hirst's new show in Venice, 'Treasures from the Wreck of the Unbelievable,' is a complicated triumph … It all looks completely stupid and gruesomely kitsch, or else it looks convincing — it's pretty subjective." — The Evening Standard
"…filling the entire central courtyard as one enters the Palazzo Grassi, is the biggest, most gobsmacking piece yet. Some 18 metres high, towering right up the four storeys of the building, is a mighty headless figure — recognisably William Blake's 'Ghost of a Flea', with its talons instead of toes and its scaly back. It's one of scores of allusions to other works of art here, ancient and modern. Of all the giants in this show, too, this is the one that most loudly screams: "Because I can!" At first sight, it made me recoil from its sheer braggadocio. But moving up and through the open loggias of the palazzo, where it becomes obvious that the show is curated with intense care and thought, the sight of this man-monster frozen in movement becomes more and more intriguing. He is really pretty good." — Financial Times
"There is awe-inspiring craftsmanship on display here: some of the marble carving, done by a single quarry in Carrara, is superb. The attention to detail is almost obsessive. But there is also too much that is oversized, overcoloured, overemphasised. And just too lavish: there's no real need for a statue's eyes to be emeralds; it somehow calls the work into question. And while some of the delicate smaller works are genuinely beautiful, larger pieces can be crude, coarse, ugly even. Overall, this almost insanely opulent and overarching vision, a quasi-random pile-up of treasures of the sort that once princely collectors would create (but can now be realised by a billionaire artist) put me in mind of Werner Herzog's film Fitzcarraldo. In that saga, the actual point of bringing the boat over the mountain, which itself has something vaguely to do with building an opera house in a jungle, is entirely lost in the doing of the thing."— Financial Times
"Ever since organising 'Freeze,' the 1988 exhibition that launched the YBAs, Hirst has, arguably, shown more talent as an impresario than he has as an artist—operating in the manner of, say, a theatre or film director. This is what we find in Venice: every artwork is subservient to his overarching vision, concerning the spurious story of Amotan. Yet, rather than seeming grand and epic, it all feels tawdry and low-rent, tinny and fake. This has a lot to do with the outmoded presiding visual style, best described as Eighties Po-Mo kitsch, and the many naked, quivering maidens, excitably menaced by monsters. Water, water everywhere—nor, sadly, any drop to drink: "Treasures" is Hirst's Waterworld; in other words, a flop." — The Telegraph
"It takes a kind of genius to push kitsch to the point where it becomes sublime … Will Hirst one day be in the history books as a genius? It looks a hell of a lot more likely after this titanic return to form." — The Guardian
See Kendall Jenner, Performance Artist, Channel Icons Like Marina Abramovic and Yoko Ono: