Robert Pattinson and Mia Wasikowska's Western Rom-Com Damsel Drops First Trailer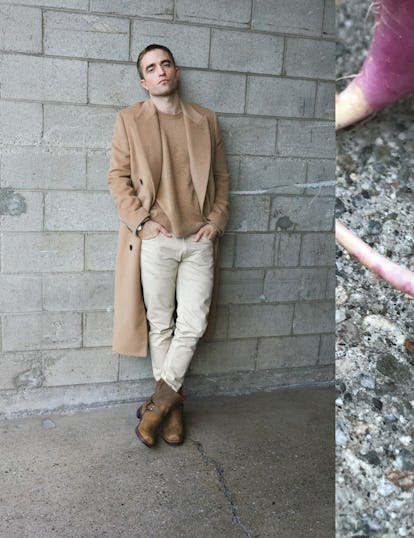 Photographs by Juergen Teller; Styled by Edward Enninful
On paper, Robert Pattinson and Mia Wasikowska's upcoming Western sounds like a film you've heard of 100 times before: A man embarks on a journey to reunite with the love of his life. But, upon first glance at the trailer, it's much fresher than that. The dark romantic comedy is a play on its own Western trope, with a silver-toothed Pattinson who can't stomach whiskey proposing to his love interest only to find out she's not really interested.
"Here's the plan: When we meet, I'll ask her to be my wife," a "lifelong commitment," Pattinson tells his sidekick Parson Henry, played by David Zellner, of Wasikowska's Penelope. Flash forward to when they meet and Pattinson has one knee on the ground mid-proposal before Wasikowska slaps his ring box out of his hand: "You gave me mixed signals," he tells her, to which she screams back, "I gave you no signals."
The pair, who first costarred together in 2014's Maps to the Stars, don't just have that misunderstanding; Pattinson also brings her a gift he took on his journey to meet her, which she is less than thrilled about. When Pattinson unboxes a miniature horse named Butterscotch, he explains, "You always said the miniature horse was the cutest, most beautiful creature you've ever seen," before she replies, "I never said that."
As a description of the film reads, per IndieWire, "Samuel Alabaster (Pattinson), an affluent pioneer, ventures across the American Frontier to marry the love of his life, Penelope (Wasikowska). As Samuel traverses the Wild West with a drunkard named Parson Henry (David Zellner) and a miniature horse called Butterscotch, their once-simple journey grows treacherous, blurring the lines between hero, villain, and damsel."
Ironically titled Damsel, the film is directed by Pattinson's costar Zellner as well as his brother Nathan Zellner, best known for 2014's Kumiko, the Treasure Hunter. "We've been incredibly fortunate working with Great Point Media in making Damsel and are thrilled to be partnering with Magnolia for the release; their enthusiasm means so much to us," the Zellners said in a joint statement to Variety. "Robert and Mia are amazing in the film and doing things we've not seen them do before. It's meant to be seen big and loud, and we're excited that it will have a proper life on the silver screen before being (lovingly) watched on iPhones while multitasking." Damsel debuts June 22.