Zoo York
Downtown artist Dan Colen migrates upstate.
---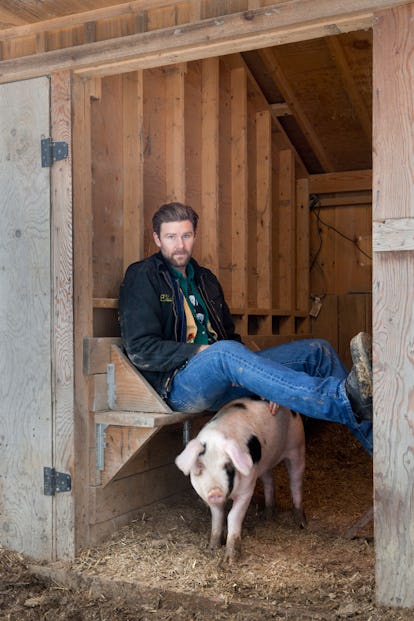 Dan Colen photographed by Gus Powell for W Magazine, May 2014.
During much of the aughts, when the artist Dan Colen was living up to his reputation as a hard-partying poster boy for all that seemed wild and unruly and romantic about downtown New York, it might have been hard to imagine him 100 miles upstate, in a serene farmhouse cushioned by 40 acres of gently sloping pastures, with chickens, cattle, pigs, sheep, goats, and one irresistibly shaggy donkey (the Mayor, as Colen calls her). "It's definitely a change of vibe," he said earlier this spring. Colen, 34, was dressed in what might be described as a Farmer Dan uniform: jeans, muddy boots, puffer vest. "I wanted to get a little distance from the scene. I felt chained to the city before."
Colen admitted that when he bought Sky High Farm, in 2011, "I had no idea what I was doing." He knew he wanted a place with room to make big sculptures—several of which will appear in his solo exhibition at the Brant Foundation Art Study Center in Greenwich, Connecticut, running May 12 through September, along with many of the paintings he's done over the past decade. But after settling his back forty, Colen experienced no artistic liberation, only a vague class anxiety. "It didn't feel rugged or free," he recalled. "Instead, it felt bourgeois—like, 'Here is my land. Behold it.' "
So he did what he's always done: turned neglected resources into something new. In the past, he's made art out of chewed gum, trash, mud, and bird shit. Upstate, he hired Blair Hansen, who used to work at his former gallery Peres Projects, and her husband, the artist Elias Hansen, to run the studio. (Colen still spends half of his time in the city and just moved into a new studio in Red Hook, Brooklyn.) They brought in experienced farmers and turned Sky High into a nonprofit, producing beef, pork, chicken, eggs, and 12,000 pounds of vegetables this past year, most of which was donated to food banks in the area.
Lately, in anticipation of his Brant Foundation show, the artist has found himself reflecting upon his infamously reckless youth. "So much of that work was about self-destruction," he said. A major new commission for the exhibition is a sculpture made of two salvaged box trucks, which Colen is installing upside down in the ground, with the trailers flung open to the sun and filled with earth and wildlife. Essentially, they are huge improvised planters—which Colen hopes will breed ecosystems of their own. "Now, it's about creating life."