Dan Flavin Is Lighting the Way for Raf Simons' New Era at Calvin Klein
Per Simons' request, Calvin Klein Collection's Madison Avenue store windows this season are not your average holiday installation.
---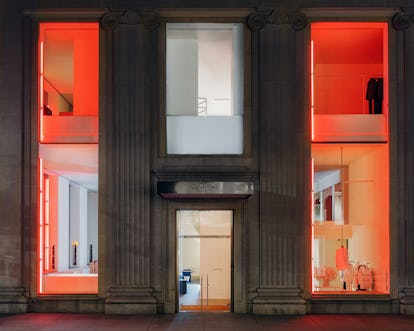 Daniel Shea, courtesy of Calvin Klein
There's a scene in Dior and I, the 2015 documentary chronicling Raf Simons' first venture into haute couture for the French house Christian Dior, in which Simons, driving through the windmill-spotted countryside on a rare break from his creative-director duties, takes a moment to reflect. "I've found myself, in the last couple of years, in a situation where the audience sees me as a minimalist," he says with his fingers pressed to his forehead, somewhat distressed. After a dramatic pause, he adds: "And I'm not," widening and then even rolling his eyes.
Simons, of course, has since moved on to different ventures — this summer, he was appointed chief creative officer of menswear and womenswear at Calvin Klein — but the M word is clearly a label he continues to resist. Just this week, in one of his first moves for the brand, the designer tapped another who bristled at the mention of minimalism in relation to his work: the late American artist Dan Flavin, who's known for his spare light installations, or "proposals," as he preferred to call them — one of which is now currently installed in Calvin Klein Collection's Madison Avenue store, per Simons' special request.
Given Simons' track record — collections highlighting the work of names like Sterling Ruby, and, more recently, Robert Mapplethorpe — the holiday windows are no doubt just a hint of more artist collaborations to come for Calvin Klein. But the move also showcases Simons' openness to looking to the past: Klein himself actually first installed "untitled," as the pieces are known altogether, at the Madison Avenue store in 1996, having commissioned what ended up being Flavin's penultimate work just before the artist's death that same year. Two decades later, though, the red and white lights seem to be burning just as bright.