A Dana Schutz Exhibition Opens at the ICA Boston, Post-Controversy
A reminder of the artist's wit and vibrancy, away from the firestorm.
---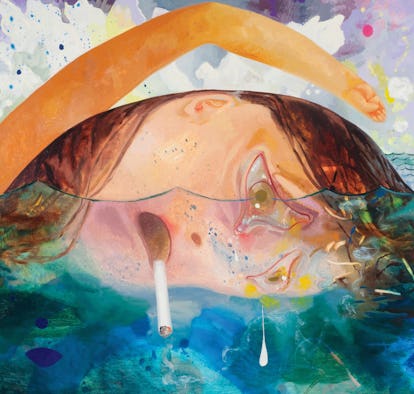 Courtesy of the artist and Petzel Gallery, New York
Rumors of painting's demise have long been exaggerated, and few artists working today have given the medium more life than Dana Schutz, whose jam-packed, visually witty and vibrant scenes often make the mundane seem revelatory. In Swimming, Smoking, ­Crying, 2009, for example, now on view in an exhibition of her work at the Institute of Contemporary Art/Boston (through November 26), Schutz's subject is pictured doing all three activities at the same time; the result is as funny and surreal as it sounds. "The jostling for space speaks to a cultural zeitgeist of anxiety," says the ICA's chief curator, Eva Respini, who organized the show of 16 paintings and assorted charcoal drawings.
With her distinctive take on Cubism, the New York–based artist, who is in her early 40s, stands apart from her peers in the way that she adroitly scrambles the elements of each picture (is that a foot?) to provide the perfect delivery system for what Respini calls her "dark, grotesque humor."
Not that Schutz can't get serious. In Open Casket (2016), not part of the exhibition, she took a poignant look at the famous photograph of Emmett Till, the African-American teenager who was lynched by two white men in Mississippi in 1955. (Its inclusion in the 2017 Whitney Biennial stoked controversy because Schutz is white, raising the question of whether artists are free to paint whatever they want. Most would say yes.) "I hope viewers see the breadth and depth of Dana's accomplishments," Respini says of the exhibition. "She's an original voice."
Watch W's most popular videos here: