Musician Dana Wachs, Guru to Everyone from St. Vincent to Rachel Comey, Is Emerging as a Solo Star at 42
The sound engineer-turned-experimental composer, who records under the name Vorhees, is just getting started.
Photographs by Barrett Sweger
---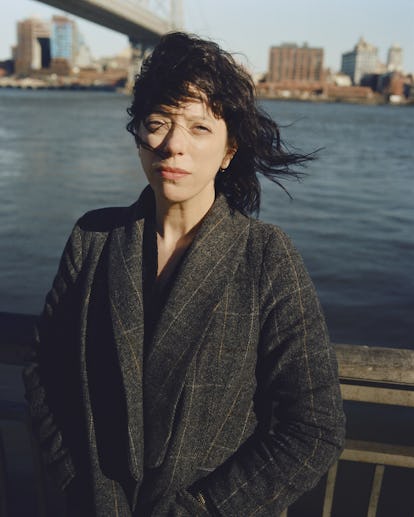 The musician Dana Wachs spent nearly two decades on the road with the likes of St. Vincent, Perfume Genius, Grizzly Bear, and Cat Power, but only now is she going solo at last. Her new EP Black Horse Pike, the 42-year-old electro-pop musician's debut as Vorhees (named after the New Jersey town she grew up in) is not a document of her musical career but more a reflection of her teenage years. In fact, it opens with a love letter of sorts to the two-lane highway that cuts across her home state to Atlantic City—maybe the first romantic overture to a throughway since Sufjan Stevens's BQE project.
The road led down her down many paths in her life. It's where she first "felt freedom and also tested my own limits as a teenager," Wachs recalled over coffee recently. She had just released Black Horse Pike and played a show at Brooklyn's Union Pool; soon, she'll embark on a tour of the United States.
"I was almost writing a soundtrack for my memories," she said, adding that the visual landscape was as important as the lush sonic one in her music. As a teenager, she joined a hardcore outfit, the Holy Rollers, on Fugazi's Dischord roster; she first got a taste of life on the road as a bassist at age 19. It stuck. She toured with Perfume Genius in 2012 in support of Put Your Back N 2 It and engineered his sound at the Pitchfork Music Festival several years later. She has also toured with Deerhunter, M.I.A., Lykke Li, and Metric frontwoman Emily Haines. Amid it all, she's performed one-off solo show at the likes of Iceland Airwaves. Though Wachs has been circling a solo project for nearly eight years—she laid down the first demo for the title track back in 2009—it was only when a label approached her with an offer to distribute her record that Vorhees came into existence.
Since 2010, Wachs has also been music director for the designer Rachel Comey, though their relationship goes back to the late '90s just before Comey founded her eponymous label, when Wachs covered a DJ shift for Comey's then-boyfriend at an eccentric club on Manhattan's Lower East Side. The two hit it off, and have remained close since. "I remember watching her make her first shirt—that David Bowie ended up wearing—in her studio," Fuchs recalled. (Comey is also selling Black Horse Pike in all her brick-and-mortar stores.)
Wachs exhibits a lifelong collaborator's diplomacy and self-deprecation. "I'm learning how to be more gracious," she said with a shy smile. (When I asked her who had the best dance moves of all the musicians with whom she's toured, she cited Jamie Lidell and Cat Power, as well as a backup dancer for M.I.A., before equivocating: "Everybody has something different to offer.") But now that she's stepping out on her own terms, she's also exploring where her music fits in the current political landscape.
"I vacillate between wanting to escape into fantasy and wanting to be present and fight for my friends and family and everything we're going to lose," she said. She knows many artists who are successfully issuing political rallying cries, but Wachs sees her role differently. "I want to offer the environment that gives you a chance to have stillness and some quiet, regeneration, and rejuvenation," she said. Like many musicians, Wachs is finding that the election altered the context in which she produces work. There is more urgency now.
At 42, Wachs is also setting an example for older women making their first forays into a new artistic venture. Despite her years of experience in the industry, she still considers herself a "new musician."
"I don't think women my age really get a lot of representation in the music scene," she added. "I don't want women to be afraid of getting old. I want them to be excited to get older."
A taxonomy of Paris Fashion Week's street style stars, Planet Earth-style: