Choreographer Jonah Bokaer Honors Artist Daniel Arsham
At the Chez Bushwick gala.
---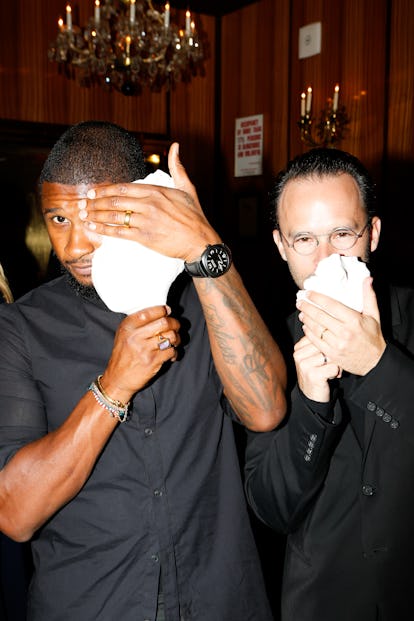 There was more than one dancing bear at the Russian Tea Room this Tuesday night for Chez Bushwick's annual gala in support of their non-profit dance space. The organization's founder, Jonah Bokaer, performed brief snippets of his contemporary repertoire to honor his longtime friend and collaborator, Daniel Arsham of Snarkitecture. For two artists who relate so intensely to space, the ornate Midtown dining room served as an interesting backdrop. The crowd was equally mismatched, including everyone from chairs Claire Distenfeld, Michèle Gerber Klein, and Tracy Stern to Usher, who conducted an auction before dessert that no one seemed to be expecting. Jewelry designer Jennifer Fisher was the only bidder, who won not only a piece by Arsham, but also a selfie with Usher.
Jaden Smith and his girlfriend Sarah Snyner, who was dressed in head-to-toe sweats, also made a brief appearance for cocktails. I just hope they didn't think Arsham had anything to do with the life-size dancing polar bear fish tank in the middle of the room. What Snarkitecture did provide, however, were souvenir pillows made of hardened chalk, custom fitted for personal items like iPhones. "Now I can't get the 6S," said painter Melodie Provenzano. "It won't fit."
Bokaer and Arsham met almost ten years ago, while working on one of Merce Cunningham's performances. "We met on stage and were brothers right away," says Bokaer, who even officiated Arsham's wedding. "He was finalizing his design and I was finalizing my interpretation of the dance, but we both showed up first, like very, very early. We locked eyes in the theater and have been friends ever since." Together, the two early birds have done nine complete works, and announced their tenth that evening: a collaboration with Pharrell Williams, who will create a score to be performed by an orchestra.
Following the announcement and Bokaer's dedicated dance performance, Arsham urged the crowd to support Chez Bushwick, saying, "It's an easier job as an artist to make money today than it is to be a dancer, which is a crazy thing to say." He also recounted working with Bokaer in 2009 in Valencia, Spain, where Bokaer somehow got on stage at a strip club. "I learned two things that night," revealed Arsham. "First, that Jonah can dance and put on a performance anywhere, as we've seen tonight. And second, that Jonah will get people to pay to see contemporary dance anywhere. That is a serious talent."
Photos: Choreographer Jonah Bokaer Honors Artist Daniel Arsham
Daniel Arsham, Usher Raymond, and Jonah Bokaer. Photo by bfanyc.com.
Daniel Arsham and Usher Raymond. Photo by bfanyc.com.
Jonah Bokaer and Michèle Gerber Klein. Photo by bfanyc.com.
Sarah Calodney, Claire Distenfeld, and Jennifer Fisher. Photo by bfanyc.com.
Daniel Arsham. Photo by bfanyc.com.
Patsy Tarr. Photo by bfanyc.com.
Teri Whitcraft and Muriel Quancard. Photo by bfanyc.com.
Paul McCann and Kara Tobin. Photo by bfanyc.com.
Tracy Stern and Jonah Bokaer. Photo by bfanyc.com.