Henrik Daniel Gaardsdal Gets Us Stoned
The Danish facialist delivers better skin with rocks.
---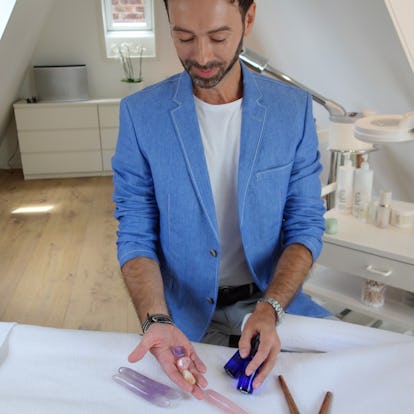 According to Själ facialist Henrik Daniel Gaardsdal, stones are the secret to great skin. The former fashion designer, who transitioned to skincare after developing an allergy to the chemicals used to treat fabrics, integrates stones into every aspect of the treatments he doles out at his Copenhagen studio and at the homes of private clients. He preps the table with a heated "bio-mat" containing healing amethysts, places crystals on the chakra points, and then uses rocks to address the full range of skincare woes. Naturally cool hematite works to de-puff the eye-area and promote circulation; rose quartz calms skin on the face, neck and décolleté. The overall effect, he says, is supremely relaxing. "Some people are unable to speak after the treatment," Gaardsdal laughs. "Some are completely knocked out."
Gaardsdal visits private clients in New York City and Greenwich, Connecticut quarterly. All session can be booked through Själ.