The Rebirth of Danna Paola
With her new album "K.O.," the former telenovela child star takes the reins of her career to make her own moves.
---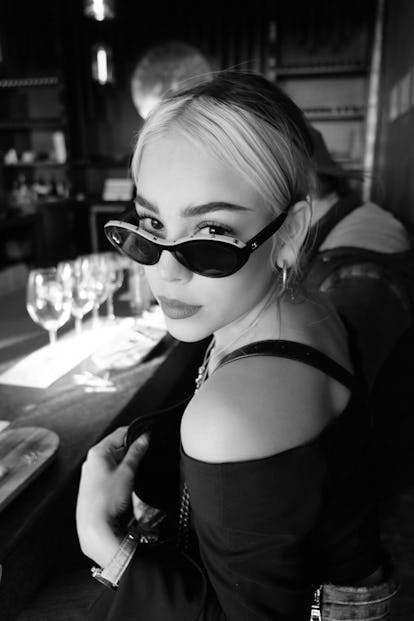 Courtesy of Danna Paola.
Danna Paola became a global force over the past three years as a star of Netflix's hit Spanish drama Élite. But Paola is not an overnight sensation—in actuality, her career in acting and music spans over 20 years. As a child, she starred in hit Mexican telenovelas for children like María Belen and Atrévete a Soñar. And on Élite, where she became known to most American audiences, she played Lucrecia, the resident bad girl with a heart of gold to those faithful to her. When Lu's storyline culminated in her graduating from the show last March, Paola was able to focus on yet another endeavor: her burgeoning solo music career. For most of 2020, she released hit after hit, amassing over one billion streams on Spotify with songs like "Sodio" and "Contigo." In her new role as a Mexican pop princess, Paola is stepping into the ring with her latest album K.O., which dropped on January 13.
"Knockout was a very important process for me during these last two years of my life, when I was living alone in Madrid [while filming Élite] and learning from my past relationships," the 25-year-old actress and singer says over Zoom. "It was a healing from all the shit I lived and all the heartbreak I've had. Self-love was a revelation for me that completely changed my perspective of love."
K.O. is by no means Paola's debut album—in fact, it's the sixth studio album in her discography. But this is the first time she's not promoting her music alongside a series, which she did with records including Océano—it accompanied a children's telenovela Amy, La Niña de La Mochila Azúl. ("Amy, La Niña de La Mochila Azúl is my favorite show [I've starred in] because I was a mermaid and I was living on the beach," she says of the 2004 show.)
On Élite, Paola was the sole Mexican actress on the all-Spanish cast. "My life changed 180 degrees," she says about the show. "Lucrecia changed the way I think as a woman and empowered me. [Élite] was like a catapult for my career and it helped me a lot with my music."
"It was really hard for me to make that decision to not be on the fourth season of Élite because I love Lucrecia and that project," Paola goes on. "I'm not saying that I will never act again, but I love what's happening with my music career right now. I wrote on all the songs on K.O. so I feel very proud of it. It's a project that's completely mine."
Once Paola decided to get personal and truly open up on her songs in late 2019, her music career turned with the release of her tongue-in-cheek "Mala Fama," or "Bad Fame." The track tackled gossip surrounded her as a star on Élite (the colorful music video has 300 million views on YouTube). "I received a Twitter message that I was dating [Brazilian soccer star] Neymar," she says. "I hate that I can't have 'men friends' and it doesn't mean that they're my date or it's my new romance." Along with Neymar, she playfully namechecks Latin superstars like Ozuna, Maluma, and Sebastián Yatra as people she's been romantically linked to in the tabloids, even if such a thing never happened in real life. And in a full-circle moment, Yatra features on the magical K.O. duet "No Bailes Sola," or "Don't Dance Alone."
With K.O., Paola was not only the most invested as an artist she'd ever been in terms of writing, but she also pushed her voice. On the vulnerable ballad "Amor Ordinario," or "Ordinary Love," she sings about a romance that has lost its charm. Toward the end of the track, she lets out a Mariah Carey and Ariana Grande-level whistle note. "It represents a scream from when you are so broken-hearted," she says. "The song needed a plus, and that whistle came at the last minute. It's my most emotional track."
The album is also her most global release yet—Yatra hails from Colombia, British pop star MIKA is featured on "Me, Myself," and the funky bop "Friend de Semana," or "Friend of the Week," includes Spain's Aitana and Brazil's Luísa Sonza. "Friend" is part of a string of all-female collaborations Paola released in 2020, including the alluring "Santería" with Lola Índigo and Denise Rosenthal.
"As a woman in this industry, I need to work with women because we need to support each other—no one else is going to do that," Paola says. "All of my dancers are women. I'm not here to compete with other women because we already have enough machismo (toxic masculinity in the Latinx community) to deal with."
Not only does Paola have a girl power moment on K.O., but she also supports her fans in the LGBTQ+ community on "TQ Y Ya," or "ILY & That's It." "Love is love," she sings in Spanish in front of a rainbow flag in the music video. "That song that was very necessary for me to write because I support 100 percent universal love," she says. "I'm so thankful for the LGBTQ+ community, who have always supported me and been there. Making a song with this message also makes me feel free in life. We're in this, together, hand-in-hand."
Next up, Paola will perform K.O. along with her past hits in a virtual concert titled "Welcome to My Break Up Party" that's taking place on Feb. 13 and on Valentine's Day. "We're putting together a really special show," she says. "I don't want a concert with just a stage and singing and that's it. I want to make it an experience for my fans."
After years of going with the flow, K.O. is a chance for Paola to take hold of her career and knock out any self-doubt. Reflecting on her 20-plus years in the industry, Paola adds, "I always had people telling me what to do, how to act, what to say, what to sing and I wasn't completely the owner of my life as an artist until now that I've taken the reins of my career. The perfect team arrived. The people around me believe in me. The past four years have been the most controversial and cathartic where I've learned about myself more than before. I learned to believe in myself as a person, as a singer, as an actress, and that I can do more than I believed."
Related: J Balvin and Bad Bunny Collaborator Jhay Cortez Is on His Own Hot Streak