Daphne Guinness: Rare Bird
Skunk-streaked society figure Daphne Guinness continues her transformation from muse to designer with her new fragrance for Comme des Garçons.
---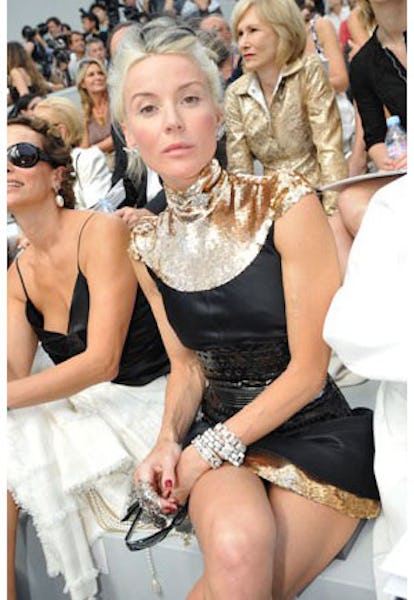 It doesn't take long to see why Daphne Guinness has earned her reputation as the fashion person's fashion person. On a December afternoon at the Carlyle hotel in Manhattan, she floats into the tearoom atop towering custom Christian Louboutin platform wedges and dressed in a gray wool sheath of her own design that clings to her delicate frame. A birdlike, ethereal creature, she wears a simple but splendid antique diamond brooch, her upturned blond mane adorned with her signature black skunk streak.
Settling into a banquette, she sets down her capacious Hermès bag and summons a formerly invisible waiter, from whom she orders a pot of Lapsang souchong and a Red Bull. Informed the hotel doesn't carry the high-octane beverage, she whispers for the concierge, who promptly dispatches a bellman to fetch it.
Little in Guinness's life has been ordinary. The daughter of Irish brewing heir Jonathan Guinness, Lord Moyne, and French beauty Suzanne Lisney—and granddaughter of Diana Mitford, the celebrated aristocrat whose second husband was British fascist Sir Oswald Mosley—she and her brother, Sebastian, grew up in stately homes in Ireland and England and spent summers in an 18th-century former monastery in Cadaqués, on the Spanish coast near Barcelona, where the neighbors included surrealists Dalí and Man Ray. During her parents' 41-year marriage, her father maintained a relationship with an Englishwoman with whom he had three children. Daphne, frequently alone, found solace in books.
At 19, in 1987, she married Spyros Niarchos, 12 years her senior and a son of the fabulously wealthy Greek shipping tycoon Stavros Niarchos. Surrounded by bodyguards and staff, she shuttled between the clan's private island in Greece and their palatial residences in New York, Saint Moritz and elsewhere—usually on the family's aircraft or their superyacht, Atlantis II. According to sources, Niarchos was a possessive and jealous husband, and Guinness became more restrained and conservative under the yoke of their marriage. Isolated in what a friend describes as "a Fabergé cage," Guinness tried to escape the constrictions of her life through clothes. "I shopped a lot," she recalls. But it was her unique way of putting things together that made her the dream client for many a designer. "Daphne amazes me all the time," says Valentino. "When I think she has reached the best, then she comes up with something better."
Guinness explains today that she's always preferred to "inhabit clothes rather than wear them." Nevertheless, say friends, the marriage to Niarchos shattered her self-esteem, which was not that strong to begin with. In 1999, after having three children with him (now 19, 17 and 13), she obtained a divorce and eventually a reported settlement of $40 million. Later she bought an 8,000-square-foot house in St. John's Wood in London.
It was her rarefied sense of style that ultimately helped Guinness bounce back. After spotting her at a party wearing a hat that looked like a cathedral, Guinness's great friend, the late, flamboyant fashion editor Isabella Blow, gave her a job as a contributing fashion editor at Tatler. Her creativity soon blossomed. During the past few years she has designed a collection of shirts for London's avant-garde Dover Street Market; financed and produced an Academy Award–nominated short film, "Cashback," about a lovelorn supermarket clerk; and directed a short film of her own, "The Phenomenology of Body," in which 13 archetypal women—from Eve and Madame Mao to, simply, the Housewife—are shown revolving on a turntable. Meanwhile she has been styling fashion shoots for her close friends photographers Steven Klein and David LaChapelle.
Last winter, after she sold her house for a reported $35 million, Guinness camped out in a suite at Claridge's along with what she called the "greatest hits" of her clothes collection. The remainder she had warehoused. In April she staged one of the chicest spring cleanings ever, putting about 1,000 pieces up for auction. The sale allowed her to donate more than $158,000 to Womankind Worldwide, a charity created to improve the standards of living for women in developing countries.
At the time she called the auction "a cathartic experience." Today, alternating sips of Red Bull and Lapsang souchong, Guinness, 41, is less certain that it was. "No. It's still there," she says with a melancholy air, referring to the past. "But it's one step on the road. Those dresses represented a part of my life I wasn't really proud of, that hadn't been particularly pleasant. But I thought if I could use them to make other people happy, that would maybe redress that nightmare."
The closet cleaning has left Guinness free to spend more time in New York, in any event. She is about to move into a sizable apartment she purchased on Fifth Avenue, which architect Daniel Romualdez is designing. "It will be calm, black and white, not really modern," she says. Although she plans to divide her time between Manhattan and Europe, the apartment will allow her to be closer to her eldest son, a sophomore at Yale.
While in Manhattan, Guinness has frequently been spotted with Bernard-Henri Lévy, the dashing and wealthy French intellectual, who is married to Arielle Dombasle, the curvaceous chanteuse and actress. Unlike in Paris, where Dombasle is much liked, and where the pair is considered one of the city's most celebrated couples, New York is neutral ground. Guinness and Lévy's public appearances here included a lunch in November at the Four Seasons, where Guinness made a spectacular entrance­. Clad in a cloud of feathers and fur and sporting huge sunglasses, she walked a lap around the Grill Room before joining the waiting Lévy—also in dark glasses—at his banquette. A diner at a nearby table reported that the two just looked at each other for several minutes before speaking, and never doffed their sunglasses.
Asked about the relationship today, Guinness utters a demure "Gosh," and sits silent. Her eyes flash a look, however, that seems to say, I can't go there. She later describes herself and Lévy as "close friends." Lévy declined to comment.
What does get Guinness chatting is her forthcoming limited-edition scent for Comme des Garçons, Daphne, due in April. Always passionate about scent, Guinness has long mixed her own concoctions. "My bathroom is like a chemist shop," she says. The standard offerings have just never cut it for her. "Going into department stores, they try to spray you like a mosquito," she adds with horror. Guinness swoons when recounting her trips to the Paris laboratory of Givaudan, the eminent fragrance house. "I thought, I know a bit about this, but when I got there, it was suddenly like playing with the London Philharmonic," she says. "There's the string section, the horns…it was beautiful. I thought I was in that moment in 2001: A Space Odyssey."
For a woman who has identified Lord Nelson as a style icon, Guinness admits that her tastes are "quite odd." In scent, she aims to conjure up the smells of men's colognes and churches—evocations of her childhood. "But I am turning that slightly feminine," she says. To that end, she features musky notes of amber, cypress, tuberose and orange. "But tweaked, tweaked, tweaked," she emphasizes. Her control extends to the packaging. Inside the linen paper box, a plain but engraved bottle is nestled in red velvet. "It's no frills or bells. I wanted to get to the core," she says. "I've got a lot of myself invested in this." More Guinness products are doubtless to come. Her new agent, Todd Shemarya, who represents Brad Pitt and other A-listers, is determined to make her into a high-end lifestyle brand.
Guinness has already spun her fantasies into reality. "There are movie stars you see in film or characters in a novel that are an idealized version of what we dream life to be about, and rarely is this great expectation met," says Klein. "But Daphne is the exception: She is the embodiment of the ideal—beautiful, chic, fiercely intelligent and kind."
Her close friend art historian John Richardson also sees her as a character. "She's metamorphosed into the Queen of the Night in The Magic Flute—somehow regal and resplendent," he says. "But she's the object of her own creativity. Her persona is her own masterpiece."
"What's perceived is not what I am," Guinness says. Then, with a sigh, she adds, "My life has always somehow been played out in a minor key, unresolved. Art somehow resolves things for me. Through art, you create your own world."
Photo: Dominique Maitre