Daphne Guinness: Always a Strange Bird, Now With Songs
In her darkest hour, one of fashion's most exotic muses went to the recording studio to put her personal losses—Bowie, McQueen, Blow among them—into her first album, Optimist in Black. An exclusive look here.
---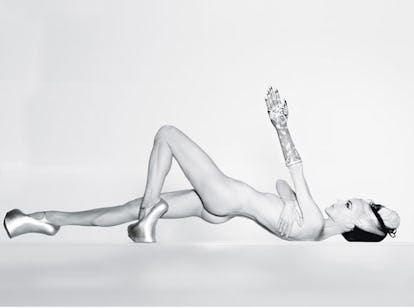 "Let's be honest—me suddenly doing an album is pretty weird," said Daphne Guinness, the 48 year-old English-Irish heiress and fashion muse known for her heel-less platforms, diamond-encrusted knuckle rings, and two-tone Cruella de Vil hairdo.
The album she is referring to is Optimist in Black, her first musical project, out May 27. And while weird is of course what Guinness does well, this latest effort at self-expression is actually not that strange at all. At 19, she trained to be a singer at UK's prestigious Guildhall School, but put aside the dream when she wed her now ex-husband Spyros Niarchos.
"I can't remember what happened," she said of the 12-year relationship. "I really can't recall being married."
After the death of her brother Jasper in 2011, Guinness "returned home," as she put it, to a studio in Ireland. She had intended to record just a cover of Bob Dylan's "Desolation Row," but emerged with an album's worth of material. "The floodgates broke, and song after song came out," she said.
The end result, produced by Tony Visconti, a longtime collaborator of David Bowie's (who, in fact, encouraged her to pursue her music before he died), draws on the loss of her brother, her dear friends Alexander McQueen and Isabella Blow, as well as her on-again, off-again affair with the married French philosopher Bernard-Henri Lévy. It is dark and raw, with yelps and screams, but also moments of groovy Sixties psychedelia and Seventies glam—her two favorite periods in music.
"There was a point to doing this album," she said, "and it was to change the darkest time in my life into something positive. I had 20 people die on me at pretty much the same time, and I wasn't going to be next on the block. It was therapy for me, and I feel so much lighter now."
Her next album, she noted, will likely be a double—or triple—rock 'n' roll record. "It's going to be so much fun!"
Here, watch the exclusive debut of "Magic Tea," a trippy, down-the-rabbit-hole video directed by Crystal Franken. "It's about the melding of sound and vision," explained Guinness. Or, as her guitarist Malcolm Doherty described it: "What we imagine is going on inside Daphne's brain."