Dasha Zhukova
This Globe-trotting, multitasking art czarina is quite happy to learn on the job. Armand Limnander meets the brains behind the billionaire beauty.
---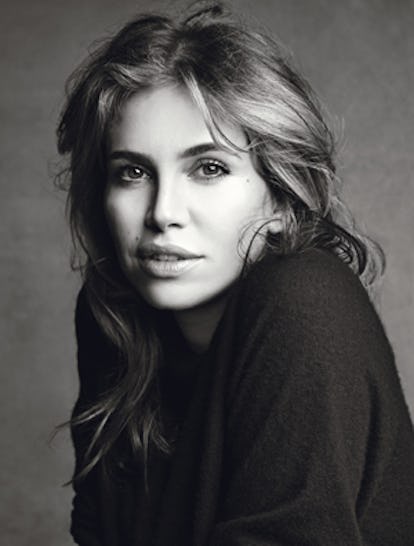 Russian-bred, American-educated, England-based ­Dasha Zhukova may well be the most dazzling poster child for our globalized era's reigning Nouvelle Society. Some might say she's also the most unlikely­—after all, who could have imagined in 1981, when Zhukova was born and Leonid Brezhnev still ruled the Soviet Union with an iron grip, that three decades later Russia's elite would come to embody the more-is-more brand of capitalism that was so near and dear to the Le Cirque crowd back home?
And yet so it is. Zhukova, the girlfriend of the Russian billionaire Roman Abramovich, is the most influential member of a pack of bright young things with hard-to-pronounce surnames who hop from Basel to Beijing as easily as their social forebears sauntered from 740 Park to the Frick Gala. Born in Moscow, she moved with her family to Houston when she was 10, then to Los Angeles. In her early 20s she left for London, and since then one could be forgiven for thinking that most of her time has been spent on a private plane. In the past few years, by dint of ­persistence, good instincts, and—let's face it—virtually unlimited ­financial resources, Zhukova has become a key player in the international art scene, at a moment when Gerhard Richter paintings have turned out to be much sounder investments than, say, Bank of America stock.
Zhukova's calling card is Moscow's Garage Center for Contemporary Culture, which she opened in 2008 in a former bus depot; she has since introduced the Russian masses to contemporary art stars like Carsten Höller and Marina Abramović. Zhukova is also schooling them in the works of international starchitects: Earlier this year, Garage moved to a temporary structure designed by Shigeru Ban; in 2013, it will occupy its permanent home, an abandoned Soviet-era building in Gorky Park that is being revamped by Rem Koolhaas. In 2011, Zhukova debuted Garage, a publication that she views as an "additional platform" for the gallery; the first issue featured a cover by the artist Damien Hirst of a woman's tattooed vagina overlaid with a peel-off butterfly decal. Zhukova is also a partner in Art.sy, a website for collectors and art lovers that she hopes will become an "encyclopedia of artworks in one place." And she is spearheading a long-term endeavor in Saint ­Petersburg called New Holland, which she describes as a "cultural urbanization development that will encompass art, technology, and innovation, as well as commercial elements such as hotels and hostels, restaurants, etc."
Zhukova can rattle off facts and figures about all these projects with surprising ease, but she is famously unforthcoming when it comes to anything not related to her work. All she'll concede, by way of "personal" information, is that she intends to travel less because her son, Aaron Alexander Abramovich, who will soon turn 3, is starting preschool in London; and that the artists of her generation she currently admires include Tauba Auerbach and the collective known as Bruce High Quality Foundation. Still, much can be gleaned about Zhukova by the ambivalent way in which the press has covered her, if not by what she's actually said.
Paparazzi first started circling her around 2003, when she was dating the Russian tennis star Marat Safin. The attention ­escalated a few years later, when Zhukova and a friend launched the clothing line Kova & T, known for its trendy leggings—and even more when Abramovich divorced his wife to pursue his relationship with Zhukova. In 2008, the London Sunday Times wondered, "Who is this girl? A spoilt young thing with the world's richest sugar daddy, or the real deal—a culturally acute, socially adept figure about to make a serious splash?" Two years later, as The New York Times questioned whether Zhukova would "know a Moholo-Nagy from a Manolo Blahnik," the New Yorker announced that she was "transforming the profile of Russia in the art world while also giving Russians access to the latest currents of the avant-garde"; in 2011, the Wall Street Journal stated that "Abramovich and ­Zhu­kova live in a world beyond society, in a peripatetic life of luxury and jet travel, but they are representative of the new order in the art industry"; shortly thereafter, Vogue covered her weeklong 30th-birthday-party African safari, on which one guest was quoted as saying, "Ostriches are sooo Givenchy."
"Overall, I'm not upset at the press," Zhukova says. "It's a give-and-take." It's not just that Zhukova accepts that the old-school establishment may need some time to embrace a young, rich, and beautiful newcomer without the usual academic ­credentials (Zhukova earned a degree in Slavic studies and took courses in holistic medicine before forging her own path). It's also that, as a sophisticated woman who came of age in the aughts, she instinctively ­understands that nowadays art, style, and popular culture are intrinsically intertwined. Stalwarts sniff at the commingling of museums and curators with fashion labels and luxury titans, but for Zhukova that discussion is as passé as a Soviet propaganda poster. "It's a path of evolution," she says simply. "I don't think it's a good thing or a bad thing."
The projects that Zhukova, with Abramovich's support, is un­dertaking in Russia are of a scale and ambition that one usually associates with government institutions rather than with individuals. To be sure, cultural largesse has always been a way for newcomers to become a part of established society—but historically, this has been a gradual process achieved over several generations. Zhukova, who is just 31, has gained her entrée in record time—and shows no signs of slowing down. "Russia was culturally isolated for so long that some sort of transformation needs to happen and will happen," she says. "Perhaps Garage is a catalyst for social change in a nonpolitical sense. It's a way of bringing in new perspectives, new thoughts, and wider ideas." Spoken like a true citizen of a brave new world.
Hair by Jimmy Paul for Bumble and Bumble; makeup by Maki Ryoke for Tim Howard Management.