David Bowie for Best Dressed
In case you missed it, here is the best style news from the week.
---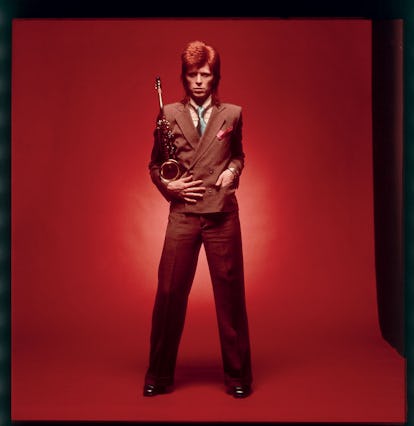 Bailey, Christopher Is no longer just Burberry's chief creative officer. Now, he is CEO too. Next: he will change his name to Christopher Burberry.
Bowie, David Named the most stylish Briton in history. In second place was Queen Elizabeth I. How does Duchess Kate feel about that?
Boyfriends Don't get to see their girlfriends without makeup until they have been together for at least four weeks, according to a new study. Then, the Spanx come off.
Dornan, Jamie The model-turned-actor may be cast as the title character in 50 Shades of Grey. Watch out, Robert Pattinson, your sex symbol days are numbered.
Formichetti, Nicola Wants to dress Miley Cyrus. Sorry, Gaga.
Kardashian, Kim This week, she posted a swimsuit #selfie. That's all.
Killoren Bensimon, Kelly Will launch her first fragrance, In the Spirit Of, for all of those who wish to smell like a real housewife.
Lagerfeld, Karl Will teach a master class at Sciences Po in Paris; will hopefully instruct young students on how to be as quotable as he.
Lam, Derek Launching a beauty collection in collaboration with Estee Lauder. Will try to convince women who have been in relationships longer than one month to continue to wear makeup.
Lohan, Lindsay Is dating 19-year-old model Liam Dean, claims Page Six.
Moss, Kate Reuniting with Johnny Depp to star in a Paul McCartney music video; will use her 4 cigarette breaks an hour wisely.
Ora, Rita Is designing a collection for Rimmel London, which includes a nail polish color titled "Ora-gasmic Orange." We did not make this up.
Perry, Katy Named the new easy, breezy, beautiful face of CoverGirl. Continues to live the teenage dream.
Ratajkowski, Emily The star of "Blurred Lines" has landed an appropriately semi-clothed Rag & Bone campaign. No Robin Thicke included.
Stone, Lara Is the new face of L'Oreal Paris, because she is so clearly worth it.
Swanepoel, Candice Will be paid to wear the coveted $10 million Royal Fantasy Bra at this year's Victoria's Secret fashion show.
Washington, Kerry Named creative consultant at Neutrogena. Will not be required to wear a suit to work.