David Bowie's Lazarus Is Getting Virtual Reality Treatment, Because Of Course
Plus, James Baldwin's personal archives will soon be available to view, and Charlotte Gainsbourg talks her new Nars collaboration.
---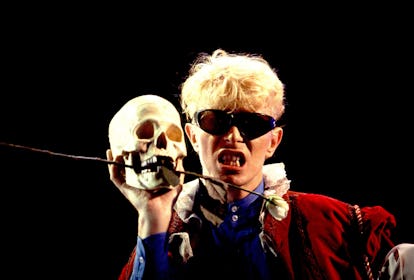 Paul Natkin/Getty Images
Baldwin, James
The Schomberg Center for Research in Black Culture, part of the New York Public Library system, has acquired a treasure trove of the late James Baldwin's archives, including letters to friends and contemporaries, drafts, and notes. A small number are already on display at the Schomberg Center in Harlem; many will not be available for view for some 20 years still.
Bowie, David
Bowie's musical Lazarus, starring Michael C. Hall, is getting virtual reality treatment at London's Victoria and Albert Museum. It seems fitting, for an artist who never could really be confined by the limits of physical earth, anyways.
Gainsbourg, Charlotte
The actress and new Nars collaborator always saw herself as an ugly duckling, but no more.
Gucci
On demand. Like Netflix, only a pinch slower.
French musician Soko really loved Gucci's rendering of the Hollywood Forever Cemetery:
Lindbergh, Peter
Would advise against selfies.
New Gen
Joining the ranks of the British Fashion Council's sponsorship program New Gen, a scheme supporting designers showing in London that already includes the likes of Wales Bonner, Molly Goddard, and Cottweiler, are new up-and-comers including Charles Jeffrey Loverboy, A-Cold-Wall, Halpern, Nicholas Daley, and Richard Malone.
Van Assche, Kris
Dior Homme's artistic director, who celebrates his 10th anniversary at the brand (just after Dior's own 70th anniversary), looks back on a decade of rebellious, cool-kid suiting.
Dior Homme Is Cool and Collected at Paris Men's Fashion Week Spring 2017