The Beloved David Bowie V&A Exhibit Is Coming to the Brooklyn Museum
Here's your last chance to see it.
---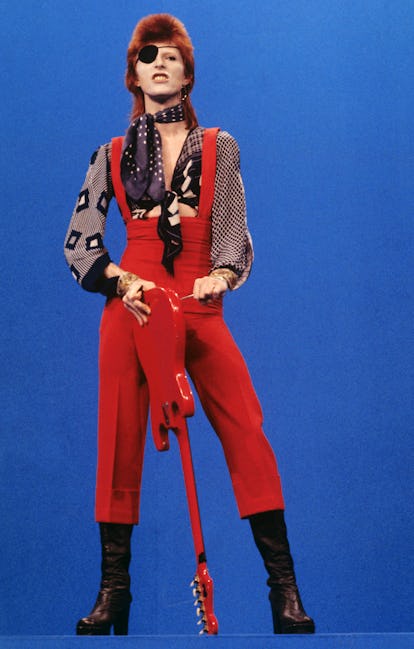 Gijsbert Hanekroot/Redferns
Five years after its opening, the much-lauded "David Bowie Is" exhibit is making its final stop at the Brooklyn Museum. Today, the museum announced the opening, which is slated to run from March 2 to July 15, 2018, giving fans plenty of time to make the trek for a very worthwhile show. "David Bowie Is," which debuted in London at the V&A, offers a rare glimpse into the life and artistic process of one of the most mysterious musical icons, with around 400 objects culled from Bowie's career.
Anyone with an Instagram account may be familiar with them as the exhibit was near-impossible to miss when it launched in 2013. It's rife with more than 60 custom costumes, from his Kansai Yamamoto-helmed Aladdin Sane era to the pieces Freddie Burretti designed during his Ziggy Stardust and 1980 Floor Show period. Outside of Bowie's iconic wardrobe, the exhibit also puts his music at the forefront with 85 handwritten lyric sheets for songs like "Fame" and "Fashion." It also contains some of Bowie's visual artwork, like his oil paintings of his peer and collaborator Iggy Pop and sketches like the one that became his Young Americans album cover. A multi-sensory experience, "David Bowie is" is also full of video clips from some of Bowie's less-viewed moments like on the Diamond Dogs tour and some of his key TV performances.
The exhibit feels perhaps all the more special given that Bowie passed away last year, on January 10, after releasing his ominous final album Blackstar, where he reflected on his own mortality. Though, Bowie did not have any involvement in organizing the show alongside V&A, which is something the exhibit curator Geoffrey Marsh has spoken about. "At one level, it's very liberating," he told Wired in 2014, "but you're also constantly thinking, 'Well, I wonder what David would think about that.' You have to shove that away. It's not an exhibition for him—it's for the people coming into it and what's going to engage them."
Tickets are currently on pre-sale here, starting at $35. For those who can't wait until next March to learn more about the legendary performer, take a look at some of the lesser seen photos from David Bowie's lifetime below.
Unseen Photos of David Bowie Before He Became David Bowie
David Bowie in a photo shoot for the cover of self-titled debut album with the photographer Gerald Fearnley, circa 1967.

Gerald Fearnley
David Bowie, who was then enrolled in mime classes, in a photo shoot for the cover of self-titled debut album with the photographer Gerald Fearnley, circa 1967.

Gerald Fearnley
David Bowie, who was then enrolled in mime classes, in a photo shoot for the cover of self-titled debut album with the photographer Gerald Fearnley, circa 1967.

Gerald Fearnley
David Bowie in a photo shoot for the cover of self-titled debut album with the photographer Gerald Fearnley, circa 1967.

Gerald Fearnley
David Bowie, who was then enrolled in mime classes, in a photo shoot for the cover of self-titled debut album with the photographer Gerald Fearnley, circa 1967.

Gerald Fearnley
David Bowie in the photo used for the cover of self-titled debut album, show by the photographer Gerald Fearnley, circa 1967.

Gerald Fearnley
David Bowie in a photo shoot for the cover of self-titled debut album with the photographer Gerald Fearnley, circa 1967.

Gerald Fearnley
David Bowie, who was then enrolled in mime classes, in a photo shoot for the cover of self-titled debut album with the photographer Gerald Fearnley, circa 1967.

Gerald Fearnley
David Bowie, who was then enrolled in mime classes, in a photo shoot for the cover of self-titled debut album with the photographer Gerald Fearnley, circa 1967.

Gerald Fearnley
David Bowie in a photo shoot for the cover of self-titled debut album with the photographer Gerald Fearnley, circa 1967.

Gerald Fearnley
David Bowie, who was then enrolled in mime classes, in a photo shoot for the cover of self-titled debut album with the photographer Gerald Fearnley, circa 1967.

Gerald Fearnley
David Bowie in a photo shoot for the cover of self-titled debut album with the photographer Gerald Fearnley, circa 1967.

Gerald Fearnley