David Bowie's Art Collection Is Going On Sale, and Among the Headliners There Are Secret Gems
Inside the late icon's private stash, which is on the block later this month at Sotheby's in London.
---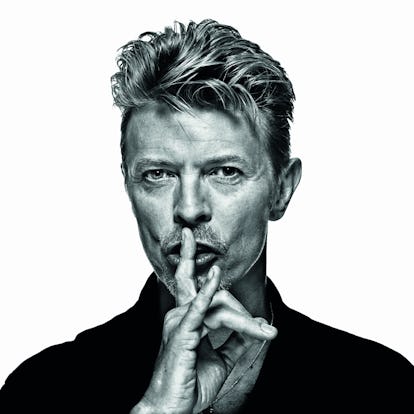 Copyright Gavin Evans.
Though a Brit by birth, David Bowie spent the bulk of his adult life in Manhattan, proudly proclaiming, "I'm a New Yorker," after just a decade in the Big Apple. But as the late rock icon's impressive art collection makes clear, his Brixton boyhood remained a lifelong creative touchstone. That collection, which goes on the block at Sotheby's London on November 10 and 11, "is really rooted in 20th-century British art," says Frances Christie, who heads up Sotheby's department of Modern and Postwar British Art. "Bowie was drawn to the cultural history in which he grew up." Big names like Damien Hirst and Frank Auerbach are represented, but, Christie notes, Bowie was the antithesis of a status-focused shopper. "He was buying the work of artists who represent the very best of the cutting edge of their time, many of whom are virtually unknown outside the U.K."
Among the more than 400 lots on offer are some notable exceptions to the British bent — ranging from contemporary African sculpture to German Expressionist woodcuts to Memphis Group design pieces. In fact, the most attention-grabbing item on sale is all-American: Jean-Michel Basquiat's riotous Air Power, which Bowie purchased before playing Andy Warhol in Julian Schnabel's 1996 biopic, Basquiat. In a profile about the painter Bowie wrote in 1996, he suggested that Basquiat "had a not-so-hidden ambition to be a rock musician." And as an artist who came of age in the glow of Ziggy Stardust, who could blame him?
A Glimpse Inside David Bowie's Personal Art Collection
Jean-Michel Basquiat, "Air Power," 1984.

Copyright Sotheby's
Ettore Sottsass, "'Ashoka' Lamp," 1981.

Courtesy of Sotheby's
Graham Sutherland, "Thorn Bush," ca. 1947.

Courtesy of Sotheby's
Peter Shire, "'Big Sur' Sofa," 1986.

Courtesy of Sotheby's
Damien Hirst, "Beautiful, Shattering, Slashing, Violent, Pinky, Hacking, Sphincter Painting," 1995.

Courtesy of Sotheby's
Wyndham Lewis, "Circus Scene," 1913-14.

Courtesy of Sotheby's
David Jones, "Crucifixion," ca. 1922.
Martine Bedin, "'Super' Lamp," 1981.

Courtesy of Sotheby's
Marcel Duchamp, "A Bruit Secret," 1964.

Courtesy of Sotheby's
Peter Lanyon, "Trevalgan," 1951.

Courtesy of Sotheby's
Romuald Hazoumè, "Alexandra," 1995.

Courtesy of Sotheby's
Johann Fischer, "Der Vater Meines Vorgängers!", 1985.

Courtesy of Sotheby's
Patrick Caulfield, "Foyer," 1973.

Courtesy of Sotheby's
Ettore Sottsass, "'Ivory' Table," 1985.

Courtesy of Sotheby's
Frank Auerbach, "Head of Gerda Boehm," 1965.

Courtesy of Sotheby's
Watch W's most popular videos here: