David Gandy by Dolce & Gabbana
David Gandy, the face of Dolce&Gabbana and the subject of countless glossy magazine pages is now getting a book of his own—304 pages from Rizzoli to be exact—chronicling the most important milestones in the 31-year-old's...
---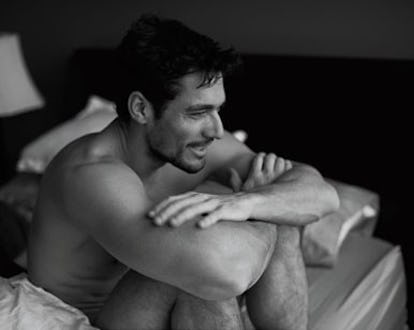 "He has the typical characteristics of the Mediterranean man: the colors, the skin type, the passion he exudes. Though, of course, he's British," says Domenico Dolce. "Aside from his looks, I remember I found his manners—his kind ways—quite striking. As well as his curiosity towards things," Though in page after oversized page of David Gandy by Dolce&Gabbana, it's difficult not to notice the swarthy Brit's more overt assets.
Spanning his meteoric nine-year career (he was listed as one of Forbes Magazine's most successful male models in 2009), the book hits on his first D&G runway show in 2006, 2007's somewhat iconic Light Blue ad campaign by Mario Testino (you'd be hard-pressed to find someone who hasn't lingered on the ads featuring Gandy's chiseled body reclining rather invitingly in a bright white swimsuit), and many other moments where he is generally in some state of undress, culminating in a new series of nude portraits by Mariano Vivanco.
The proceeds from the book will go to support the association "Amici del Gabinetto Disegni e Stampe degli Uffizi," project EUPLOOS, which aims to put the entire collection of the GDSU online.