A First Look at David Hockney's Big, Splashy New York Retrospective at the Met
The 80-year-old artist's first retrospective in New York in 30 years opens November 27.
---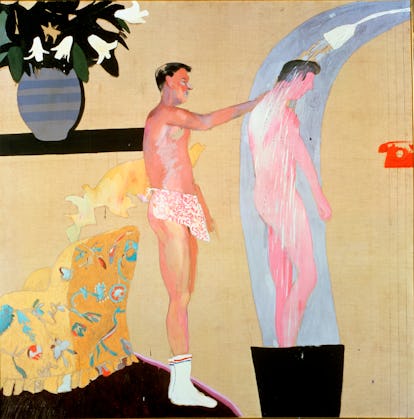 Courtesy of The Metropolitan Museum of Art
Whether experimenting with new mediums and styles, uncovering the methods of art history's greats, or simply defending his prodigious smoking habit, David Hockney, 80, has never been one for restraint. "David Hockney," a retrospective of the British artist at the Metropolitan Museum of Art (November 27 through February 25, 2018), his first in New York in 30 years, offers a chance to savor his diverse efforts in full.
"Hockney has always pushed the limits of painting," says Ian Alteveer, the Met curator who organized the exhibition. It begins with rough-hewn paintings created around 1960, rife with allusions to homosexuality, which was illegal in the U.K. at the time. There are also, of course, Hockney's intimate portraits of friends, and paintings of pristine, sun-kissed Southern California swimming pools and lawns from the late 1960s and the '70s, along with the color-saturated Yorkshire landscapes he has drawn on his iPad in recent years.
And there are even newly minted works from his Los Angeles studio—"acid-hued paintings of his backyard in the Hollywood Hills," with their bottom corners sliced off, says Alteveer, "which bends the space in on itself or backwards." These latest pieces have never before been shown, and they suggest an artist still relentlessly trying out new ideas. Alteveer notes, "He's still painting every day."