Inside Information
English interiors czar David Mlinaric reveals his design secrets in a new book.
---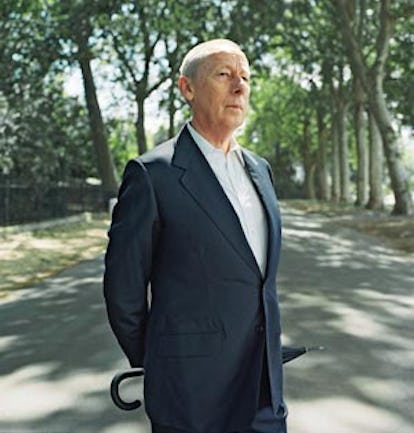 Interior designer David Mlinaric's earliest memory is of taking shelter during an air raid in a riverside grotto, which he sensed had once been very special. In the 1720s, poet Alexander Pope built this subterranean passageway to link his villa on the Thames with his garden across the road, encrusting its walls with shells, shards of mirror and myriad geological treasures. Although these decorations had long since been stripped away, Pope's creative hand was somehow still evanescently present to the sensitive three-year-old. "Its rockiness was incredibly romantic," Mlinaric remembers. "I think I was conscious of the fact it had been made."
A dressing room at Nostell Priory in Yorkshire with green japanned Chippendale furniture and 18th-century Chinese wallpaper.
That realization was the first glimmer of Mlinaric's ability to intuit the past life and future potential of a building, to—as his longtime client Lord Jacob Rothschild puts it—"read its character." It's an innate skill that has served him well over the course of his 50-year career, and one that has resulted in some of the most successful restorations of great English interiors.
Many of these projects are on view in the new book Mlinaric has written with Mirabel Cecil, Mlinaric on Decorating, out in October from Frances Lincoln Ltd. Prefaced with fragments of biography and full of evocative photographs, the retrospective chronicles Mlinaric's numerous achievements, most notably a nearly 30-year collaboration with Rothschild, who commissioned more than a decade's worth of work on Waddesdon, his palatial, French-style manor, and entrusted Mlinaric with the salvation of Spencer House, one of the few remaining aristocratic London mansions. In addition, Mlinaric was responsible for the masterly rejuvenation of the Royal Opera House, as well as other venerable London institutions. Recording the process in riveting detail, the book also covers Mlinaric's "mending," as he calls it, of his own country homes and includes chapters on private commissions ranging from small urban apartments to atmospheric houses in Corfu, Greece; Mustique; France; and Ireland.
Sitting in a sunny alcove of his pied-à-terre in London's Chelsea neighborhood, Mlinaric, a youthful near-septuagenarian (he turns 70 next March), is much more fun and forthcoming than his status as the establishment figure of English design leads one to expect. He's also resolutely self-effacing. Cecil, he says, had tried to persuade him to coauthor a book 30 years ago, but he hadn't felt ready. "I hadn't done enough work that I really cared for," he says.
Such high standards—what Rothschild calls "David's incredible range of excellence and punctiliousness"—have made Mlinaric's reputation. "He's very demanding," says antiquarian Christopher Gibbs, who has teamed with Mlinaric on a number of projects, including the interior of a superstar's French château and the facelift of the Victoria and Albert Museum. "He'll insist on seeing 23 different shades of paint to find precisely the right one, and he can get extremely tetchy. When we did the V&A renovation together, one of my roles was to calm…David…down."
The dining room at Beningbrough Hall in York, with paintings from the National Portrait Gallery, a 17th-century gateleg table and a coromandel screen.
While working on Waddesdon, Mlinaric went so far as to visit the archives at Versailles in search of an 18th-century seamstress's sketch showing how headings of drapes should be held together. In today's climate—one he describes as "fueled by status and the pursuit of novelty rather than distinction"—this sort of meticulous quest for excellence puts the designer in a class of his own. Says Rothschild: "There's no one else like him."
At Rothschild's Waddesdon Manor in Buckinghamshire, a boudoir was created around 18th-century painted panels by Peyrotte.
Mlinaric was born on the eve of World War II to an English mother and an Austro-Hungarian father, a furrier who had emigrated to England in 1912 from what is now Slovenia. As a child with a surname few could pronounce, Mlinaric always felt like an outsider, and while he was educated in the English public school tradition, his outlook was far from conventional. On family beach holidays in Eastbourne, he would stand, with his back to the sea, studying the houses on the shore. "And when I played with my friends on London bomb sites, I'd be constructing in my mind how the buildings would have looked before they were destroyed," he remembers.
At Downside, a strict Roman Catholic boarding school, Mlinaric's best friend was an Irish boy who introduced him to the seedy romance of
Dublin and to crumbling Georgian country houses. A visit to Leixlip, the home of Desmond Guinness, was a mini epiphany: The castle's irresistible mix of beauty and disarray created a memory that has never left him, helping to form the shabby-chic style that became his hallmark.
When the time came to leave school, Mlinaric knew exactly what he wanted to do, but Downside's headmaster told him that interior design wasn't "a real profession" and advised him to study architecture instead. It was a blessing in disguise. Although he switched after a year to the division of decoration, the formal grounding he received at University College London's Bartlett School of Architecture is one on which Mlinaric continues to draw.
Superlative woodwork in a drawing room at Beningbrough Hall.
By age 22, with just enough money to pay the first month's rent, he opened his own studio just off the King's Road. It was exactly the place to be. "To have been young and in Chelsea in the Sixties was all you could wish for—nobody had as much fun as we did," recalls Mlinaric, whose friends and first clients became icons of that era. Mick Jagger asked him to decorate the house in Cheyne Walk that he shared with Marianne Faithfull and still relies on Mlinaric's firm to design his increasingly baronial properties. At the Baghdad House restaurant, the hangout of rock stars and aristocratic hippies, Mlinaric met Eric Clapton, who hired him to redecorate his mansion in Surrey and, later, his London house. But while Mlinaric cultivated the persona of a King's Road dandy, there was always something that set him apart from his circle. "He wasn't wayward like the people around him," says fellow interior designer Nicky Haslam. "He's always had a very serious undercurrent." Mlinaric remembers getting bored at one outdoor rock concert and wandering off with Gibbs to look at churches. "We were both finding our way into English architecture and history at that time," he says.
In 1967 he met his now wife, Martha Laycock, at a party, instantly recognizing her as the soulmate she has proven to be for the past four decades. They spent part of their honeymoon in Austria with European society star Liz von Hofmanns­thal. Her ravishingly simple Schloss Prielau, with its scrubbed wooden floors and rag rugs, was the inspiration behind the Mlinarics' first home, Thorpe Hall, a Suffolk farmhouse where they raised their two daughters and son. "Humble elegance," as Mlinaric calls it, is also the ambience at Spargrove, the idyllic Somerset retreat that is still a hub of family life.
As none of his children has followed him into the field, Mlinaric handed over his business to his younger colleagues three years ago. "I felt it was time to give them their turn," he says. MHZ, as the firm is known, is now owned by his former partners Hugh Henry and Tino Zervudachi. Mlinaric, however, has shown no sign of easing off. Last fall he completed the restoration of a 17th-century manor house in Transylvania, Romania, an area he describes as an undiscovered Tuscany or Provence. It was a commission he found hard to turn down, he says, "because of the pull of Austro-Hungary—the chance to explore the world my father left behind." More recently, at the request of the young Lord Pembroke, Mlinaric started a refurbishment of Wilton House in Wiltshire, refreshing John Fowler's circa 1960s designs, and he is also refashioning the interior of Chatsworth, which includes helping the present Duke and Duchess of Devonshire integrate their great collection of paintings with more contemporary pieces. "We're hanging a Sargent in the same room with a David Hockney portrait of Peter Schlesinger," Mlinaric says. Then there's a house to finish in America and an invitation from Rothschild to tackle a new project at Waddesdon. "Retirement," Mlinaric says with a smile, "hasn't worked."