Food for Thought
The artist David Shrigley turns his talents to fine dining.
---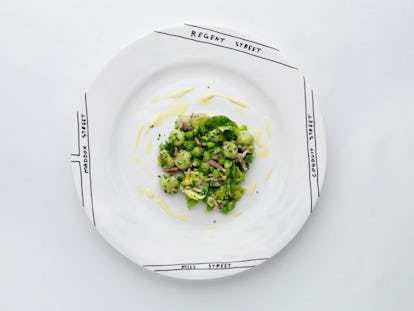 Don't be fooled by the sumptuous, pink décor the that architect India Mahdavi has created for The Gallery restaurant at London's Sketch. The room might call to mind a wedding cake, with plush rose chairs whose cushioned backs resemble sponge-cake fingers and bubble-gum-hued walls, spread beneath its huge dome's lacy ribs. Yet within this sugar-coated site for decadent dining, the mordant humour and everyday surrealism of the artist David Shrigley's delightfully cack-handed cartoons shines.
In addition to the 265 drawings that surround the room, the Shrigley has created a full ceramic tableware set for Sketch, including dinner with rims bearing a map of the neighboring streets and soup bowls with drawings of compasses. "The soup is like the sea," he says. "But you can't orientate liquid. It all has a certain level of anarchy to it."
The star item though has to be the utterly endearing tea set. From the teapot, with its thin tube of white clay for an arm and glossy, irregular bowl that suggests a half-sucked mint bonbon, to the little milk jug, the whole thing is charmingly misshapen. "It looks like a six-year-old made it," says Shrigley, though he says the jug alone took at least five attempts to get it to pour correctly without milk "running up to my armpit".
The artist has included off-kilter messages on each. The pot is "ghosts," the jug, "dreams." "It's OK," says the bottom of one teacup. "Forget about it," advises another. "I was really aware of their function," says Shrigley. "The texts suggest things, like a narrative in terms of how you use each piece, but they don't tell you anything concrete."
Shrigley's wall drawings, meanwhile, boast a cast of human, animal and vegetable characters in his signature scribbly style. "Under the table safe from the apocalypse," reads the script over an image of a man hiding. "I eat garbage, I cannot help myself," pronounces a dog rifling a bin. Skewering our all too-human shortcomings, the drawings should give diners food for thought or at least provide some down-to-earth comedy in the otherwise luxurious setting.
"This is very fancy compared to the way I normally dine," Shrigley says with a laugh, admiring the afternoon tea that includes quail egg and caviar sandwiches and "mousse malabar" marshmallows. "On a basic human level, dining is very elemental. From that point of view the restaurant setting suits my subject matter, which is all aspects of human existence."
David Shrigley drawings in The Gallery.
David Shrigley drawings in The Gallery.