Davido's A Better Time Will Make the Nigerian Superstar a U.S. Household Name
The 27-year-old sensation from Lagos on sending late-night DMs to Nicki Minaj (which resulted in a feature), and the many versions of "A Better Time."
---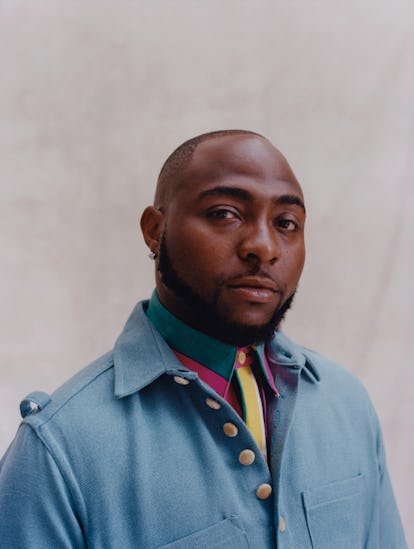 Davido photographed by Lea Winkler for W Magazine. Styling by Sean Knight.
The day before David Adedeji Adeleke, who's known by his musical moniker Davido, was due to submit his latest album A Better Time, he was in a Los Angeles studio, still in the thick of working on it. The 27-year-old pop sensation from Lagos, Nigeria is surrounded by his usual cohorts—his manager, his lawyer, his A&R, one of his producers, Scarface—in the recording studio. He periodically yells to get their attention, asking Scarface for a drink, telling the A&R that the verse he just received from Chance the Rapper for one track is "crazy." He's giddy, excited to be discussing the music, and buzzing from the creative high—he giggles and makes himself laugh constantly, cracking up when he says "You know the one place nobody's wearing masks? Nigeria." But the Chance feature may or may not make it on the final tracklist for A Better Time—which has wavered by 40-something songs since Davido began working on it toward the beginning of quarantine in March.
"I changed my album three times," Davido tells me, his gravelly voice coming through a Zoom call in August. "'Cause I've been recording too much." Each time he thought he'd reached the final version, he'd experience some wave of emotion that moved him—stress, pressure, elation, pride—and he'd go into the studio and record based on whatever he'd felt. The pandemic brought on a rush of thoughts and feelings that left Davido weaving in and out of the studio. Once he thought he was done, he'd show the album to a friend, who would insist he couldn't take a certain song off. He'd rework it and give his sister a glimpse, who cajoled him to put a song back on that she loved.
Amid all the noise, Davido had a goal in mind.
"My last album, A Good Time, just did a billion streams," he says. "The first African album to ever do that. I have to beat myself."
This might be the year that Davido does just that when A Better Time drops on October 30. Nigerian pop, once a niche genre for American audiences, has gained major traction in the U.S.—if not directly, through artists like Burna Boy, Teni the Entertainer, and Tiwa Savage, (who was introduced to millions in July 2019 through Beyoncé, who featured the Lagos-based star on her The Lion King: The Gift album) then through the sound, which is equal parts R&B and hip-hop, with elements of house set against Nigerian melodies and rhythms. This blended genre has become the bread and butter of mainstream hitmakers like Drake, reaching homes thousands of miles away from its place of origin through YouTube and streaming services. The spread of apps like TikTok and the popularization of international genres including reggaeton and Nigerian pop through huge stars like Beyoncé have caused music (including Davido's) to surge—so much so that he, Tiwa Savage, and Mr Eazi landed the cover of Billboard Magazine in May.
But Davido has been a star in Africa for years. He has millions of followers on Instagram, (his 5-year-old daughter, perhaps more notably, has almost 300,000 Instagram followers). He was born in Atlanta, Georgia before relocating back to Lagos with his father, Dr. Adedeji Adeleke, a business magnate and founder of Pacific Holdings who is rumored to be worth more than $700 million. ("My dad just bought a new plane, and he was trying to test it," Davido casually mentions at one point in our conversation. "I was like, Yo, I'm coming.") He returned to Georgia to attend classes at Oakwood University in Hunstville, where he told his father he'd study business management. Instead, he fed his interest in music by making beats with a dorm-mate at school, and sending them to his cousin in Lagos. He'd go to clubs in Atlanta and rub elbows with rappers and producers, networking at bottle service tables.
Due to his family's status, Davido carries a fair amount of responsibility on his back. His three children and fiancé Chioma Rowland are the constant source of tabloid fodder (when Rowland tested positive for coronavirus in March, an outpouring of nearly 64,000 comments from fans giving well-wishes appeared on Davido's Instagram). It's clear he's largely regarded as Nigeria's golden child.
"It's a lot," he admits. "There's a lot of pressure, and I go through a lot. I handle a lot." The music, he says, gets him through tough times—and he noted that he engages in the unorthodox practice of listening to his own music. It's a way to make himself better, like an athlete watching their own practice films. "It's good being in competition with yourself, because ain't nobody in the competition with me. No cap. I have to keep being myself, keep doing it every time. Every time we achieve something, we're happy, but my team be like, 'You got to do it again, boy.'"
On A Better Time, Davido has racked up a roster of features from the likes of Nas on the Hit-Boy track Birthday Cake, which feels distinctly like an R&B song from the early Aughts; Young Thug, and Nicki Minaj, who sings and raps in the fashion of her alter ego Martha Zolanski on Holy Ground.
Film directed by Lea Winkler and Jimmy Liu Nyeango for W magazine.
Davido sealed Minaj's involvement in the album via DM, he says—he'd just finished a concert in the capital city of Nigeria, Abuja, and was drinking at his after party. "I was like, 'Yo, I swear to god, I'll DM Nicki right now,'" Davido cackles. "I woke up the next morning and I forgot that I had messaged her the night before. I was like, 'Oh shit, I was drunk.'"
But Minaj urged him to send her the song, then delivered her verse back to him the next day.
"Nothing was really planned on this album," he says, noting that "Nicki be charging people $500,000 for verses. And she did it for me for free."
That might be a testament to Davido's newfound fame stateside—or it might have simply been a case of Nicki liking the beat the Nigerian musician sent along. Either way, Davido is feeling himself, and ready to drop A Better Time in whatever finalized form it ends up taking.
"I represent a whole culture," he says. "I represent a whole continent. You know what I'm saying? I can't let them down."
Related: Lous and the Yakuza Is a 'Child of the World' on Her Debut Album 'Gore'