How Many Random Famous People Can You Spot in the Death on the Nile Trailer?
For starters, there's Gal Gadot and Armie Hammer...
---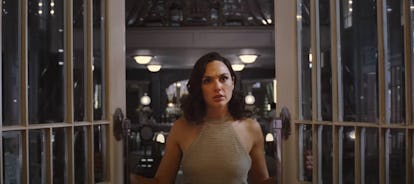 Did the world need a star-studded update of Agatha Christie's Hercule Poirot stories? Not necessarily. Is Kenneth Branagh's ongoing series a nice little diversion anyway? Absolutely.
Following the success of 2017's Murder on the Orient Express, Branagh is back with his take on Death on the Nile. Considering that Branagh's quirky detective character Poirot and his friend Bouc (played by Tom Bateman) are the only characters to return, however, that means we have a full new cast of characters with a whole slew of Hollywood talents to play them.
The trailer, released today, obviously puts most of its attention on the newlywed couple Linnet and Simon Doyle, played by the statuesque duo of Gal Gadot and Armie Hammer. It's their controversial marriage that sets off the plot, after all. Hammer's character, you see, was engaged once before, and his ex-fiancé Jacqueline, played by Sex Education's Emma Mackey, has hounded the couple ever since. When the Doyles try to escape all the drama by boarding a steamship for a tour of the Nile river, Jacqueline, of course, books a ticket too. Without giving away too much of a story that dates back more than 80 years, the word "death" is in the title, and Poirot is a detective who tends to find the answers pertaining to such mysterious deaths.
Of course, that love triangle is not the only group of characters on board the steamers. There are other passengers as well, which means other celebrities who play those characters. The trailer almost constitutes a "Where's Waldo" of hunting for famous faces.
Is that Russell Brand in a full beard and glasses? Yes, it is (for some reason). Could it be Game of Throne's Rose Leslie you see in a blue cardigan for a split second? Absolutely, it is.
Black Panther's Letitia Wright pops up to watch some drama go down. Bollywood star Ali Fazal is along for the ride as well. Sophie Okonedo plays a romance novelist. Oh, and just for good measure, beloved British comedy duo Jennifer Saunders and Dawn French reunite for the first major project together since voicing the character of a retired burlesque dancer in Coraline.
Then, of course, there's Annette Bening, who is only seen briefly in purple hair. Though, her relatively small appearance might not be so much a snub as it is a protection of the plot. Bening plays a character named Euphemia who did not appear in Christie's original novel, nor in any of its previous adaptations. You don't cast an actress like Bening to play an entirely new character in a classic story just for the hell of it. So even longtime devotees of Christie's work may be in for a few surprises.
The film is scheduled to hit theaters on October 23rd, and Branagh has already voiced interest in continuing the series. Watch the full trailer below.
Related: The Best Female-Fronted Foreign Comedy Series to Stream