Debbie Harry is Designing a Capsule Collection Just in Time for the '80s Revival
The Blondie singer is teaming up with Shepard Fairey for a capsule collection.
---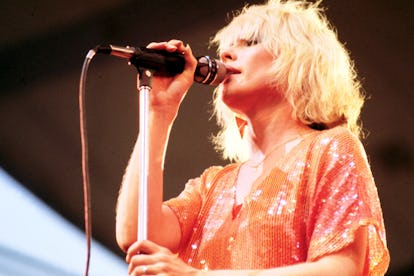 Debbie Harry's heyday as a solo artist and with her band Blondie was back in the '70s and '80s. It was a time when not every pretty young singer who racked up multiple No. 1 hits (and Harry had four with Blondie) was automatically rewarded with their own fragrance line, a contract with a fashion line and cosmetics collaboration. So while Harry may be a fashion muse, there's not that much Harry-branded merchandise out there for superfans to get their hands on.
In fact, Harry wrote in W a few years back that the fashion world wasn't much interested in her at first.
"When Blondie burst onto the scene in the mid-'70s, we couldn't imagine that designers would be interested in us. We had no access to that world. Most of our fashion choices—ripped-up fishnets and pinned-together things—were economical, what we could afford," she said.
Of course, Harry's signature punk-meets-glam style has since gone on to become an inspiration point for a generation of designers and Blondie and Harry have since been a hot commodity. The band has played parties for everyone form Marc Jacobs to Coach. Back in 2001, Dolce & Gabbana even designed an entire season of their D&G line in Harry's honor. Garments were emblazoned with slogans like "Call Me, Debbie" spelled out in sequins.
Yet, Harry herself hasn't dabbled much as a designer in her own right. That's about to change thanks to Shepard Fairey.
The graffiti artist as you might recall has his own streetwear line, Obey, and he's teaming up with Harry for a special capsule collaboration.
Much like those legions of designers, Fairey too is a lifelong Harry obsessive. According to WWD, he first heard a Blondie song on the radio as a kid and his infatuation grew when he started to explore the history of New York's punk rock scene; the story of CBGB can't be told without mention of Harry and Blondie after all. He previously put an image of Harry on an Obey hoodie two years ago, and now the pair is going all out for a collaboration.
"I've been a Blondie fan my whole life and have collaborated with them in the past, which has been a dream come true. But working with Debbie on this project has been totally inspiring," Fairey told WWD. "She's been very involved and hands-on for the whole process, just another display of her incredible talent."
The collection will be in stores for Fall, which couldn't be better timing. Consider the fact that several trend forecasters expect '80s nostalgia to be one of the key fashion trends of 2017, and who better to deliver a definite take on the decade's style than one of its foremost fashion icons. Of course, capsule collections designed by rock stars and merch are all particularly of the moment, too.
Predicting The Fashion Trends of 2017
Wear Color – Because 2017 is about getting out of the comfort zone, and retiring black to the back of the closet. Leading the trend is Balenciaga's Demna Gvasalia, whose color-blocked looks (including spandex pants, encasing the shoe), will be a key moment for spring.

Photo by Getty Images.
Wear Pink, specifically – Despite what Pantone says, pink is the color for 2017. Celine offers a fresh caped dress in pepto-pink for spring, while Chanel, Chloe, Gucci, Loewe, and Valentino weren't far behind with their take on the true color of the season.
Shoulders – Baring them was very 2016, and a voluminous architectural shoulder and sleeve is the way to go for 2017. Look to Rodarte, Jacquemus, and Saint Laurent for ways to wear this new shape.

Photo by Getty Images.
Sport – Athlesiure may have defined this year, but sport will determine the next. Put away your loose yoga sweats and try a stronger, sexier take, a la Courreges

Photo by Getty Images.
Utilitarian – Khaki and cargo pants will reign again, yet it is a polished utilitarian look we'll see next year. Take a cue from Balenciaga, Bottega Veneta, Marni, and Stella McCartney.

Photo by Getty Images.
Stripes – Stripes are never out of style. For 2017, they'll either take the form of super-skinny pinstripes, or the exact opposite. Keep your eye out from these great wide-striped wide-legs from Derek Lam.

Image courtesy of designer.
Bows – As fashion becomes more romantic again (thanks to Alessandro Michele at Gucci), a number of brands are turning to their softer side. We'll wear big, sweet bows from Coach, Fenty x Puma, and Erdem.

Photo by Getty Images.
Shirting – is still everywhere. How many ways can you wear a button-down? For 2017, get on board with smart and sexy options from new New York label Monse.

Photo by Getty Images.