Big Girl Talk with Deborah Lippmann
On Caitlyn Jenner, Lady Gaga, Donald Trump and much more in the really, really big interview with Jane Larkworthy.
---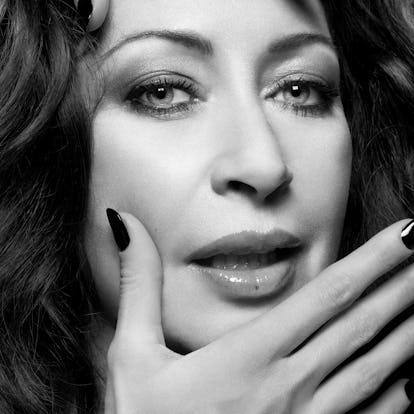 The first time I worked with Deborah Lippmann was on a photo shoot in 2011. Every fiber of my being was starstruck—I mean, this was the woman who did the nails of both Cher and Sarah Jessica Parker. But she'd have none of it because she is so damned nice, professional and grounded. Our mutual love of singing—she performs regularly, has a Christmas album ("Deck the Halls" is available on iTunes), and sings backup for LeAnn Rimes whenever she's in New York, including a recent appearance on The Today Show—sealed the girl crush. When she recently popped by the office for one of my regular beauty insider interviews, five minutes seemed like too short a period to spend together. So, we talked for longer, a lot longer.
Let's get the facts down first. How did you get into the business? As you may know, I'm a singer. I got a degree in music, so I was piddling around doing weddings and bar mitzvahs to make money, then singing in jazz clubs and doing theatre, which paid nothing. I wanted to continue to love it, and focus on jazz and theatre—my passions. I tried waiting tables, which was a disaster. I spilled red sauce all over a woman in a white suit. I remember that moment to this day. So, anyway, I was doing a show called Razzle Dazzle. It was like a Vegas revue. We performed at big corporate events, like conventions. We were like the dinner entertainment. I sang Stand By Your Man. Here I am [shows a photo from Razzle Dazzle]. The boobs were Styrofoam. They hurt so bad! I actually became a manicurist because of doing Razzle Dazzle. On the first stage rehearsal the director took one look at my (nail-bitten) hands and demanded I go out and get artificial nails. I felt so much like a lady! It I felt the importance of being able to use my hands, either with strength or to be quite feminine.
They're a necessary prop. And here's where I played Mary from Merrily We Roll Along directed by Stephen Sondheim.
He's a God. He lives in my neighborhood. He also has black standard poodles. But I digress. You were directed by Stephen Sondheim? Uh huh. When I was living in Arizona in the '80s, Phoenix was a small town in terms of theatre. I'd gotten cast in a straight play that was going to get me my equity card. Then I heard through grapevine that Stephen Sondheim and George Furth were going to be in Phoenix to produce Merrily. They really loved the show and wanted to fix it, then ultimately bring it back to Broadway, which they did. Unfortunately, it was going to be the exact same time as the play I was going to be in. Nobody was really committing to whether Sondheim and Furth were coming or not coming. No one knew. So I audition, and I get cast as Mary, the lead role. Dropping the other play meant giving up the chance to get my equity card to work with a director who might or might not be Sondheim. So, I took the chance. I turned down the other role and took Mary. And, sure enough, Sondheim came to Arizona. I was directed by Stephen Sondheim. And it was a community theatre! It's about taking chances, you know? That show catapulted me to leave Phoenix. I could stay there and have a great career, doing the society ladies before their balls, then singing at their balls as they'd dance by me. Or, I could move to New York and see what else was out there.
But you had a stint in L.A. between Phoenix and New York, yes? Yeah, I moved to L.A. to pursue singing, and I worked as a manicurist at Elizabeth Arden on Rodeo drive. Audrey Hepburn, Betty White, Raquel Welch. They all came to that salon. This was back in the early '80s. It was very old school. Every stylist was called Mr. Stanley, Mr. George or Miss Whoever. I'd walk in every day and think, [whispers], 'I can't believe I work here. This is iconic. I can't believe they chose me.' See, I've always had this weight problem: Up and down, up and down, up and down. In college, I got a job at Bullocks department store. I wanted to work in cosmetics, but I didn't have the confidence or the guts. Didn't even try. So I worked in costume jewelry, which was right next to cosmetics. And every day, I would watch the girls from cosmetics walk by to go to the ladies room. They were just so beautiful with their makeup on, and I was like, "Someday, someday I'll have the guts to work in the cosmetics department…"
How were the clients at Arden? I mean, Rodeo Drive in the '80s. You must have a mean girl client story from those days. You don't have to name names, unless you want to… Fine. Ok. One day, a client came in and she booked a full day of service. Back then, the really fancy clients did that. They'd start with a facial, then a massage and they'd be there for ten hours. So I saw that this famous client was coming in and I was kind of excited. She came in for her 90-minute massage, and 80 minutes into it, she says, "I hate the way you're rubbing me", and she'd go to the counter and say, "I hated my massage, I'm not paying for it." Then she did the same thing to the facialist. So word got around, and when she got to me, she just said, "Oh, keep massaging my poor, tired dancer's feet." I mean, she was a beautiful actress, but it wasn't like she was a Joffrey dancer. And I thought, "I'll massage you because it's my job." That was a moment for me. I thought, no matter how beautiful you are, lady, you're still so needy. Anyway, I massaged her poor dancers legs forever, then did the manicure and pedicure. She was in my chair for two hours. When I was done, she lined up four quarters on the table as my tip.
Man, that was harsh! Can you tell how your client is feeling by their hands or feet? Do you read them that way? I can fully read! I don't think they know what I'm doing. And I go back and forth until I can feel a change in their body. Of course, I make sure I get my manicure and pedicure right, but I will not stop touching them until I feel like they've taken a deep breath. That was something I learned years and years ago when I worked at Bergdorf Goodman, which was where I worked when I moved here. The salon was owned by Frederic Fekkai at the time, and I had all these fancy ladies who were very, very difficult. At the time it was super chic to be Slavic as a manicurist.
Really? [Laughs] So much so, that people literally got out of my chair over and over again when they heard me speak. A Slavic manicurist was what they were used to, so that's who they thought was the best. They didn't know how I had gotten a job there. I even tried a Slavic accent. [former Fekkai hairstylist and current Salon AKS owner] Alain Pinon stood by my station and heard it time and time again. He will attest to it. Oh, here's a picture of me Christmas caroling at Trump Tower. Marla Maples was my client at Fekkai, and it was around the time she started dating Donald. She was so great to me. He has good taste in women, I can tell you that.
He's a nice man when you meet him. He is a nice man when you meet him. I spent a lot of time in that apartment. I was over there several times a week. Once, Marla knew that I hadn't seen my mother in a long time, so she offered me a ride in Donald's jet. She said, 'He's going to speak there, why don't you go with him?' So I flew to Arizona in Donald's private jet.
Was that an "I've really made it" moment? No. They were just very nice to me. Here's an 'I've really made it' moment. [Holds up a picture of Kate Moss and Daria Werbowy doing her hair and makeup at a shoot]. Kate Moss and Daria, in the middle of a Cavalli shoot, said, "Deborah, you should look like us! Let's do your hair and makeup!" It was like three in the morning in 2008 or 2009. Inez van Lamsweerde and Vinoodh Matadin photographed it, George Cortina styled it. We were just talking about it the other day.
What celebrities do you love working with? I love working with Lupita. She's smart. She's the warmest, nicest. And Lady Gaga. She made me work my creativity to a level I didn't know I had. She works hard and she loves it. She loves the creative process, and she pushed me in a wonderful way to try to think in ways I never thought I could. I'd get these emails like, 'I'm thinking about a velvet nail for Judas. She has such a way of thinking that was crazy. Here's another funny Gaga story: When we did the Born This Way video, the nails were all nude, pretty much. Some were doubled over, some were single. So then she calls me to do the Grammys. It was going to be the first time she performed the song live. She was coming out of that egg thing, which I didn't know until I got there. But she was going to be wearing what they called, well, "the condom." That sort of egg fabric. So I prepared all these really long beige nails, and I sat at the Grammy rehearsals for three days, watching Rihanna do her thing and watching Gaga do her thing, and everybody had these really long ghetto nails. Gaga had been wearing hers long for a long time, before anyone did, and now everyone was wearing them. So I'm sitting there watching everyone, thinking, 'Gaga's supposed to be different from everybody. She shouldn't have these long nails.' I didn't say anything, but she looked at me and said, 'Deborah, what are you thinking about? Something's wrong. You're thinking about something.' I said, kind of quietly, 'I want to take the long nails off you. Every other girl in this entire arena has long nails. You're Gaga and you're getting born out of an egg. Should you have a long nail? Is this the time for them to come off…?' So she called [former stylist] Nicola [Formichetti] over and told him what I said, and they're like, 'Oh my god, it's a genius moment. Take them off!' So, I take the beige nails off of her, and then I'm like, so what should we do? I was creating a sheer yellow before jellies had come out. Of course, she sees it and she goes, 'That!' I couldn't put a color on the biggest star in the world that we weren't selling yet. [But] I just thought, because it's a short nail, no one will notice it. So, I take the red eye back to get to a fashion show. I get off the plane, and open my phone, and every picture of her shows her standing with her hand in the air. It wasn't the moment when her hands are in the pockets, or in her glove. Everyone's like, 'Oh my god! What's on her nails?' I had to go out to the lab get on my hands and knees and beg them to get it on the shelves. It did OK, but it would have been amazing if it had happened that day. I missed the moment.
Taking that thought, how far ahead are you working? We just finished holiday 2016. I have no idea where I am. It's crazy. We're such a small team, but if have to do a quick turnaround, we could. Our collections are kind of set, but if something happens, we can turn it around and our retailers will take it. Although, we had this last minute opportunity to do something with "Empire." And everybody put it on the Web, but we didn't have time to put it in the stores because we decided so late to do it. So we did this and it's just on everyone's websites. But they're really Cookie [Taraji P. Henson's character] colors.
How did the "Empire" collaboration happen? Well, I love the show. I talk about the show a lot. I don't know if it happened through Taraji or if it happened through Fox.
__
__
How did Girls happen? Through Lena [Dunham]. I met her before Girls happened. I knew her through the woman who ended up producing her show, I knew she loved nail polish. So for the first Girls premiere, I donated nail polish and she sent me a photo of her nails. Then, I don't think she was asking to ask, but she wrote, 'Don't you think it would be cool if Hannah had her own color?' And I couldn't breathe. So I wrote back, 'What are you saying? Are you saying this could actually happen?' And she wrote back, 'What are YOU saying?' We had this very funny back and forth of one liners. I said, 'It could totally happen, and it could be the weirdest green you'd ever seen.'
I love that green! And so it happened. That was super, super exciting. And you know what? My first collaboration was with Sarah Jessica Parker. She knew more about business than I did. My Prelude to a Kiss polish was her favorite sheer pink when I launched it. She thought it was the best sheer pink on the planet. It was made during Sex and the City and it shows up in Carrie's bathroom, and it's in the scene with Miranda's vibrator. Remember when she was using the vibrator and she had that mean nanny who opens the drawer and sees the vibrator next to my polish? We're the only people who saw my polish, but there it was. Then after Sarah had her baby, she said, 'I wish you had a pink that was more forgiving, because I'm using my hands a little bit more, but it's a little too pink. Maybe something with a little bit more beige?' She had a vision for it, so I took her thoughts, went to the lab, then showed them to her. And it was just for fun, it was just girl talk. She gave me some feedback, so then I showed her more. And she said, 'This is it. I love it! But now I need a lot of them. You should put it out, and name it for me.' Like, she had to basically tell me to do it!
So when something like this happens with a celebrity, it's like a handshake. They say, it's OK to use my name. Fully a handshake. Empire was like a licensing thing, but with Sarah Jessica Parker it was nothing, just a handshake. With Mary J. Blige it was nothing, with Cher, Pat Benatar, Renee Zellweger. Kelly Clarkson it was nothing. With Kelly Clarkson, I did her nails once. She loves nail polish, has really short nails, she plays the guitar and does musician stuff. Anyway, she had this idea of a purple glitter extravaganza. It was about 5 years ago? When her album Stronger was coming out. She booked me for the Grammys. I'd only seen her once. I brought the next samples of polishes to show her. She looked at them and said, 'Are these the new versions of the polish?' I said, 'Yeah, I was going to give them to your assistant.' As she's getting ready, she puts it on, she loves it, she Instagrams it. Like right there. I can't take a picture and Instagram it, but she put it out there. She won fucking album of the year, wearing it. You can't make that stuff happen…
That's a nice person. That's a nice person. And I haven't seen her since. I love her. I'd work with her any time, but she's working all the time and I think she's having another baby. I'm sure I'll see her again. There are just people who want to do something fun, and it's not necessarily about contracts.
Let's talk about trends. What are you into? What are you tired of? I'm tired of a long nail with a French manicure with too much hard white on it. I'm really tired of the French pedicure with hard white on it.
God, I hate French manicures and pedicures. I don't get them! I do enjoy when a French is done with multiple colors. A pink and a purple, a red and a blue, and when a tip is done with a tiny amount of color.
Where do you stand on gel manicures? I think you might as well wear acrylic on your nails. Which is what I have now, because I just watched… [bellows] Adele. Whose nails I want to do. So, whose nails do I want to do? Adele and Mrs. Obama. I think I told you this. When the option came in to do Caitlyn [Jenner for the Vanity Fair cover] and they didn't tell me who it was, I thought it was either Mrs. Obama or maybe Duchess Kate [Middleton]. And I was wrong. And I've become friends with Caitlyn.
And? And I love her. She invites me over for dinner and doesn't expect me to do her nails.
Is she happy? She is happy. She inducted me into her girls night and I have a 14-karat bracelet that about ten people have. Eight of them are transgender women. When we go to dinner, they sit and think tank about how to make things better. And they talk a lot. I've learned a lot about an area that I knew nothing about. As a matter of fact, I'm going to Phoenix for Christmas and I'm going to sing at a place called the Tavern and I'm going to be accompanied by a pianist I used to work with when she was a man and now she's a woman. Like, one of the things the girls in the community were talking about a lot is how hard it is to get a job. They can't get jobs because of the judgment. They just need to get something on their resume. That's been a really big thing for me this year. Before fashion week, which is around the corner, I want to find transgender manicurists so I can put them on my team, so they can say, "I've worked with Deborah Lippmann."
That would be great. Why don't you just Instagram or tweet it? Yeah, I need to do it. It's interesting because I work with Kendall, obviously. It took a while before I let Kendall know that I knew.
Do you work with all the K's? I worked with Kim on the W "It's All About Me" shoot, which was a huge moment. But I never watched the K show until I met Caitlyn. Now, I will binge it, and I do want to be best friends with Khloe. She's the really outspoken one. They really love each other. There's really something there to this family. They're a family that's there for each other. Like when each of the girls is having a personal problem and they all jump in the bed, I'm like, 'I want to have sisters who're going to punch my man out when he does me wrong!' When they went to see Caitlyn receive the ESPY award, on the show, the Kardashian sisters were talking separately saying, 'We should be there for Kendall and Kylie.' And I did wonder after the award ceremony why the girls weren't there, but then I watched on 'The Kardashians' that they went to be with their mom and support her after the event, because it was hard on their mom as well.
Did you cry when [Jenner] gave you the bracelet? I totally started crying! So we're at this house on the top of a mountain where she films her show, and she announces what she's going to do. When I first met her, she had this bracelet on, and her assistant Ronda, who took Bruce through her transition, had the bracelet. I'd asked what's this bracelet? Caitlyn said, 'I don't have anyone, so my girls come over and they wear this bracelet. So I was in L.A., and they texted me and said, 'Are you in LA? Come to girls' club.' I was like, is this an all nighter? Do I need my PJ's? There were about 8 transgender women, including a 17-year-old who'd been trans for about two years. She was so beautiful. And what they were talking about – this goes back to my weight issues – I remember working with Gisele when she was about 20 and she was talking about cellulite. Clearly, there was none to see, but I was teasing her about her cellulite and she said, 'Lippmann collection' – she always calls me Lippmann collection, because that's what my polish was called a million years ago- 'what I see in my imperfections are as real to me as yours are to you.'
Really wise words. What drives you crazy with people and their nails? When they're standing there, talking to me and biting their nails. I'm like, 'I'm right here! I can help you!' Or, literally, if I'm doing one hand and they're biting the other.
Do you have advice for someone who wants to be you? Attention to detail. And you have to be the best of the best. The most important thing is being able to do a perfectly clean manicure. People ask me, 'How can I do celebrities? I live in Ohio but I don't want to move.' I say, 'Call the best hotels in town,' because people are always coming through on concert tours. Give the concierge a manicure. Guests rarely use the people in the hotels, they call the concierge.
What color do you think women should wear this New Years Eve? And I'm trying to get into your head because I want you to say a certain answer. Do you want to lead me there?
Oh, I'll just say it. I'm really into shimmery champagne. Not gold, not silver, kind of over the bronze. I'll send you Diamonds and Pearls.
But I don't wear polish on my hands. Nor do you file them, evidently. Well, at least you're not a nail biter.