Mother Nature
More than 70 years ago, Deborah Szekely invented spas as we know them. Jane Larkworthy goes south of the border to visit the original wellness pioneer.
---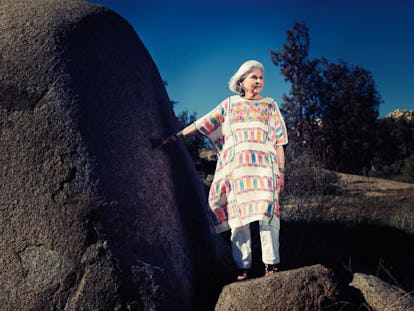 It's lunchtime in the bustling dining hall of the Rancho La Puerta spa in Tecate, Mexico, nestled in the mountains at the tip of the Baja Peninsula, a three-hour drive south of Los Angeles. After a morning of grueling hikes, cardio boxing, and spin classes, guests are digging into their veggie burgers and green salads when a tiny white-haired woman walks into the room, instigating some serious rubbernecking. Yes­, that's her, that's her. She's the one who started this place­—this last part is key—in 1940.
Though the name Deborah Szekely (pronounced ZAY-kay) may not mean a lot to most people, she is the fundamental reason why spas as we now know them exist. Those familiar with her work—along with the world-famous Rancho, she established a nearby sister property, the Golden Door, 18 years later—have dubbed her the godmother of the wellness revolution.
Both Rancho and the Golden Door attract a fiercely loyal crowd of regulars ­including Oprah Winfrey, Martha Stewart, Barbra Streisand, and Arianna ­Huffington, who gladly fork over more than $3,000 to spend a week as teetotaling summer campers whose schedules are filled with, say, waking before dawn to scale a mountain or sweating it out on a yoga mat or tennis court, then indulging in a Hot ­Riverstone massage or a Peach Paraffin Body Masque.
"I've been 10 or 11 times," says the New York–based ­integrative physician Frank ­Lipman, health guru to Donna Karan, Maggie ­Gyllenhaal, and Gwyneth ­Paltrow. "Rancho is the original spa—what Deborah's been teaching for the past 70 years is only now recognized as important."
The godmother turns 90 next month, but she could easily pass as a couple of decades younger. Just shy of five feet tall, she looks like a sturdier Dr. Ruth—though without the sexologist's slumped shoulders, thanks to a four-times-a-week Pilates habit and the strength-training sessions she takes with a former Navy SEAL. Szekely has spent most of the past year finishing her second book, tentatively titled Watch Yourself Grow Younger, and preparing to launch the ­National Wellness Registry website, which she conceived as an ­exhaustive, pragmatic resource—"a place where people can find out about walking clubs, hiking clubs, and everything from there on out," she explains. "I want to get people to take responsibility for their own wellness."
This pragmatic idealism is what brought Szekely to Washington, D.C., in 1983, where she spent the next 17 years holding posts such as CEO of the ­Inter-American Foundation, which addressed poverty throughout Latin America, and copresident of the U.S.-Mexico Commission for Educational and Cultural Exchange. In short, Szekely's life is the kind of improbable tale that could only lead to her being exactly the woman she is today.
One of the spa's pools
Deborah Shainman was born in Brooklyn to parents who ate a diet of raw foods; her mother, a nurse, was vice president of the New York Vegetarian Society. The family spent summers at health camps in the U.S. and abroad, where they were hosted by the Hungarian scholar Edmond Szekely, who lectured on the importance of natural living. When Deborah was 16, she worked as Szekely's secretary. A year later, in 1939, she married him—but when he received orders to return to Eastern Europe and participate in Hitler's war effort, the newlyweds, both Jewish, headed instead to Mexico, where they settled into an adobe house in the middle of a small vineyard.
Since Szekely's acolytes were already used to traveling to his camps, Tecate became just another exotic spot where they could set up tents, stay for a week, and live a communal existence, pitching in with the gardening and cooking when they weren't hiking, playing volleyball, or taking dips in the nearby Tecate river. In the afternoons, guests gathered outside Szekely's hut for his talks—on everything from responsible sun exposure to the dangers of pesticides and cigarettes, pronouncements that at the time had the air of prophecy. Since Szekely had a number of expat friends in Los Angeles—there was a large Hungarian presence in Hollywood, including the founders of both Paramount and ­Twentieth Century Fox—showbiz types like William Holden, Barbara Rush, Kim Novak, and Burt Lancaster started to make the trek.
By the fifties, the importance of exercise was catching on, but following through occasionally presented a problem for better-known actors. "Kim ­Novak had a wonderful hourglass figure," Szekely says. "But one day she told me, '­Deborah, it's so hard exercising with people looking at my big bottom. I'm beginning to get a thing about it.' So we opened the Door." With its serene Japanese-garden setting and an 18-guest capacity, the Golden Door provided ideal privacy for actors to shape up for their next film role.
"In those days, nobody had trainers," Szekely says. "They didn't even know what a massage was. So they'd come and spend a month—and they worked—and the studio paid for it."
Though she sold the Golden Door in 1998 and last year handed over control of Rancho to her daughter, Sarah Livia Brightwood, Szekely still regularly visits both spas to conduct lectures, which are feverishly attended. "I never know what I'm going to say," she admits one night in the cozy studio that also hosts classes with names like Guided Meditation and Inner Journey. Seated in an armchair in front of 50 or 60 disciples stretched out on mats and dressed in sweatpants and fleece tops, ­Szekely says: "I just know that there's so much I'm really angry about. Did anyone see that Congress has named pizza a vegetable?"
From top: A directional road sign on a path at Rancho La Puerta in Tecate, Mexico; Szekely and her daughter, Sarah Livia Brightwood.
Unlike some spartan getaways, Rancho La Puerta actually celebrates food—just the healthy, naturally grown, and unprocessed variety. There's even a six-acre organic garden where guests can pick ingredients and then learn how best to prepare them at Rancho's cooking school, established in 2007. Otherwise, the food plan is a moderated-portion, meat-free one, so visiting couch-potato snackers will likely drop a few pounds—without feeling starved. "We teach a way of life here," Szekely says. "Every morning, you need to wake up and think, What am I going to do today that allows me to eat? You have to earn it."
She'll certainly earn a feast on her upcoming birthday, which she intends to celebrate the same way she did her 80th—by climbing the 3,885-foot-high Mount Kuchumaa, the tallest peak in Rancho's breathtaking backyard range. "It'll take a little longer this time," she says, laughing. "But I'm doing it."
Szekely And Brightwood Photographed By Victoria Will. All Others Courtesy Of Rancho La Puerta.