Deep Inside the Dark, Sweaty Scene at Teyana Taylor and Desiigner's Halloween Party at The Box
The Def Jam artists threw a Halloween dance party for the ages, complete with a Desiigner performance and music video premiere of his single "Zombie Walk."
---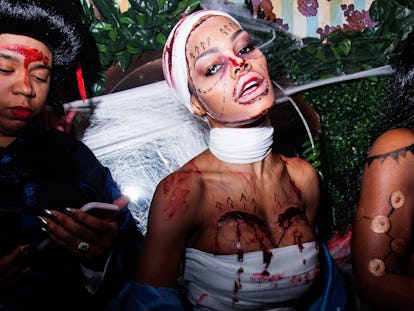 Photo by Zak Krevitt.
Last night, at some point past 9:45 p.m., the Halloween partygoers at the downtown New York club The Box were becoming restless. One fight had already nearly broken out in the middle of the dance floor, and it was becoming increasingly unclear when, or maybe if, Desiigner, the party's cohost along with Teyana Taylor, was going to show up. The pyrotechnic rapper whose dance moves are more convulsions than dance moves was already two hours late to his own party, which they were calling Def Jam's Night of the Living Dead: Zombie Edition.
Cohost Teyana Taylor was already there. She sat half-posing in one of the many booths that line the walls of this intimate burlesque club. A small envoy of photographers surrounded her as she did her best to look disinterested, taking swigs of her drink, which probably contained Avion, the tequila that propped up the swag baskets at the VIP tables.
About half of the partygoers looked bemused, wondering when Desiigner would show. The other seemed resigned to the fact that he wouldn't at all, and started a dance party in the middle of the dark, dank club, which, due to overcrowding, was certainly living up to its name.
"I met my ex-boyfriend here," said one young woman, who had come dressed as some sort of seductive baseball player, clad in an all-white uniform with a bright red "69" slapped on the back. A small girl politely denied the advances of a man in Arabian garb, whose costume came with a built-in plush camel between his legs. The getup did not make for graceful dancing.
Just when our prospects seemed hopeless, as the collective THC cloud began dissipating, Desiigner arrived.
The DJ blared Desiigner's hit single "Panda"; the crowd is juiced again; and Desiigner was dancing uncontrollably in a bright pink t-shirt and matching baseball cap. He's dancing with such force that he looked like a pink blur. Joints get re-lit.
"Hold on!" Desiigner screamed. "Hold on, y'all!"
The lights suddenly went out. A white projection screen came down onstage. It was the video premiere for Desiigner's "Zombie Walk," the latest single from his 2016 album New English.
When the lights come back on, Desiigner was grabbed by two men — his handlers, presumably — who rushed him to the stage with a Secret Service-like urgency. The projection screen rose to reveal a pair of pristine, black subwoofers and a DJ setup. Desiigner screamed, "Give me the f–king mic!" as a beat dropped.
About halfway through his five-song set, he dove into the crowd, rapping, screaming, and dancing all the while. When he finally found his way back to the stage, he stood statuesque in the center. The lights went off again. When they go back on, he's no longer there. As quickly as he appeared, he left. Like a ghost.
Desiigner's Halloween Party [Gallery]
Desiigner and Teyana Taylor at Def Jam's Night of The Living Dead Party

Photo by Zak Krevitt.
Even the bartenders arrived in proper Halloween garb.

Photo by Zak Krevitt.
One partygoer played the part with frightening realism.

Photo by Zak Krevitt.
Just a light makeup re-touch.

Photo by Zak Krevitt.
A dance floor party and a political hand.

Photo by Zak Krevitt.
Teyana Taylor's costume was on theme.

Photo by Zak Krevitt.
Partiers awaiting Desiigner.

Photo by Zak Krevitt.
Desiigner premier his new video for "Zombie Walk."

Photo by Zak Krevitt.
Desiigner finally makes an appearance.

Photo by Zak Krevitt.
Panda. Panda, panda, panda.

Photo by Zak Krevitt.