Delilah Belle Hamlin Has No Drama with Gigi Hadid
The Real Housewives of Beverly Hills star managed to stand out amidst a sea of millennials at Dolce & Gabbana Fall 2017—thanks in part to some tips from the pros, like Hadid.
---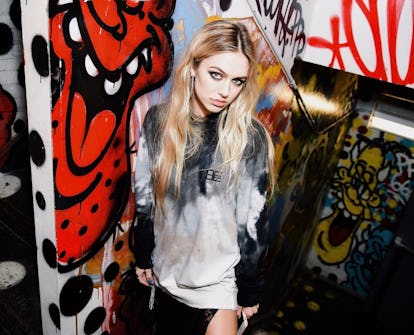 @delilahbelle
Though it was primarily a millennial extravaganza, Dolce & Gabbana's blowout of a show a few days ago at Milan Fashion Week also managed to be a family affair—a situation Delilah Belle Hamlin, who was just one of the dozens of assorted scions, YouTubers, and bloggers to walk, was no doubt more than familiar with.
The newfound model, who's fresh off her runway debut after walking Tommy Hilfiger's extravaganza in Los Angeles, is also currently starring alongside her mother Lisa Rinna on Real Housewives of Beverly Hills, which almost made for some minor drama this season when Hamlin worried her mother's feud with Yolanda Foster would make for some of her own with another model-daughter: Gigi Hadid.
Not that having your mother involved in your career is all bad. Rinna also made sure to get advice from other modeling moms like Kris Jenner and Cindy Crawford. In any case, Hamlin needn't have worried: Hadid actually gave her some tips for her runway walk, and the Dolce & Gabbana show proved that for Hamlin, this season's only been smooth sailing.
Her Milan debut in a floral, puff-shouldered dress and a golden, gemstone-adorned crown went seamlessly, perhaps because Hamlin kicked off the season back in New York by taking part in the Baja East presentation, plus sitting front-row at shows like Michael Kors and Tommy Hilfiger. (Her mother and her sister, Amelia, also came along to the latter.)
At just 18, Hamlin didn't set out to be a model, but her nearly 250,000 Instagram followers intervened. It was enough of a following that Elite Model Management flew her out for a meeting, kicking off Hamlin's foray into an industry she previously had only really dived into by pursuing her enthusiasm for leggings from Lululemon.
Still, modeling isn't Hamlin's only gig. She started off working at a deli—Rinna was looking to keep her daughter's life, well, real—and got into singing along with modeling only recently, at the same as applying to college. Acting's so far remained off the table, even though her father is the actor Harry Hamlin, whom you may recognize from , Mad Men, Veronica Mars and, of course, the '80s procedural L.A. Law. Not that that's made him any less proud of Hamlin: he reportedly brought the drama to the east coast by shedding a few tears when his daughter first walked at New York Fashion Week.
2016 Proved the Only Thing You Need to Be a Model Is a Famous Parent (Or Two)
by David Urbanke. Produced by Biel Parklee.
Selah Marley in the Calvin Klein Fall 2016 campaign.

Tyrone Lebon
VENICE, ITALY – SEPTEMBER 04: Sistine Rose Stallone attends the premiere of 'Hacksaw Ridge' during the 73rd Venice Film Festival at Sala Grande on September 4, 2016 in Venice, Italy. (Photo by Venturelli/WireImage)

WireImage
Model Gigi Hadid Reveals the Secret to Her Signature Runway Walk: