Delilah Belle Hamlin Is the Next Millennial Model to Watch
After her whirlwind fashion month, the18 year-old daughter of Lisa Rinna and Harry Hamlin talks Gigi Hadid, Coachella, and more.
Photographs by Pier Nicola Bruno
---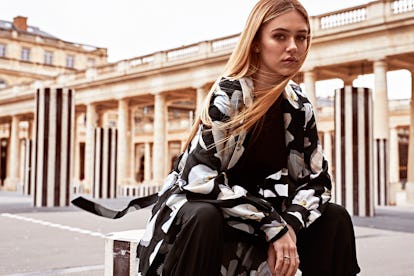 Delilah Belle Hamlin wears a Jonathan Cohen robe, Equipment sweater and Fendi pant. Styled by Caroline Grosso. Produced by Biel Parklee. Hair by Mirka Mysicka at Saint Luke, makeup by Grace Ahn. Model: Delilah Belle Hamlin at Elite Models. Digital Technician: Alessandra Bagnera.
Let's get this out of the way: Yes, Delilah Belle Hamlin has a lot in common with Gigi Hadid.
They are both blonde, All-American types from California, their mothers (Lisa Rinna and Yolanda Hadid, respectively) both star on The Real Housewives of Beverly Hills, and, now, they are both models with an impressive Instagram following.
But despite the comparisons, Hamlin is no Gigi 2.0 (there's Bella for that). While Gigi has starred in Guess campaigns since age two, Hamlin never really intended to be in the spotlight. "I didn't really think that I was going to be a model," the 18 year-old, whose father is the actor Harry Hamlin, said. "I never really thought about it, but Instagram kind of just made it happen. I was posting pictures of myself, and an agency was like, 'We want to represent you.' And that's kind of how it happened."
Today, Hamlin boasts 244,000 followers who follow her adventures, both relatable (dancing in the crowd of a The Weeknd concert; sipping a milkshake from In N'Out; brunch) and not so much (on the cover of WWD; front row at Paris Fashion Week; lounging at a Marc Jacobs party). And in the past few months, Hamlin's life has firmly tipped into the latter.
After signing to Elite Model Management in August 2016, Hamlin had her breakout moment just a month later during New York Fashion Week, walking in Tommy Hilfiger's runway show–yes, the one co-hosted by none other than Gigi Hadid. "The only person I have asked modeling advice from is Gigi," Hamlin recalled of that first runway show. "She's so beautiful, inside and out. She's truly so sweet, so I asked her how to walk. Honestly, I don't fully remember what she said. It was something like, 'Just walk like you're going to get something to eat, but you're not really hungry, you're just kind of hungry.'"
It was offbeat advice that clearly worked. This season, Hamlin booked her biggest gig yet, walking in Dolce & Gabbana's millennial-heavy Fall 2017 runway show. "It was such a surprise," Hamlin recalled of the casting. "My mom came into my room and was like, by the way, you're going to Milan next week. I was like, 'Oh, cool.' It was honestly so much fun, because I ended up knowing so many people and we all stayed in the same hotel. It was like Sofia Richie, Karsen Liotta, Rose Gilroy–I knew a good amount of people."
In the show, Hamlin wore a floral mini-dress with exaggerated sleeves, topped off with a crown. Off-duty, however, the model is still learning to navigate the world of high fashion. "I'm definitely picking it up as I go. I used to just shop at Target…" said Hamlin, laughing. For fashion month, she worked with stylist Maeve Reilly, who also dresses Janelle Monae, Hailey Baldwin, and Halsey, among others. Among Hamlin's top style hits during the fashion week circuit: a pale pink Fendi dress for a party hosted by Vogue, and a patent leather Sonia Rykiel cropped jacket and matching shorts to sit front row at the Paris show.
"I love getting to meet so many new people," Hamlin said, counting working with Reilly among her top fashion month experiences. "I also got to meet Sara Sampaio, which was another highlight. She's such a big model, but she's around my height, so it was really cool to see someone that successful that's not a giant."
With fashion month behind her, Hamlin is looking to the future, both on the runway and off. As a senior in high school, the model is currently waiting on college acceptance letters. The plan is to go somewhere in New York City and to study either psychology or criminology. "When I was younger, I always wanted to be a secret spy," Hamlin explained. "I love shows like CSI, so I took a criminology course last summer and I really, really liked it. It taught me so many different things. They talked about hacking ATM machines or computers, and then stuff like homicides. It was so cool."
Also coming up? Festival season, of course. Impending supermodel status aside, Hamlin is a California teen through and through. "I'm going to Fyre and Coachella," she noted.
Excited? "Yes!"
Even after Beyoncé dropped out? "Okay, that was disappointing, but it'll be good," she said, half confident, half self-reassuring. "It'll still be okay."
Paris Fashion Week Street Style Is Making Even Vetememes Look Chic
Street style at Paris Fashion Week Fall 2017.

Photo by Adam Katz Sinding
Street style at Paris Fashion Week Fall 2017.

Photo by Adam Katz Sinding
Street style at Paris Fashion Week Fall 2017.

Photo by Adam Katz Sinding
Street style at Paris Fashion Week Fall 2017.

Photo by Adam Katz Sinding
Street style at Paris Fashion Week Fall 2017.

Photo by Adam Katz Sinding
Street style at Paris Fashion Week Fall 2017.

Photo by Adam Katz Sinding
Street style at Paris Fashion Week Fall 2017.

Photo by Adam Katz Sinding
Street style at Paris Fashion Week Fall 2017.

Photo by Adam Katz Sinding
Street style at Paris Fashion Week Fall 2017.

Photo by Adam Katz Sinding
Street style at Paris Fashion Week Fall 2017.

Photo by Adam Katz Sinding
Street style at Paris Fashion Week Fall 2017.

Photo by Adam Katz Sinding
Street style at Paris Fashion Week Fall 2017.

Photo by Adam Katz Sinding
Street style at Paris Fashion Week Fall 2017.

Photo by Adam Katz Sinding
Street style at Paris Fashion Week Fall 2017.

Photo by Adam Katz Sinding
Street style at Paris Fashion Week Fall 2017.

Photo by Adam Katz Sinding
Street style at Paris Fashion Week Fall 2017.

Photo by Adam Katz Sinding
Street style at Paris Fashion Week Fall 2017.

Photo by Adam Katz Sinding
Street style at Paris Fashion Week Fall 2017.

Photo by Adam Katz Sinding
Street style at Paris Fashion Week Fall 2017.

Photo by Adam Katz Sinding
Street style at Paris Fashion Week Fall 2017.

Photo by Adam Katz Sinding
Street style at Paris Fashion Week Fall 2017.

Photo by Adam Katz Sinding
Street style at Paris Fashion Week Fall 2017.

Photo by Adam Katz Sinding
Street style at Paris Fashion Week Fall 2017.

Photo by Adam Katz Sinding
Street style at Paris Fashion Week Fall 2017.

Photo by Adam Katz Sinding
Street style at Paris Fashion Week Fall 2017.

Photo by Adam Katz Sinding
Street style at Paris Fashion Week Fall 2017.

Photo by Adam Katz Sinding
Street style at Paris Fashion Week Fall 2017.

Photo by Adam Katz Sinding
Street style at Paris Fashion Week Fall 2017.

Photo by Adam Katz Sinding
Street style at Paris Fashion Week Fall 2017.

Photo by Adam Katz Sinding
Photo by Adam Katz Sinding
"Women's Rights Are Human Rights": 62 Fashion Insiders Speak Out in a Powerful Video for International Women's Day