Haute to Trot
Newcomer Delphine Manivet is bringing real-life appeal to the rarefied world of haute couture.
---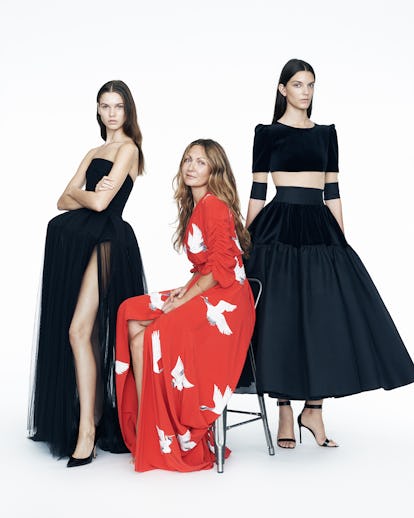 Haute couture is often used as a marketing tool for large fashion houses—a bit of out-there jazz hands orchestrated to inspire the larger public to buy perfume, or to get a designer name-checked on the red carpet. But when a couturier has no agenda other than making one-of-a-kind gowns for the clients who actually buy them—not celebrity loaners—the results can have a much more intimate and low-key appeal. Such is the casewith the 15 hand-sewn dresses that 38-year-old Delphine Manivet showed for her first collection this past July in Paris. There was a strapless black number made of hand-rolled chiffon cords with a wide pannier skirt of Versailles proportions, a floor-length gown draped in tulle with appliqué winter flowers, a deep-cut tank ballgown in black velvet and organdy, and a check silk jacquard dress with a contrasting wool topcoat that could have been from an MGM set in the heyday of the famed costume designer Adrian. "My idea was to make just one piece for one woman—no need to accessorize with diamonds and a weird bun," Manivet says, pantomiming an updo with her tousled honey-colored hair. "If the dress is well done, you don't need anything else, not even much makeup. With perfect satin and embroidery conceived just for her, boom—she's beautiful."
Given that narrow focus, it's not surprising that Manivet's first collection is less a group of dresses that tell a story than a cluster of beautiful pieces created with specific clients in mind. Each will have only one life with one woman. "Once I sell one of these," she explains, "it's done. Finished. It will never be sold again." Not in an altered form, not in a different color.
It might seem insane for a fledgling designer to make that kind of promise—or to hang out a couture shingle at all these days, given the ever present rumors of the sartorial art's demise. There are also the unflinching standards of the Chambre Syndicale de la Haute Couture to deal with. Its governing body insists that clothes be made entirely by hand and that a designer have a dedicated atelier with at least 20 employees, based in Paris. The couture federation generally waits at least two seasons to consider a designer for membership and even then doesn't grant full membership, including the right to call the work "haute couture," for several more years.
So Manivet has some time ahead of her to benefit from what is essentially the most elite stamp of approval in fashion, one that all but guarantees her access to the most prestigious technicians. (She is already collaborating with some legendary workshops, like Paloma, for tulle work, and Lesage, for embroidery.) "It takes a long time to make these clothes—hundreds and hundreds of hours," Manivet says. "But that's the top of luxury today: taking time."
In the past 10 years, Manivet has designed wedding dresses for Lily Allen and Emma de Caunes, one-off eveningwear for French movie stars like Mélanie Thierry and Astrid Bergès-Frisbey, and has built most of her business working one-on-one with her clients. Four years ago she started a small collection of ready-to-wear evening clothes that she has sold in her boutiquein the 8th arrondissement and in department stores in Asia like Isetan, as well as Barneys New York. But she has grown slowly and organically. "Since I don't have perfume and makeup or a lot of prêt-a-porter," she says, "my goal with this collection was simple: to just sell the dresses. And we already sold several! You really have to believe in haute couture to make it work. And I do."
Hair by Ramona Eschbach at Jed Root; makeup by Marie Duhart at Atomo Management; manicures by Charlene Coquard at Artlist. Models: Natali Eydelman at Women Management, Romy De Grijff at Elite. Digital Technician: Yohan Burel. Photography Assistant: Bryan Monaco. Fashion assistant: Marine Boisset.