Turkish Delight
If Demet Muftuoglu has her way, Istanbul will become the next great cultural center. Christopher Bagley checks out the scene.
---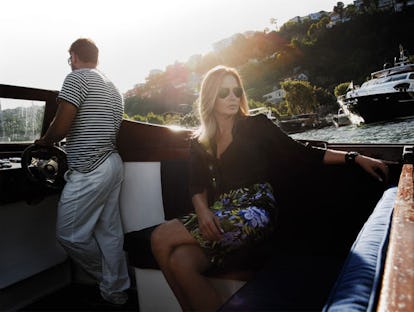 Most weekday mornings, after Demet Muftuoglu has breakfast in the garden behind her house in Istanbul, she hops into the back of a chauffeured Range Rover and heads down the hill to a pier on the Bosporus, where a sleek wooden speedboat is waiting to whisk her across the strait. As daily commutes go, it's fairly glamorous, and not just because it involves a change of continents (Muftuoglu's home in the city's eastern section is technically in Asia; her gallery space is on the European side). The half-hour ride cuts through one of the world's most stunningly vibrant urban tableaux, a seductive mishmash of hulking Russian tankers, high-speed police boats, opulent sultans' palaces, and spectacular 16th-century mosques. Muftuoglu insists, though, that practical motives were behind the purchase by her and her husband, Alphan Eseli, of the motorboat two years ago and the hiring of its full-time captain. "Traffic in Istanbul has gotten so awful," Eseli says. "Without the boat, the trip could take hours."
Locals like Muftuoglu can easily take for granted Istanbul's fabled East-meets-West cosmopolitanism; less so the international fashion and art crowds from Europe and America who have been flocking to the city in ever greater numbers to soak up the vibe. Muftuoglu—an ebullient blonde who, clad in the latest Balenciaga dress or a pair of canary yellow J. Crew jeans and YSL heels, is a perpetual sight around town—has played a key role in boosting the city's hot-spot status. She and Eseli, a film and commercial director, run the Istanbul International Arts and Culture Festival (aka Istancool), which they cofounded three years ago with the London-based entrepreneur Pablo Ganguli and the Dazed & Confused editor Jefferson Hack. The annual event lures people like fashion designer Haider Ackermann, photographer Mario Sorrenti, design guru Zaha Hadid, and artist Tracey Emin to the city every May for a weekend of panel conversations, screenings, and parties.
"I think a lot of people feel that Europe is a little bit dead, and they're looking for a new energy," Muftuoglu says. Istanbul, adds Eseli, "was always interesting, but now foreigners are discovering it." With its ­pumping economy, richly layered history, and uncommonly youthful population (average age: 28), Istanbul, many believe, is poised to rival New York and London as a world-class creative hub.
Energy and enterprise are two qualities Muftuoglu, 38, has never seemed to lack. After a comfortable upbringing in the city, where her father owned a transportation company, she avoided the conventional nice-Muslim-girl path and instead went off to Manhattan in 1996 to study at the Fashion Institute of Technology, working as a hostess at a SoHo restaurant. Back home in 2000, she teamed with the Turkish luxury retailer Vakko to launch the concept store V2K Designers, Istanbul's answer to Colette, and became the first person in Turkey to import edgy young labels like Gareth Pugh and Raf Simons—and the first to discover that the local women weren't ready for them. "Nobody bought anything," she recalls with a laugh. "Nobody understood." That started to change after she began calling clients to explain why they really had to have, say, a Rick Owens jacket; she also launched a magazine with features on the designers and their work. Later, as the art director at Vakko, she organized cultural events around town and recruited her friend Zac ­Posen to design a collection for the company.»
Eseli, a diplomat's son who looks like John McEnroe's cute Turkish cousin, is also an inveterate globe-hopper, with previous stints working in Germany and the U.S. Together, he and Muftuoglu operate Istanbul '74, a gallery space that serves as a cultural platform for exhibitions and projects involving ­contemporary art, film, music, what have you. "For me, even surfing is art," Eseli says.
Prominent locals say the couple's efforts have injected a big dose of international pizzazz into the Istanbul scene. "Society in this city is very segmented," says Serdar Gulgun, an art historian and interior designer who is a friend of the couple's. "The intellectuals and the society crowd usually do not mingle, which makes for a very boring social life—you keep seeing the same people and hearing the same things for 30 years." Muftuoglu, Gulgun says, is changing that with her knack for throwing together bohemians and bankers and, even, Gore Vidal. "Demet can accomplish Herculean tasks in a very smooth and easygoing way, without making a big deal of it," he says. "And then she'll invite everyone for dinner and dress up as if she's been sleeping all day."
At one of those dinners this past April, for the opening of an Istanbul '74 show by the young French painter Nicolas Pol, Muftuoglu glided through the crowd with her BlackBerry in one hand and a glass of wine in the other, maintaining her smile as the guest list swelled from 60 to 90. Although she's warm and chatty at parties and around friends, Muftuoglu is a somewhat shy and self-­conscious interviewee; she says it's difficult to explain what drives her to pursue an artist or a designer, because she operates mainly on instinct. "When you first see the work or meet the artist, you just feel it," she says. On the contemporary art front, she has formed a partnership with New York's Lehmann Maupin gallery and exhibited several of its artists, including Emin, Angel Otero, and Robin Rhode.
If there's a trait shared by most of the festival's participants—Tilda Swinton, Daphne Guinness, and Nate Lowman are past headliners—it's a significant fashion-fabulousness quotient, or at least a close connection to a Roitfeld: This year, the young art dealer Vladimir Restoin Roitfeld came to Istanbul to mount the Pol show. His mother, Carine, a former French Vogue editor, arrived during the festival for a book signing and to attend the gala dinner, where she mixed with a range of Turkish artists including the rising photographer Pinar Yolacan.
Some attendees were a bit underwhelmed by this year's panel lineup, which unfortunately suffered last-minute cancellations by fashion VIPs Karl Lagerfeld and Riccardo Tisci. (It was also Muftuoglu and Eseli's first year running the event without Hack and Ganguli; though Hack is still a supporter and panel participant, there was an abrupt falling-out with Ganguli, about which Muftuoglu will say only: "My relationship with Pablo evolved and eventually dissolved as the needs of the growing festival changed.") Still, all the dinners and ­parties—including a one-night-only Boom Boom Room event imported by the New York nightclub's team—were as lavish and laid-back as ever, thanks to wads of sponsorship cash and an informal vibe befitting a rather democratic festival whose daytime events are free and open to the public. "There's always a mellow atmosphere," Eseli says. "It's not like Cannes, where everyone's waiting to hear who the winner is, or Art Basel, where everyone's buying or selling."
Unpredictable culture clashes are a key part of the fun. Last year, Courtney Love did a Q&A on the subject of artists and branding; while chatting with Muftuoglu beforehand, she caught sight of Eseli and said, in her inimitably subtle way, "I want to fuck that guy"—not realizing that "that guy" was Muftuoglu's husband. Muftuoglu laughed it off; Eseli ended up directing the video for Love's song "Samantha."
Whatever the risks of mixing old with new or East with West (or Courtney Love with anything), Muftuoglu knows they're usually worth it. She smiles when her foreign friends make a big deal about her daily hops from Asia to Europe and back—no more momentous for her than most workday commutes—but Muftuoglu is quick to note that Istanbul's cross-cultural vitality is perhaps her greatest source of inspiration. "It's inside of me," she says. "I feel it every day."