Demi Lovato Breaks Silence on Her Overdose: "I Am Sober and Grateful to Be Alive"
And she's sick of tabloid speculation about her overdose.
---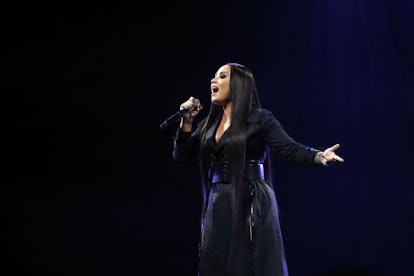 Simone Joyner/Getty Images
All Demi Lovato wants for Christmas is for people to stop reporting half-truths about her. Since suffering an apparent overdose in July (the tabloids have said it was heroin, which her representatives have denied), Lovato has been relatively quiet on social media, using it primarily to express gratitude for her Grammy nomination and encourage her followers to vote in the 2018 midterm elections. However, on Friday she posted a multi-tweet message instructing fans not to believe anonymous "sources" who talk to the press, and revealing that she is staying sober after her relapse.
"I love my fans, and hate tabloids. Don't believe what you read. People will literally make up stuff to sell a story. Sickening." wrote Lovato on Friday night, adding, "If I feel like the world needs to know something, I will tell them MYSELF. Otherwise people stop writing about my recovery, because it's no one's business but mine. I am sober and grateful to be alive and taking care of ME ✌?."
She continued speaking out, writing, "Someday I'll tell the world what exactly happened, why it happened and what my life is like today.. but until I'm ready to share that with people please stop prying and making up shit that you know nothing about. I still need space and time to heal…Any "source" out there that is willing to talk and sell stories to blogs and tabloids about my life isn't actually a part of my life because most of the shit I see is soooooo inaccurate. So newsflash: your "sources" are wrong…I would love to set the record straight on all the rumors out there but I literally don't owe anyone anything so I'm not going to. All my fans need to know is I'm working hard on myself, I'm happy and clean and I'm SO grateful for their support. ?…I'm so blessed I get to take this time to be with family, relax, work on my mind, body and soul and come back when I'm ready. I have my fans to thank for that. I'm so grateful, truly. I love you guys so fucking much ? thank you ??"
In the interest of staying off Lovato's shit list, we won't report anything else here.
Related: Demi Lovato's Mom Describes Getting The Call That She Overdosed
A Photographic Guide To Everyone Leonardo DiCaprio Has Publicly Dated
Leonardo DiCaprio dated model Kristen Zang for a year back in the '90s, where she acted as his date to the premiere of Romeo & Juiet.

Getty
Perhaps DiCaprio's most famously ex is Gisele Bündchen, whom he dated from 1999 to 2005.

Getty
The pair were serious for nearly six years, often spotted walking their dogs together.

Getty
The pair also often took in sporting events, a popular past time for DiCaprio and his girlfriends.

Getty
After splitting with Bündchen, DiCaprio moved on to Isreali model, Bar Rafaeli. The couple made a rare high profile appearance together at Berlin's Annual Cinema For Peace Gala in 2010.

Getty
The couple often took in basketball games, sitting courtside, of course, making for a few rare moments of DiCaprio allowing himself to be photographed with a girlfriend. Here, they watch the Lakers in 2010.

Getty
The pair dated for six years—the exact duration of his relationship with Bundchen—before splitting in 2011.

Getty
And again, the same year, DiCaprio shielded by a hat, as has become his fashion go-to.

Getty
In 2014, DiCaprio was spotted at the amfAR Gala in Cannes with his new lady, Toni Garrn, whom he dated for just over a year.

Getty
Before eventually getting together with Nina Agdal—whom he was never photographed with at a high profile event like a few of his other girlfriends—the actor dated a model Kelly Rohrbach in 2015, during which the pair were spotted together at the US Open. Agdal would go on to star in this weekend's Baywatch, while DiCaprio would continue to date models.

Getty