Derek Lam Spring 2015: Backstage Beauty
Tom Peycheux, Orlando Pita, and Jin Soon Choi discuss the beauty look behind Derek Lam's Spring 2015 runway show.
---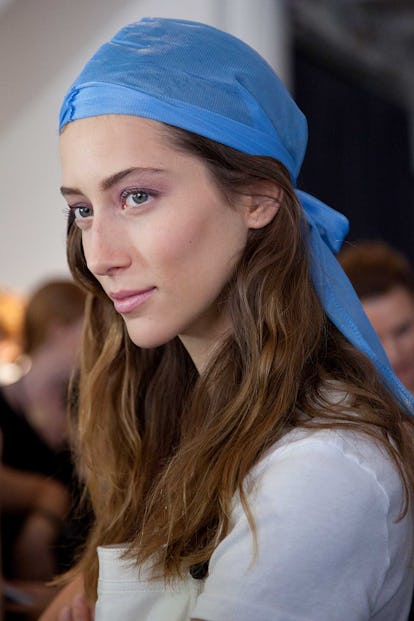 Photographer: Olivia Locher
"Derek Lam is inspired by a woman who is not into being too glam and pretty," explained hairstylist Orlando Pita backstage at the designer's Spring 2015 show. Pita created a wet-on-top/dry-on-bottom look by applying Phyto Workable Finishing Spray from the ears up, then tying a 'do rag around the models' heads to keep hair flat and damp until right before the show. Tom Pecheux kept things simple for makeup, using minimal foundation and peachy pink blush smudged on cheeks. Brown eyeliner, black mascara, and a new MAC Violet mascara complimented the eyes. Meanwhile, Jin Soon Choi created the "perfect nude" for nails, using her opaque polish Nostalgia ($18, jinsoon.com) as a base and sheer Muse on top. "It's a fresh, polished look," she said.
Photos: Derek Lam Spring 2015: Backstage Beauty
Backstage at Derek Lam Spring 2015.

Photographer: Olivia Locher
Backstage at Derek Lam Spring 2015.

Photographer: Olivia Locher
Backstage at Derek Lam Spring 2015.

Photographer: Olivia Locher
Backstage at Derek Lam Spring 2015.

Photographer: Olivia Locher
Backstage at Derek Lam Spring 2015.

Photographer: Olivia Locher