Behind the Muses
The love affair between fashion and music has never been hotter. Photographer Max Vadukul captures 10 designers and the musicians who inspire them most, while Deborah Harry—rock 'n' roll's coolest blonde—dishes on the roots of the relationship.
---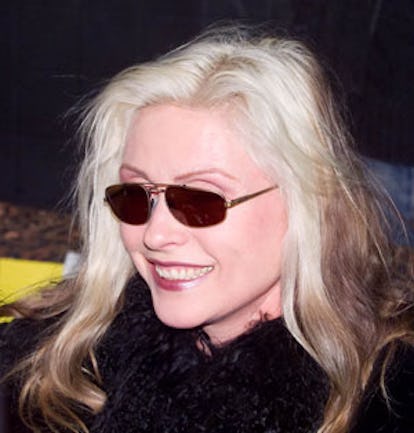 When Blondie burst onto the scene in the mid-Seventies, we couldn't imagine that designers would be interested in us. We had no access to that world. Most of our fashion choices—ripped-up fishnets and pinned-together things—were economical, what we could afford. Blondie arrived at the crossover between glam rock and the deconstructive period of punk and New Wave. In fashion, in music, in art, everything was broken down and ripped apart. We were all so influenced by Warhol's deconstructive cinema. Certainly Vivienne Westwood and Malcolm McLaren brought a lot of power to the scene. I remember Malcolm came to visit us in a rented station wagon with boxes of rubber clothing and we all went completely crazy. This fabulous, basically fetish clothing. Oh, the rubber! Oh, that slimness and tightness!
In those days I always did my own hair and makeup. We didn't have enough money for anyone else to do it. Sometimes I didn't have time to bleach my hair, so the roots were just there. And the brown in the back was because I couldn't see back there to do it. I wore black high-waisted, peg-leg pants and men's tuxedo shirts, or underwear as outerwear. Sometimes I wore a bridal gown and ripped it up as I was wearing it. But my style changed after I met Stephen Sprouse in about 1975, when he moved into my apartment building on the Bowery. Steve was horrified by the things that I would try—like a red Forties dress with white cowboy boots. But I was just wearing what I had.
Since Steve was working with Halston, there were all these slip-dresses available in matte silk jersey. I had a black trenchcoat, and Steve put it together with a pair of thigh-high boots and a little black dress and a beret, and I felt completely cool. That was one of my best-known looks. He also gave me a pair of Courrèges boots that I'd wear with fluorescent pink stretch pants. There was a real sense of play. New York City was bankrupt and garbage was all over the place, so you could always find fabulous things that people were throwing away. Or people were being evicted and the landlord would just heave-ho their stuff onto the street.
Rock 'n' roll started out with music being the total thing. It wasn't what it's evolved into now, where the visual presentation is so important. Now it's pretty grandiose. The women are actually showgirls who do music. They might hate me for saying so, but they are definitely produced. I'm sure they make their own choices about what they like to wear, but they are packaged. Our style was more self-contained, not applied by an outside machine. But we didn't have the Internet, so we didn't have to worry about being overexposed.
That's one of the things I love about Gaga. She's completely mad, and she and her people choose some really frightening images. I remember years ago going to the club Jackie 60 and seeing people wearing meat clothing and doing all this really grisly fetish stuff. It all works its way into fashion—counterculture gets absorbed by the mass culture and feeds what's going on. I loved fashion magazines back when I was starting out, but it was painful at times because I couldn't get any of that stuff. But a good trenchcoat is a staple. It's always on the list.
Behind the Muses: The Photos
From the moment her debut album came out in 2009, Welch, the flame-haired frontwoman of the British pop band Florence and the Machine, bewitched the fashion world. Soaring vocals aside, the statuesque performer cut a striking figure in her dramatic, boho-chic frocks, and it wasn't long before designers were fighting to dress her in their own. "I was captivated by her eccentric style and her willingness to dare," says Giannini, Gucci's creative director, who designed Welch's costumes for her current tour—and also took inspiration from her for the label's fall 2011 collection. "She embodies the cinematic allure and seductive power that is its essence."

Photographer: Max Vadukul
"What I do is super random," confesses 32-year-old Wesley Pentz, better known as Diplo, the DJ and producer who fuses danceable beats with surprising samples. Even his stage a­ttire—sharp, modish three-piece suits—draws upon unexpected sources. "When I was in the UK, everybody from Jamaica wore waistcoats," explains Diplo, who coproduces an absurdist Jamaican dancehall project called Major Lazer. "That kind of craziness is what I like about him," says Wang, who made Diplo the frontman in ads for his T men's wear line this past spring—a gig that has become a useful icebreaker for the single artist. "Before, I'd talk to girls about my music and they'd say, 'Yeah, that's cool,'" he says. "Now I tell them I'm in the Alex Wang ads, and they want to have my children."

Photographer: Max Vadukul
"We're really attracted to independent spirits, people who don't follow trends," says Lazaro Hernandez (above, right), who designs Proenza Schouler with Jack McCollough. "Yoko pretty much personifies that." The irrepressible 78-year-old artist, musician, and icon is no follower of fashion. "I don't know what the term means," she states. "I just pick what suits me." Over the years, what has suited Ono's restless spirit has evolved. "We're really inspired by the way she looked in the Sixties and Seventies," says Hernandez. "That long hair was pretty spectacular." These days Ono's look is mostly black and sharply tailored—and although her waist-length locks have been cropped short, she is often identifiable by her dramatic millinery, of which she has a dizzying array. Says Hernandez: "I think she's earned the right to wear as many hats as she wants."

Photographer: Max Vadukul
"For me, George embodies the modern British look," says Bailey, Burberry's creative director, of the frontman of the British indie rock group One Night Only. Craig also fronted Burberry's spring 2010 ad campaign, alongside actress Emma Watson, the 21-year-old heartthrob's now ex-flame. When Craig and his bandmates first started playing together at age 12, they often performed Beatles covers, which helps explain his look: Chelsea boots, skinny silhouette, signature mop-top. "That whole era inspires my style," says Craig, who is at work on the band's third album. "I try to keep that vibe going."

Photographer: Max Vadukul
Spalding, the 26-year-old American jazz bassist and singer who outraged Justin Bieber fans by winning the best new artist award at this year's Grammys, puts an outfit together much the way she does her music. "I make little compositions," she explains. Lately her look has assumed what she describes as a "quirky, pseudo-intellectual" vibe, pieced together with fitted jackets and ties accessorized with a wild afro. But she can just as easily swing in an elegantly minimalist direction, and it is that element of spontaneity, mixed with soulfulness, that has made a fan of Calvin Klein's Costa. "I admire her passion and confidence— she is truly a free spirit," he says. Her ability to speak Costa's native tongue has only added to his affection: "My favorite part of the shoot was singing together in Portuguese."

Photographer: Max Vadukul
Monáe's music may be a baroque blend of funk, soul, jazz, orchestral symphonies, and psychedelic rock, but when it comes to her wardrobe, the Atlanta-based artist likes to keep it simple: black and white tuxedos paired with a pompadour. "It's transcendent—it never goes out of style," she explains, adding that she prefers for the color to come out in her performance. And to see her standing beside Lagerfeld, the two of them dressed like twins in their signature starched suits, it is clear she has found a kindred spirit. "We liked each other from the first second on," says the designer. "Not just because of our style, but also the name: Janelle rhymes with Chanel, no?"

Photographer: Max Vadukul
Rodarte designers Kate and Laura Mulleavy first met West at one of their runway shows a few years ago, but it was his performance at Coachella this past April that made a lasting impression on the sisters. "It's one of the most incredible shows you'll ever see," says Kate (above, right). "I think it's because he's such a visual artist as well." Since he stepped up to the mic with his 2004 debut The College Dropout, the 34-year-old rapper and producer's nonstop musical evolution has continued apace with his interest in all things aesthetic: from art and design to his devotion to fashion—usually the latest looks, remixed with characteristic hip-hop bravura. "That mixing of art forms and genres," says Laura, "that's something I respond to."

Photographer: Max Vadukul
It was M.I.A.'s 2007 "Paper Planes" video—with the British firebrand dancing around Brooklyn in an African-print jumpsuit and tiger-striped high-tops—that first caught Versace's attention. "Her music and style seemed so fresh and innovative," recalls the designer. Although M.I.A. burst onto the scene in 2005 with her globe-trotting beats and rebel politics, equally striking was her hyper-colored, multiculti look. Before the shoot for this portrait, for instance, the 36-year-old singer—who once cited Libyan President Moammar Qaddafi as a fashion icon ("I'd love to raid his wardrobe," she noted)—insisted on two-tone lips and floral nail art, and wanted the tips of her platinum locks dyed a vivid coral. As Versace puts it: "She is a total artist."

Photographer: Max Vadukul